I am finally finishing up the girls shared bedroom!  When we first moved into this family home, we had the two big girls in one room, the two babies in the other room, and the large room for a guest/media room. However, the three girls were constantly wanting to have a "sleepover" in the guest room, so we decided to switch up how we were using our spaces.
Let me tell you, I LOOOOOVE changing up rooms so I can utilize them better. This is such a better use of our space, and the girls love their new room.  It accommodates all their things to be able to host friends and play in there, too.
I for one love having this little bachelorette pad at the end of the hall.  I wish I could move in! It's what sisterhood dreams are made of!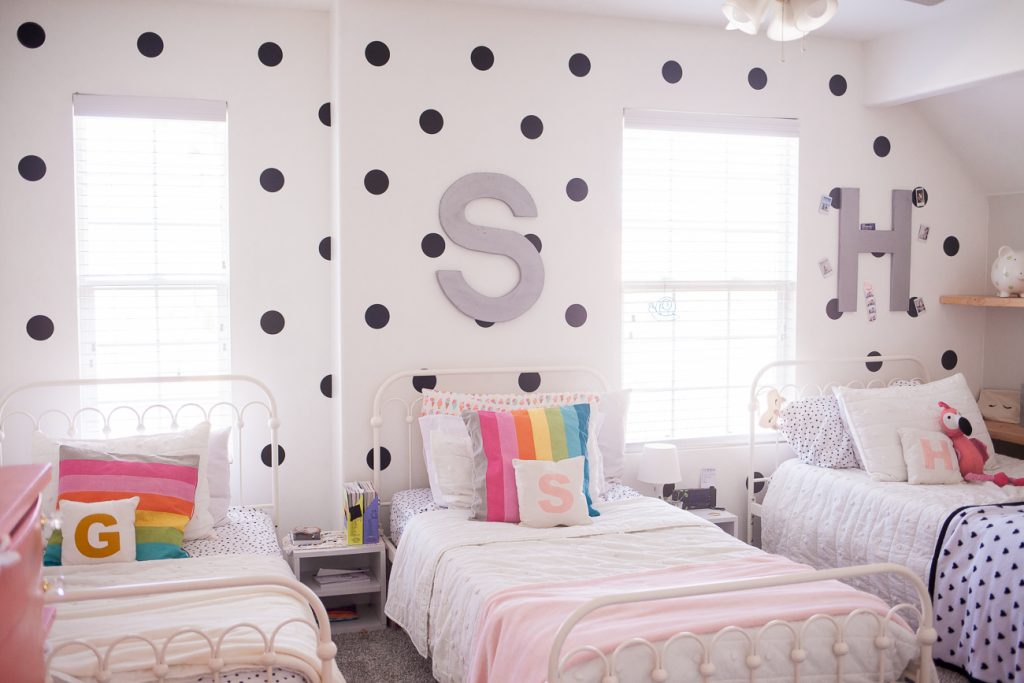 Their beds we ordered from Amazon! My favorite way to buy anything. 😉 They're such darling little girl beds.  I love their classic look.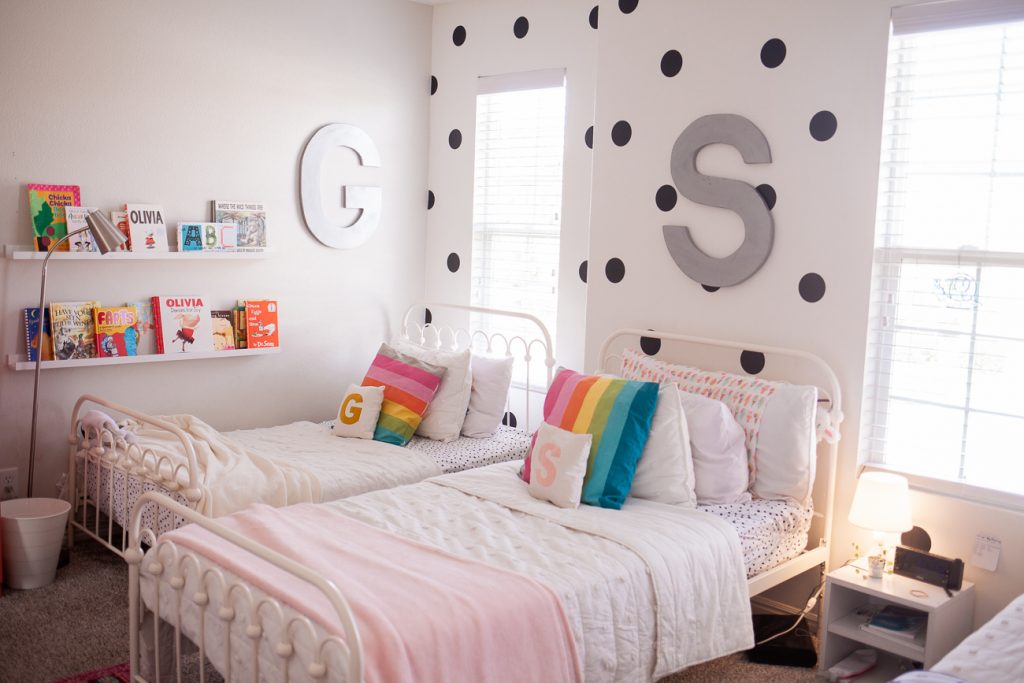 The girls had LOTS of input in this room.  They helped design from top to bottom, and okay'd each design.  I wanted it to be big-girl enough looking for Harlo, who is 10, but whimsy enough for Grae, who is almost 5.  Judging on the fact that all three of my girls LOVE their little spaces, I'd say we hit it out of the park.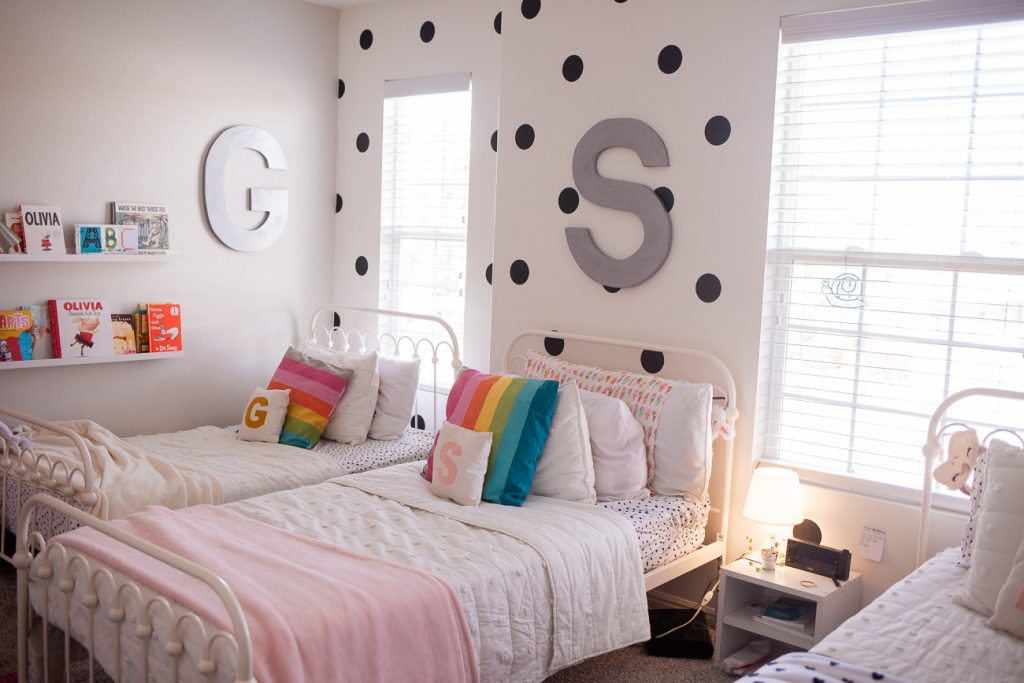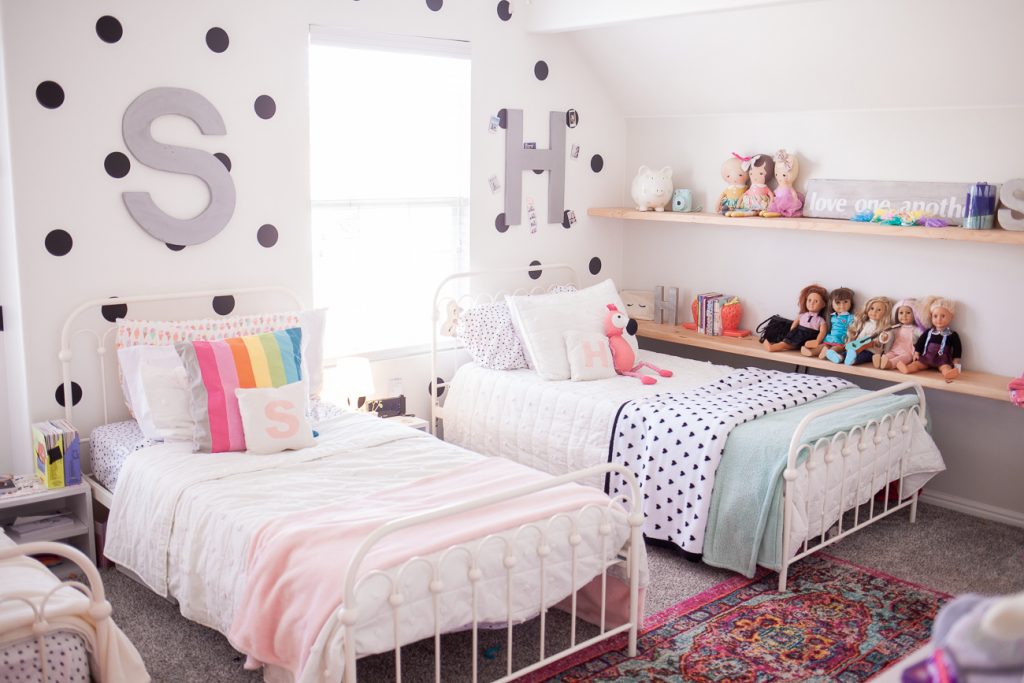 When we got back from our month in Hawaii, we added two little pet turtles to our home.  The girls wall-to-wall DIY shelves are the perfect little space for their turtle habitat.  My girls settled them right in, and I love the little sticky notes they have around the tank.  They are good little turtle mamas, and spend lots of time in here.  I love how interactive the turtles have made their bedroom.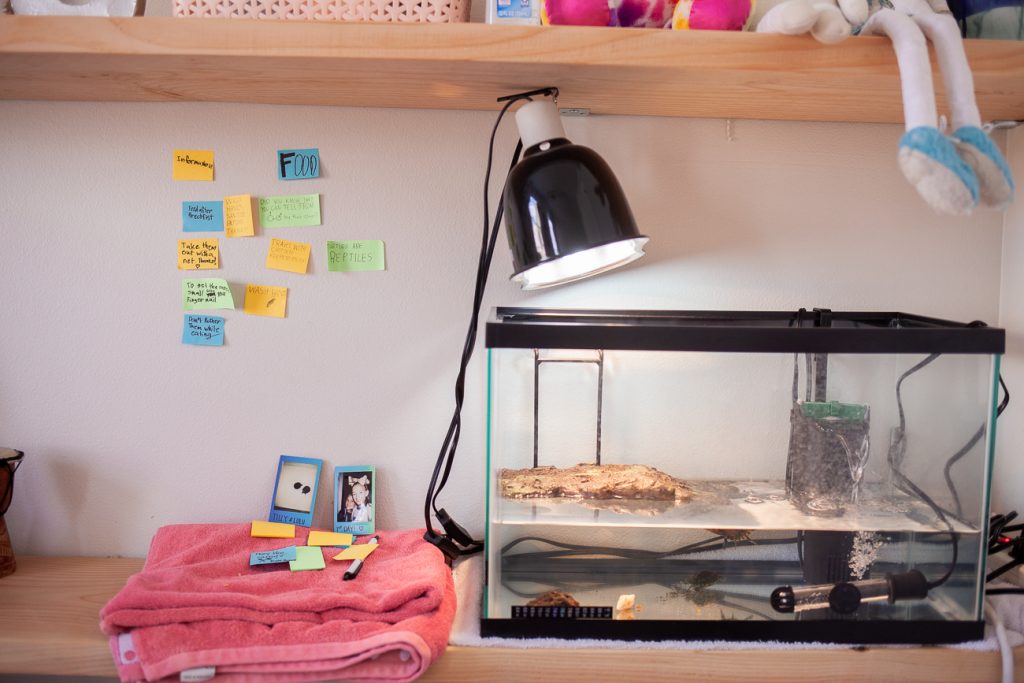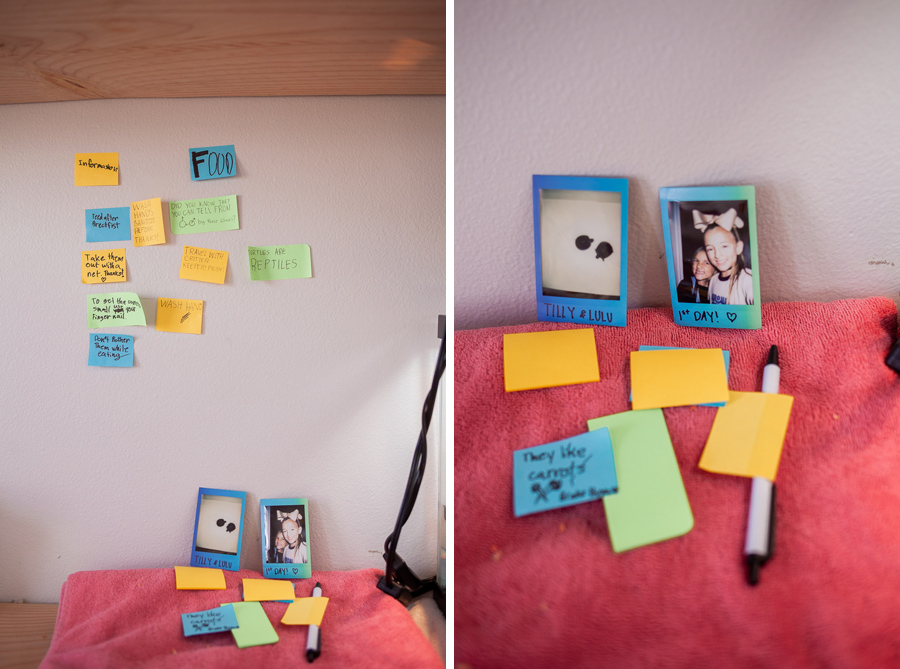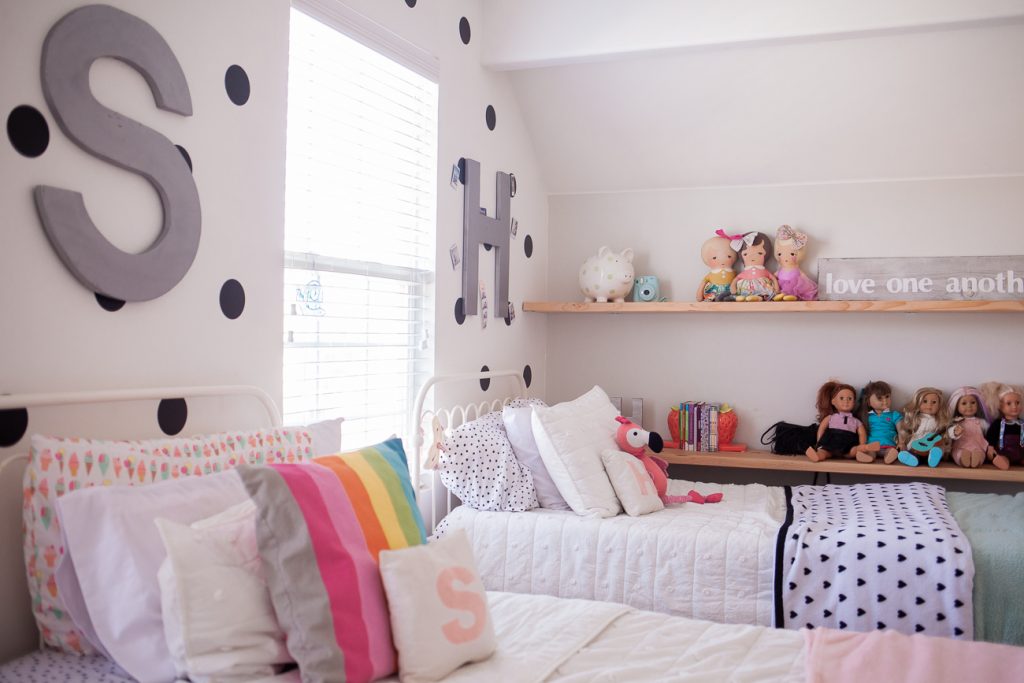 A design goal of mine is to make sure our home isn't untouchable, especially in the kids rooms.  I always love for them to have spaces to make believe and play.  We added the shelves here to be a place that they could use as a big doll house, even.  They're constantly setting up little rooms or schools playing on these shelves.  I love it!  They were a really inexpensive way to add a little world of play for the kids. (shelf tutorial is saved to my instagram highlights in GIRLS ROOM) They're styled only with the girls actual toys and books.  I give up having them perfectly styled, but I end up loving what they do better anyway.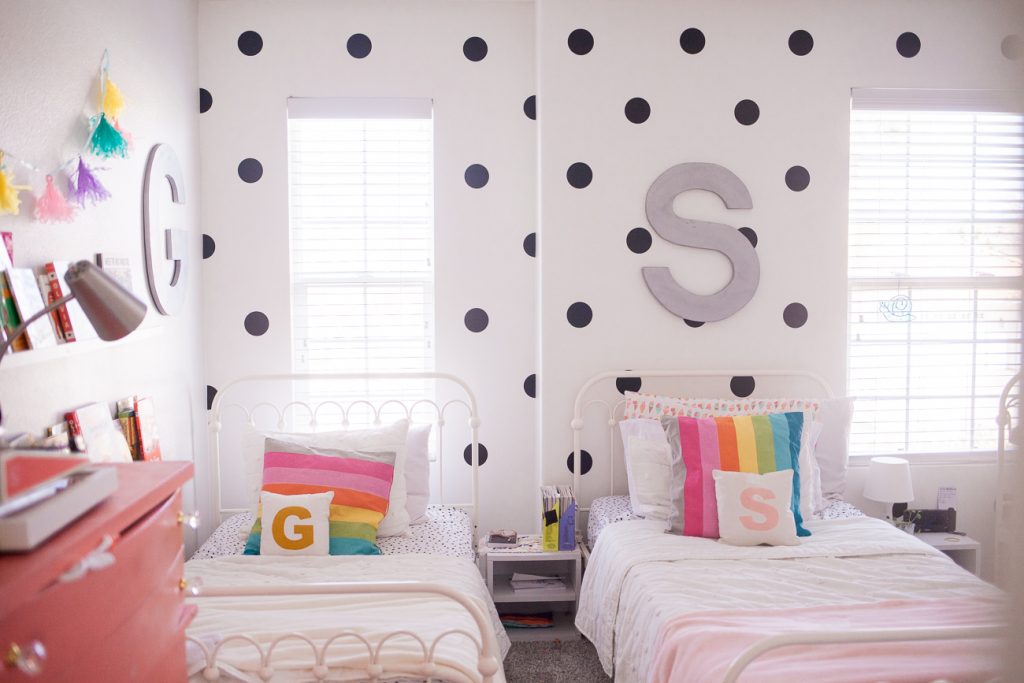 I loved the idea of wallpaper in this room, but the only design the girls all agreed on was polka-dots.  So we went the WAY cheaper option and ordered 6″ vinyl dots from an etsy shop.  We eyeballed placing them, and it turned out so cute.  I love the bit of magic it adds to the room.  It's so fun.  I also am usually always switching out a paper pom-pom garland in here.  It's my favorite thing to buy from target's party section and use it for a bit of a whimsy touch in my home. 😀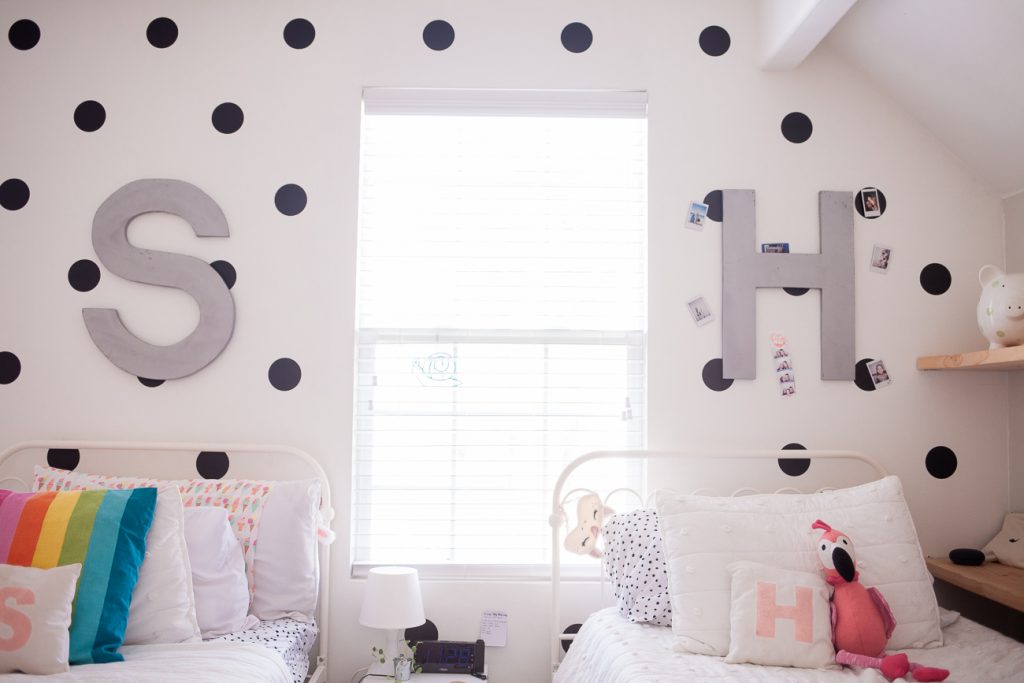 Their darling letters were hand-made by a dear friend of ours who is a welder.. I love them sooo much and love that I get to use them all in the same space.  They're similar to the anthropologie zinc letters. Clearly I love letter anything.  Their darling letter pillows were a score from Brickyard Buffalo years ago. I'm sure you could find similar on etsy.  Rainbow pillows are Ikea. Bedding is from Target.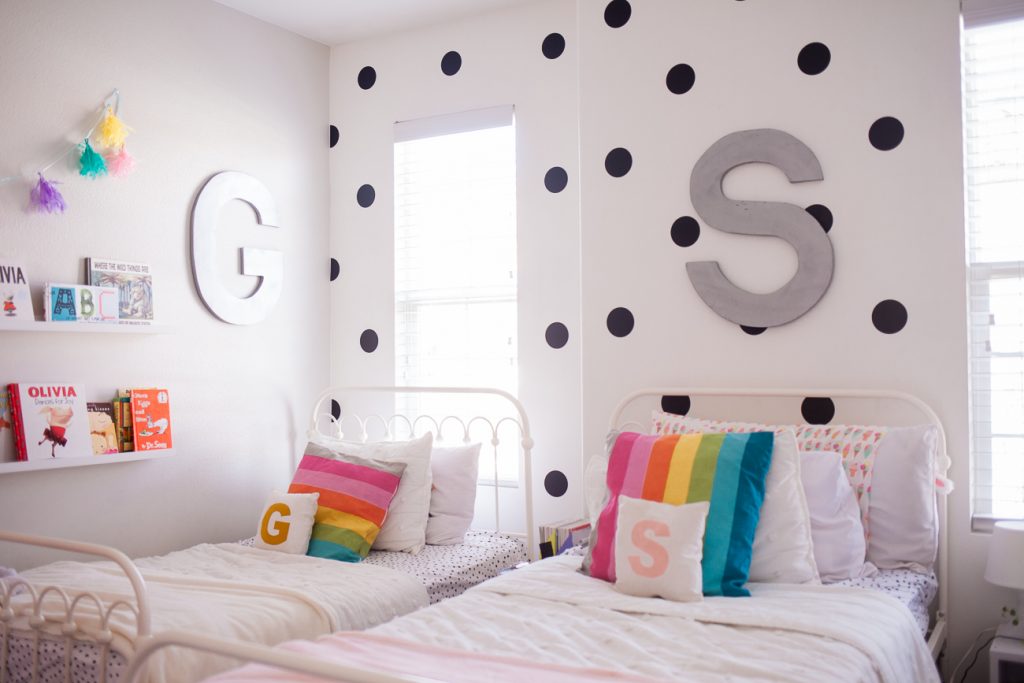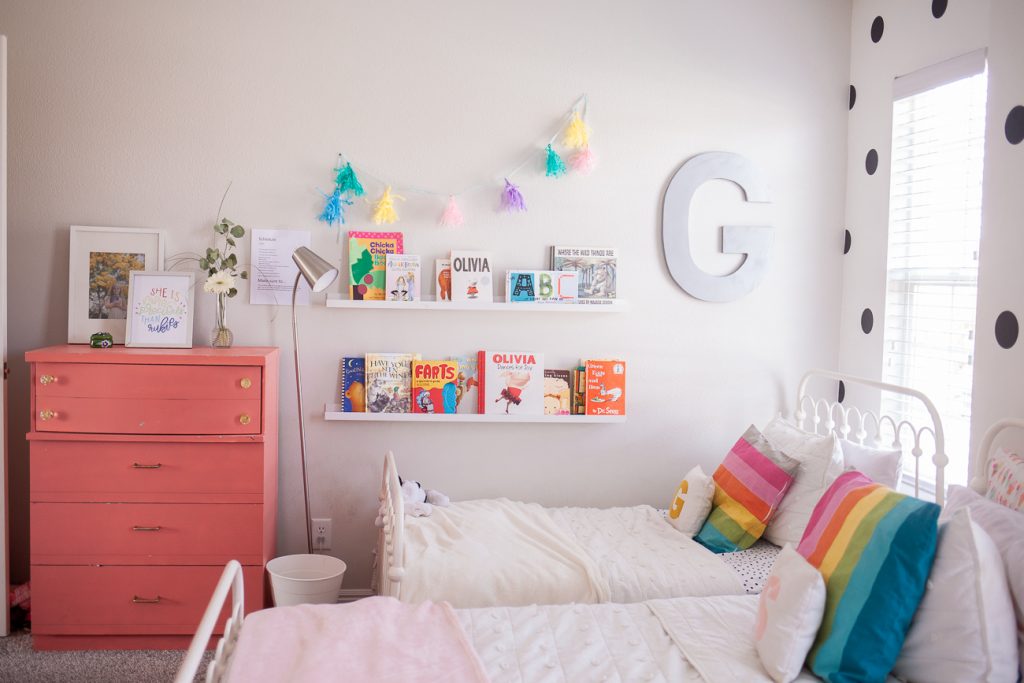 Some questions we get regarding shared bedrooms:
Do they bother each other at night?
I'm sure their first night together had it's jitters, but they get used to that and know their bedtime rules/expectations.  I do like to allow them to chat for a while, but then it's time for everyone to quiet down.  They LIKE sleeping together, so a threat for them would be having to sleep in the bedroom across the  hall alone if they were being disruptive.  I think mostly the older girls help as an example to the younger one.  That keeps the olders more accountable to stay in their bed and behave, and the little one follows suit.  It works out! 
Any tips for getting them to sleep in the same room for the first time?
If I have a single tip, it would be a sound machine!  We all use this one in our bedrooms, and I think especially as kids get used to each others noises, a sound machine is sooo helpful.  After a while though, I think my shared-bedroom kids sleep better and more easily anywhere because they're used to one another's noises.
Do they go to bed at the same time?
The girls mostly do now, but it hasn't always been the case.  Before we'd put the younger one to bed, and then later have the girls quietly sneak into their beds.  I liked this because it made sure everyone was quiet and stayed put. 😀 Now, we deal with a little getting out of bed from Grae, but that is to be expected as Grae's parents. 😉
Do the older kids want their own space?
Yes and no… Of course they go through phases of "when can I have my own room?" or complaining about a sibling getting into something of theirs.  We used to have shared rooms out of necessity, so it was just the way it was.  I remind them how short and treasured this time with their siblings is, and how I wish I could revisit the time of sharing a room with my sister!  It's also teaching them really good life skills like working together, setting and respecting boundaries, and ultimately how to get along and live in harmony… which is really something that will come in handy someday *ahem, roommates, marriage, parenting…* 
Now that we do have an extra room, that does free up a room, and eventually I bet someone will want to take it up, but honestly right now they like sharing.  No one wants to sleep in a big empty room, and all the fun is happening in their room anyway.  As for me, I'm eating up the season that ALL THREE of my girls love each other and want to share the same bedroom.  I could sob knowing it wont last.
We're happy to switch up rooms as the best situation fits.  We've had all different combinations, but just land on whichever is the most peaceful for our home.  Right now it's the three girls in the big room, and the baby boy in the little room, freeing up a room for company.  Once you have shared rooms, it seems like the best use of space anyway. 🙂 
What about boy/girl shared bedrooms?
Grae and Major used to share, and I'm sure will share again in the future.  They're close in age and like the same toys and things, and wear a lot of the same clothes – ha.  So for them it makes great sense.  It think it would depend maybe on the situation, but as long as it made sense, I don't see why not.  I'm sure older kids will want more privacy, naturally, and that should be respected.  However, I love the memories my children are building with their siblings sharing bedrooms.  What is a childhood without a shared room?? I'll never know!
Where are their clothes/toys stored?
They have a dresser in their closet, and one in their bedroom with assigned drawers.  Stella and Harlo wear the same size, so it would be hard to split up their clothes.  Their toys are on the shelves in their rooms, with a couple things in the toy closet downstairs.  We keep toys pretty minimal around here.  We always have.  When you start your family living simply in a small house, you realize you can do without a lot of stuff. 🙂 They only really play with dolls or the turtles!
Any other questions for us?  Leave a comment!