If you follow us along on instagram (which I KNOW you do – right?!), you know that the Miller Manor welcomed a swing set to the backyard collection this past weekend.
I had dreamed of a swing set in our backyard since we moved in – our last rental house had one, and I loved looking out my kitchen window out back to see my kids playing on the swings.  The swings were my favorite as a young girl, and I always envied the friends I had with swings in their yards.
Swing sets can be pretttty pricey, and with all the work and projects we always have going on at this house, I didn't want to fork out a few thousand dollars on a nice one.  So, I put the word out and kept my eye out for one that would suit our needs. (and pinned a bunch of DIY versions on my backyard board on pinterest!)
But on one fateful Friday night, the stars aligned with my mom found the PERFECT SWING SET on the local yard sale page.  I made an offer, they accepted, and we picked it up the next morning.
It's an old schoolhouse swing set and it couldn't be more perfect for us and our space.  We can swing as high as we want – and we do for the majority of our day!  (The best part of having your own swing set is being able to swing in your skivvies… just ask Grae.)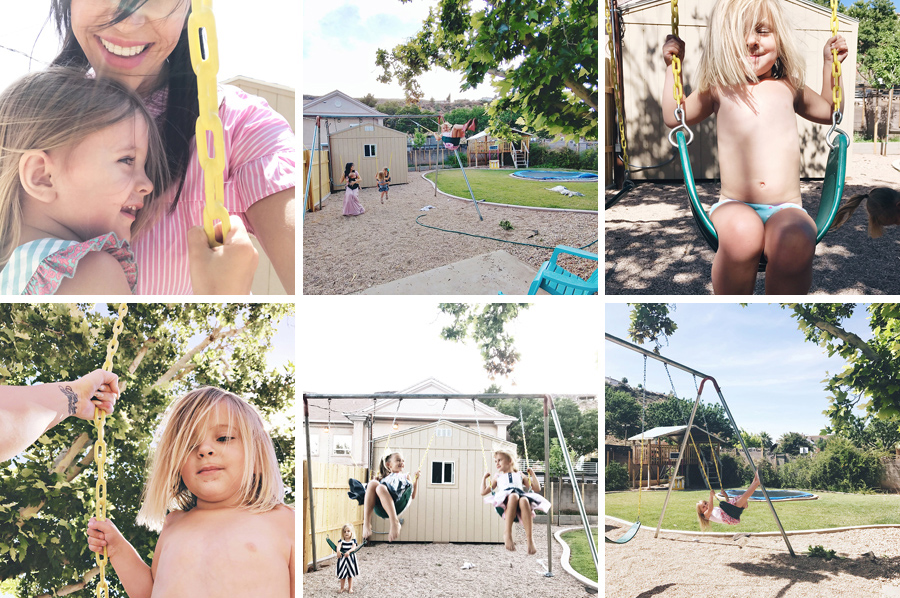 And just like that, this second-(or-third-or-fourth)-hand swing set became a staple part of the life we're living here at the Miller Manor.
It really is the most SIMPLE things, y'all! ♥