Today I'm sharing our family office space (progress)!
We always seem to have  weekend project going on over here when we are home for the weekends.  Sometimes that project is laundry, other times that project is DIY built ins, other weekends it's cleaning up the yard.  Owning a home sure is a lifestyle.  It is weird to live in a newer house (newer than 85 years old) and not have much we HAVE to renovate, but we have a lot to work to do settling in and making this house perfect for us.  Over spring break week we finally unpacked the last of the boxes from our move (cough.. 3 months later) and got our office space carved out.
When we bought this house, it had this big room open to the formal living space, likely used for a formal dining.. but since we don't use either of those things in a house, we decided to make it a nice family office/work space/studio.  I had dreamed of a family office space when we bought the house.  Finally figuring out this big open, rectangle room and using it well for our family is so exciting! We've just had it set up this way for a couple of days and already it's been used non-stop.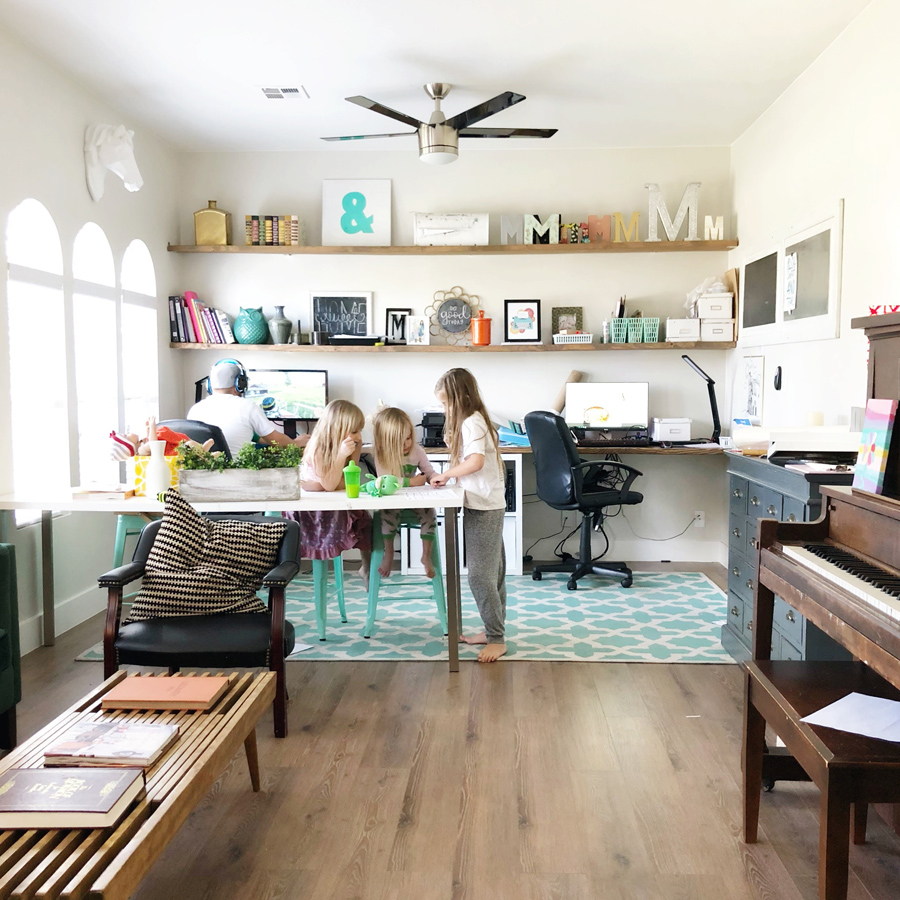 (showing progress pics today.. crisp morning bedhead and jammies and all. )
One of our first DIY projects here at the house were those floating shelves/desk.  They were relatively easy to do and they totally transformed the room.  We used this tutorial, which was such an easy way to do floating shelves!! I also ordered that cute green couch the first week we moved in.  Everything else we had scattered throughout our old house.
We are used to living in smaller quarters and getting as much use out of our space as we can.  This house is roomier, but not a whole lot more square footage than our last. With this space being about half of our entire downstairs, I wanted it to work well for my family, and get some good use.
Mr. Miller and I both work from home a lot, so having an office with enough space for the two of us is imperative.  And what happens when both parents work from home?  The children love working from home right along with us.  I don't know about yours, but my children are just basically always at my feet, always with me no matter what I'm doing in the house.  With that in mind, I knew I wanted to set up a place for them to work too.  My girls are always crafting, Grae is always coloring,  and they always want to do so right where I am, so why not carve them out some space right here close (but not too close) to mama.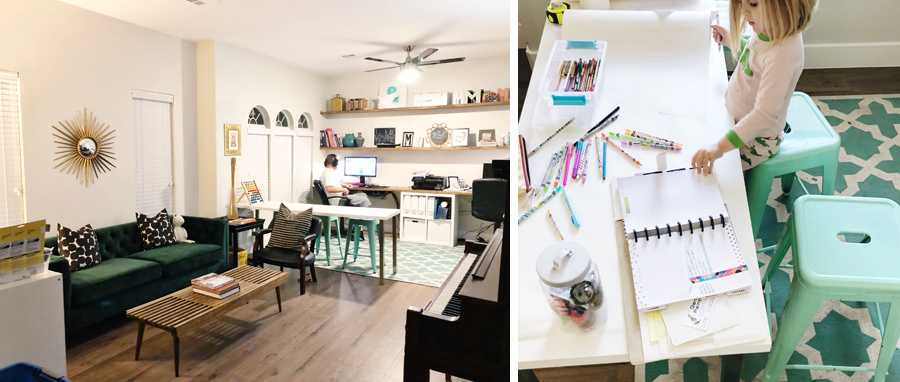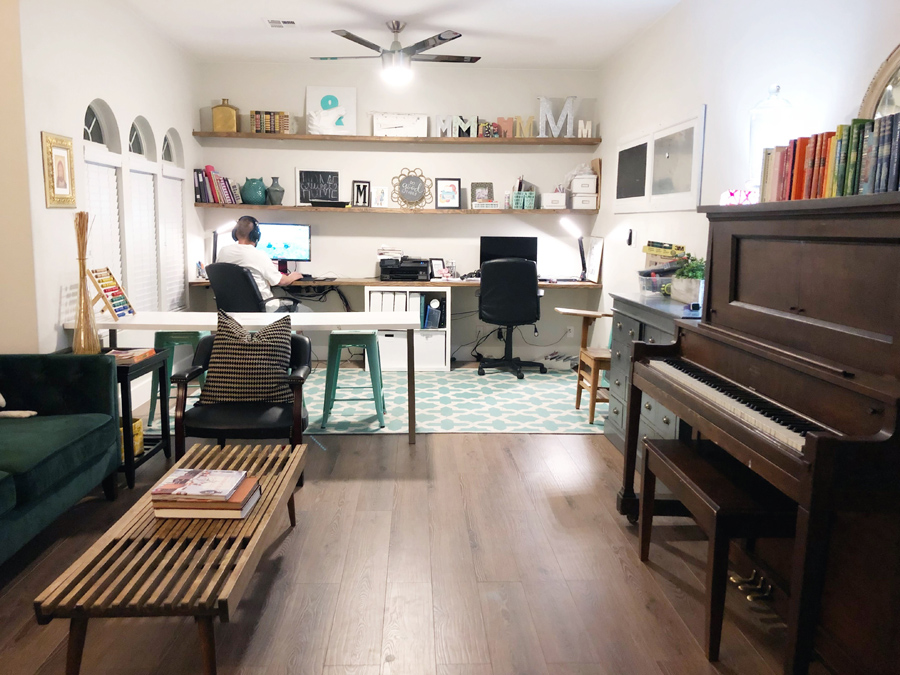 I am still working on my side of the office to create a good little command center.  A place to keep track of our family schedule and the girls school papers, my daily checklists, sort mail, and of course have space for my daily doses of the girls' precious artwork I can display… I've been pinning lots of inspiration, but now I've got to think of how to make one that works for us specifically that I can actually use!  Organization isn't my strong suit, but once I get a system in place, I can keep it rolling.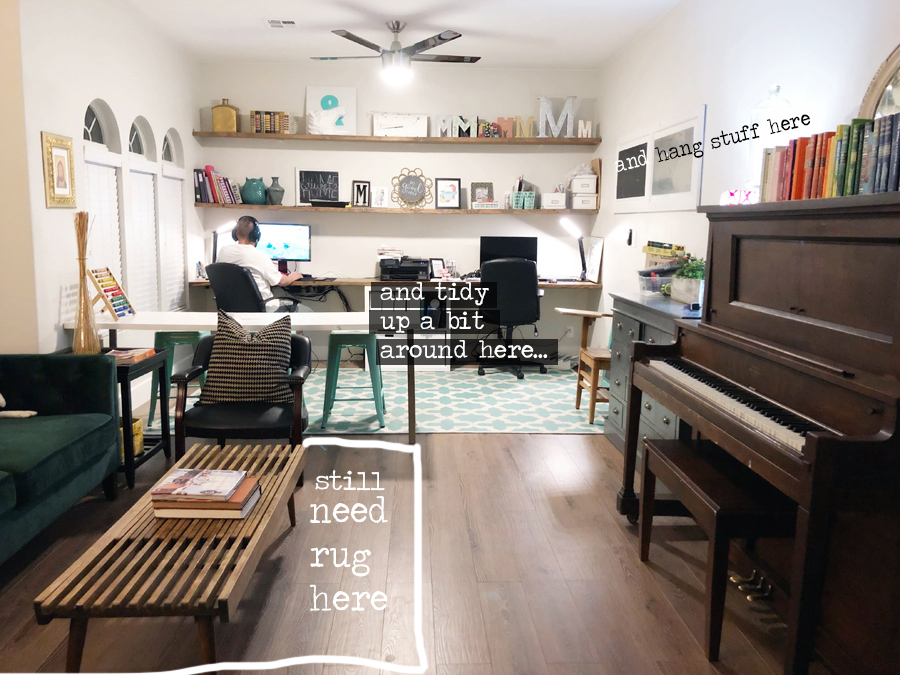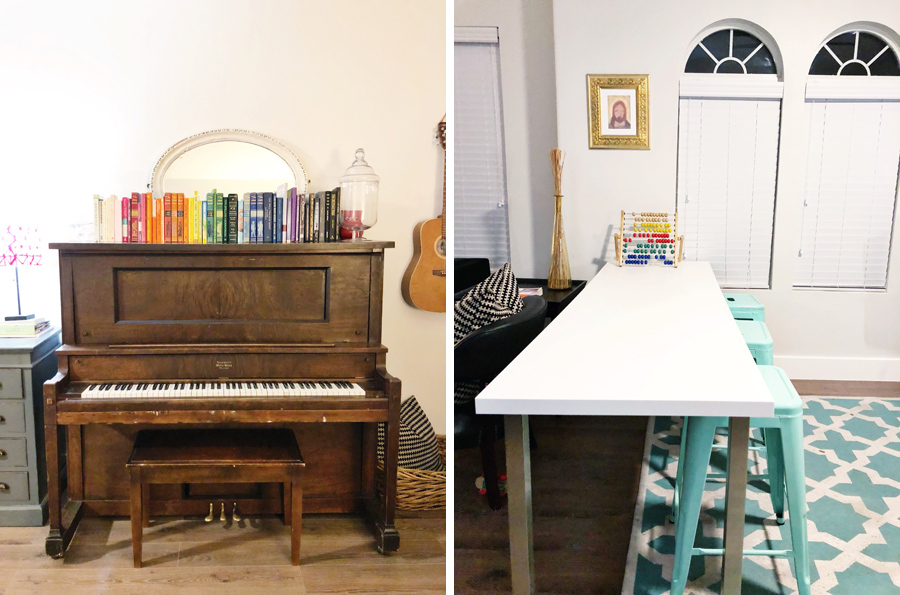 Finally unpacking my books is making my heart happy. A rainbow book stack has been a dream since #pinterest.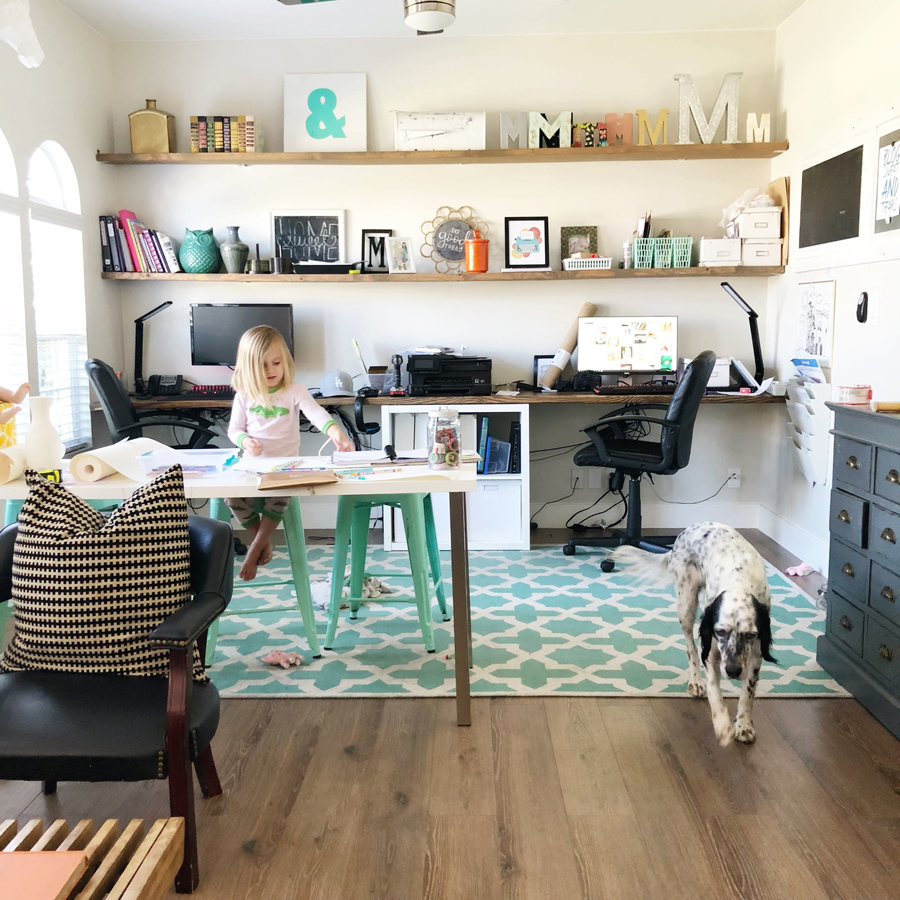 I have already rearranged this room already at least 5 times since we moved in.  But finally moving that table in here for the kids, and the dresser to hold all our art supplies made this room make sense for everyone.  Part of my process is just tweaking and tweaking until it works.  And it's even pretty enough to still have people come in and sit and use it for extra entertaining as well! 😀
How's that for getting some use out of those formal rooms in your house that don't get enough use? What do you use that space for in your home?
You can always see which projects I'm planning on Pinterest, follow me HERE.