When we bought our home, we knew the kitchen needed to be renovated.  We had the option of having it done before we moved in by the sellers, or doing it ourselves.  I wanted to design it all myself, so I opted for that, even though I knew it would be more work on our part.
We had to move in right at closing because I was about to deliver and wanted to be in the new house.  We figured we would just live with the kitchen as-is (no dishwasher, among other things) for about 6 weeks before we could swiftly remodel.  This was the the first thing we were completely naive to the remodeling world.  We have since learned that almost nothing goes as planned, and certainly not in the time framed you had hoped.
Fast forward 4 months and we are just getting the kitchen started and still have weeks (months?) until this baby will be complete.  BUT WE HAVE STARTED, which seems like a miracle in and of itself.  In a way, it has been a blessing to have run into all these delays because it has given me some time to tweak the design and really have a design I love and am proud of.
Last week we completely gutted our entire kitchen to the bones, cracked concrete floor and all.  We installed all new flooring and have begun our cabinets.  We're nowhere close to done, with no counter tops, cabinet doors and drawers, kitchen sink, etc. but I'm updating our progress in real time.
This is how the kitchen looked from move-in to about a week ago.  The cabinets are original to our 1950 home, so there is no dishwasher and the fridge allowance is for a tiny tiny 50's fridge.  We have had our fridge chillin' on the opposite wall with water ran to it from the sink wall.  Super stylish and functional! 😉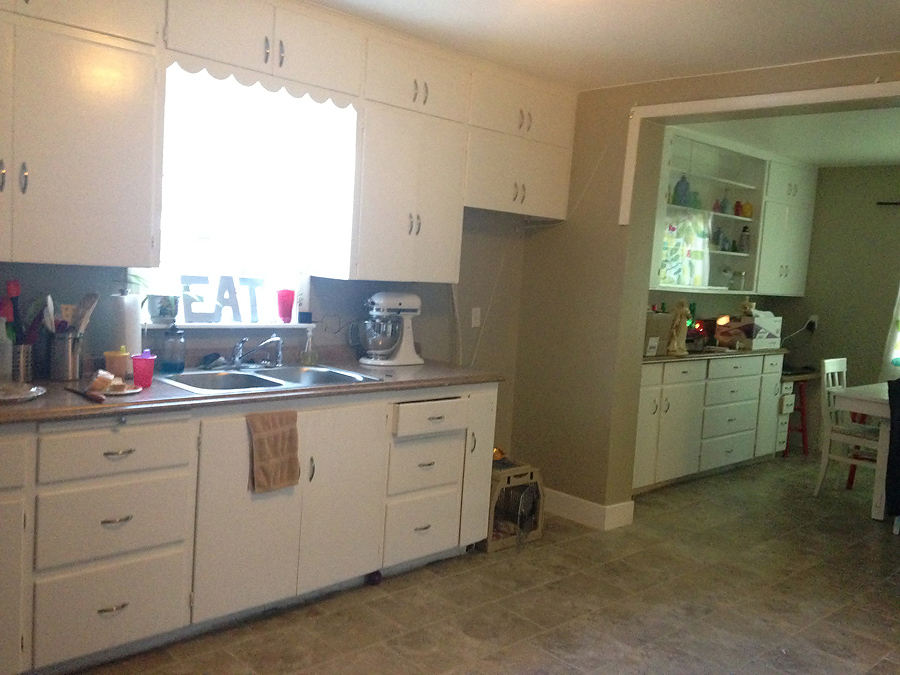 Demo day was a long awaited day and it felt so good to actually get stuff GOING in the kitchen.  I didn't shed a single tear saying goodbye to our drawers with no tracks that constantly got stuck, our hideous brown counter tops and our jenky vinyl tile.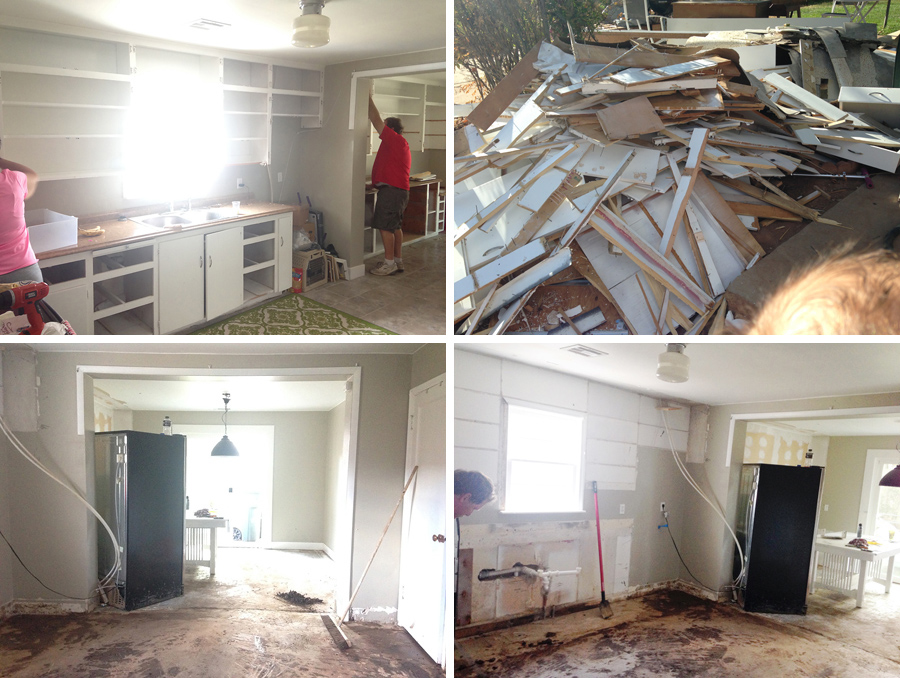 The flooring situation was an after thought to our design.  We are remodeling on a tight budget and at first decided to keep the floor – for now.  Once it came down to it though, this was the best window of opportunity and boy were we lucky to decided to rip out the old stuff.  Under it revealed 4 layers of laminate flooring along with a few layers of rotted/moldy sub floor.  Our house had been previously flipped and they had told us the concrete was uneven in the kitchen, but they had really just thrown a vinyl tile over all the layers of other flooring to save time and money.  We were happily surprised to find the concrete was just as level as could be under all that gross layered floor.  (note to self: never buy a flipped house again!)
The next day, we put down this gorgeous wood and I was thanking the heavens we had decided to do it after all.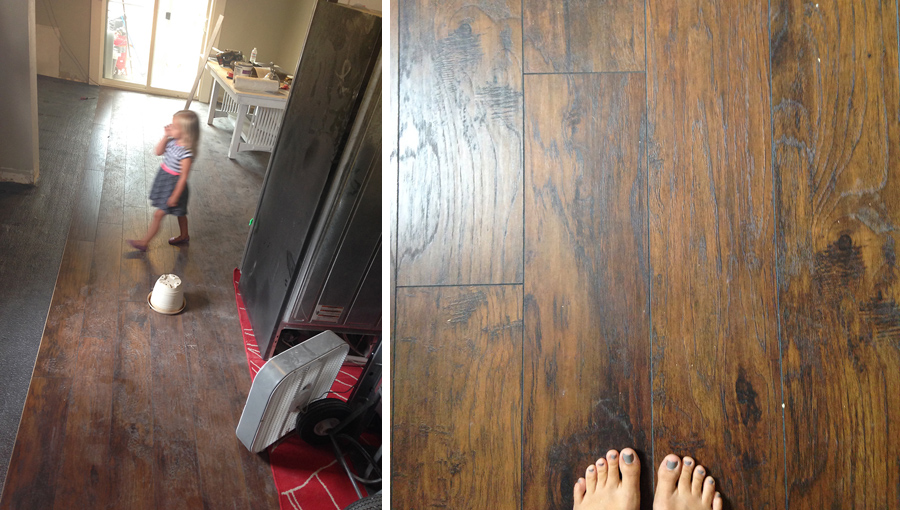 I mean, WHAT a difference.

 Little by little, our cabinets came in and the room of my dreams/pinterest boards started to take shape.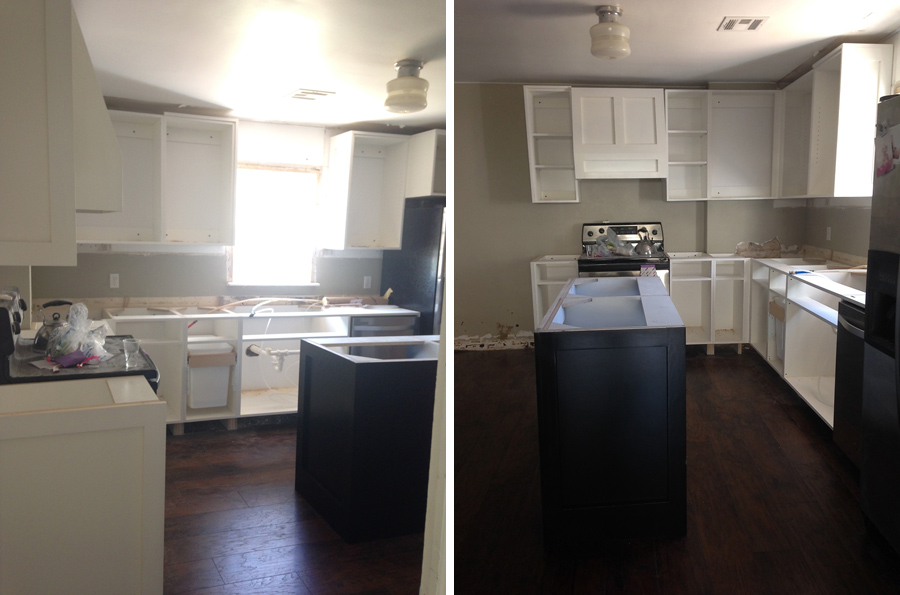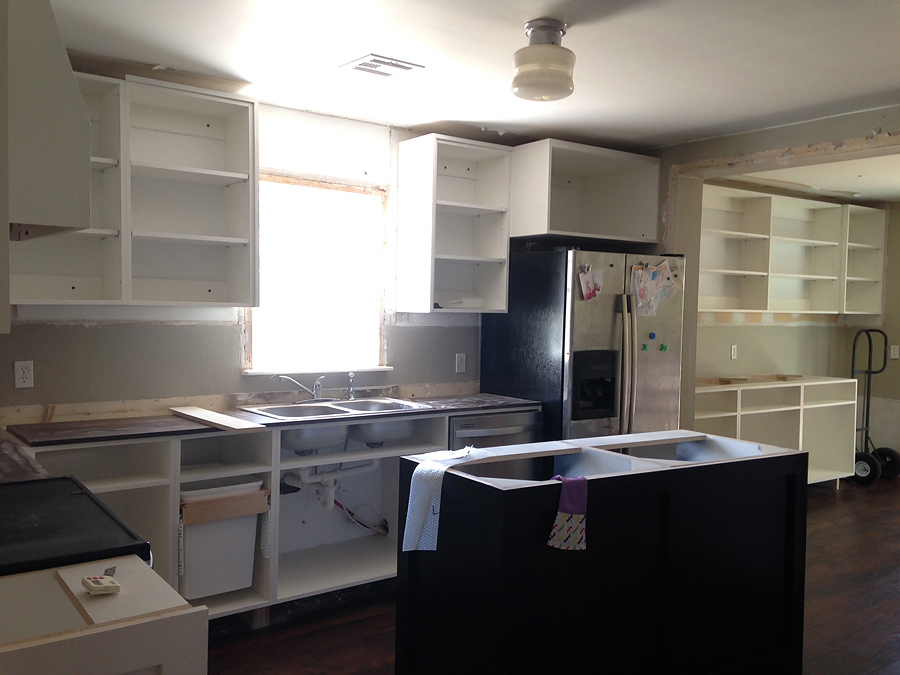 We are waiting on drawers and doors along with our counters and sink, but I am already thrilled with our new kitchen.  Such a better layout and utilizes the space of our spacious kitchen and dining area.  I can slowly see all the stress and waiting has been well worth it.
I'll be sure to keep updating the progress!
What do you think so far?  Can you see my vision for this space yet? Mr. Miller is still in the dark. 😉