We had a very spooktacular week!  I think I decided Halloween is more work than Christmas, actually.  But we all had a blast and by Friday morning I was officially ready for the holiday to be over for at least another year. 😉 I think my girls had more candy this week than they've had in their entire life time.   All in all though, we had a blast.
These teeth provided hours of entertainment… Stella's tongue kills me every time!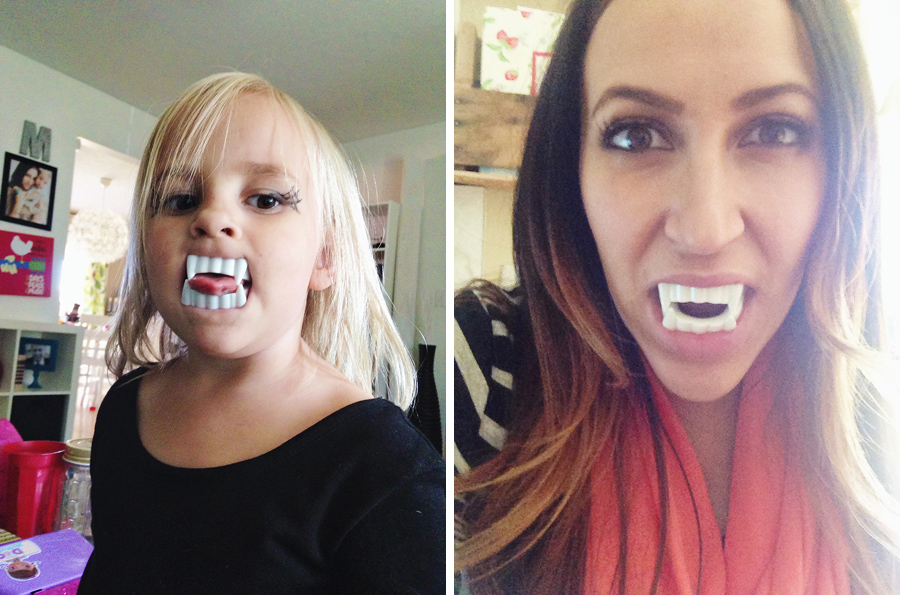 We also had a fun with our decked out mantle this year.  Harlo insisted we have better Halloween decorations, so we got straight to work.  She's already begging to put the Christmas tree up.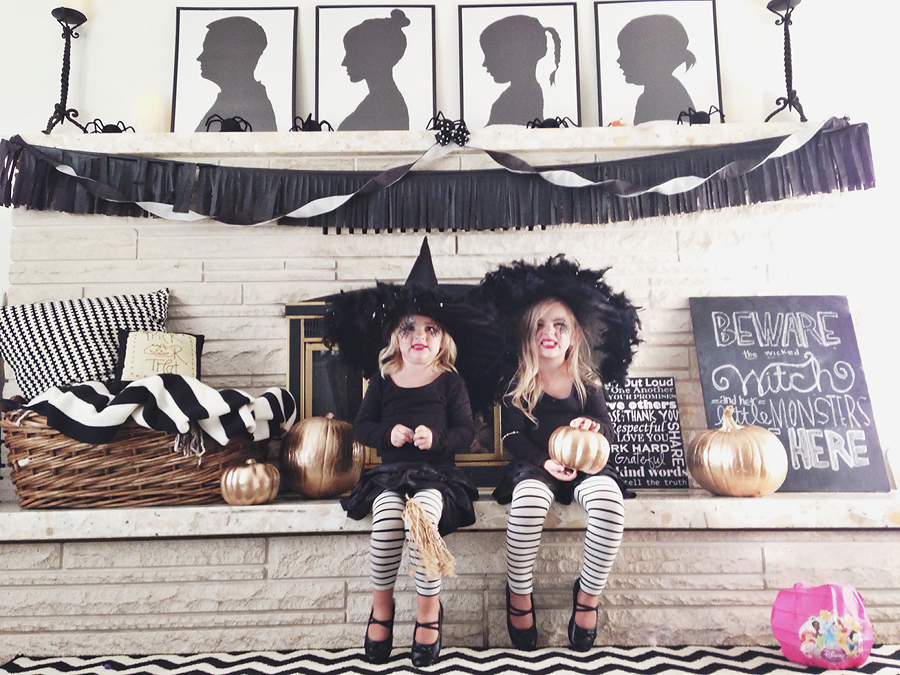 On Wednesday we went to Harlo's preschool party which was Stella was so excited for she could hardly stand.  She hasn't stopped talking about Harlo's Halloween party last year so she was extra excited for it this year.  At one part of the party, all the preschool kids sang a few songs they had been learning, which Harlo has come home and taught Stella.  Stella was DYING to get in the group to perform, but didn't quite dare march up there during the program.  You better believe though, that she was singing right along with them (hand motions and all) from the audience.  I'm so excited for her to go to school next year… but I'll wait. 😉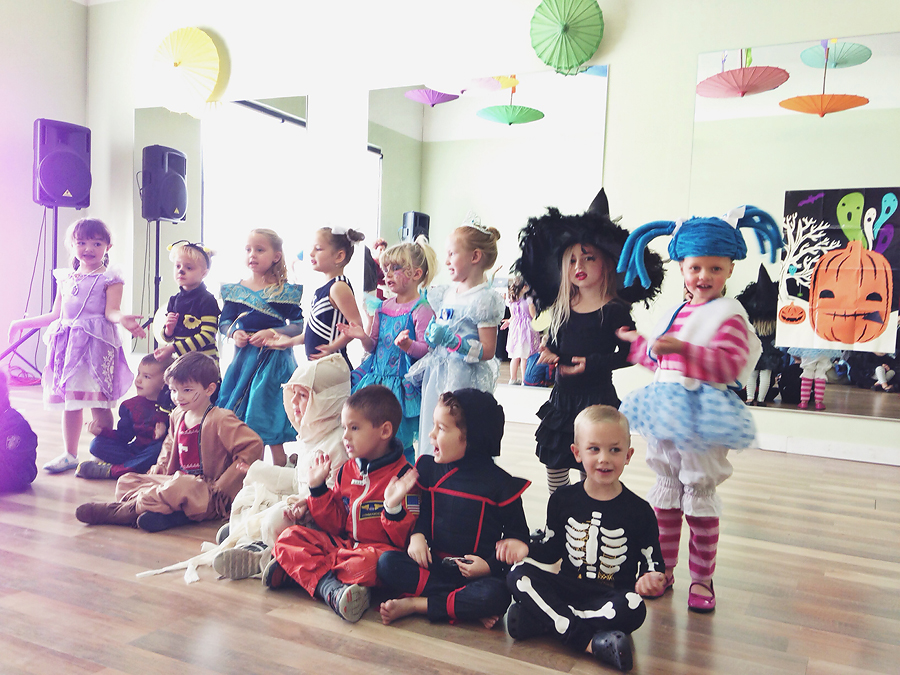 The costumes this year were a big huge conversation, which I'm sure any mother of 3 and 4 year old girls could understand.  For months they were going to be princesses.  Harlo wanted to be Cinderella because of her white gloves and Stella wanted to be Princess Tiana but only if we could paint all of her skin brown, she said. ha!  Then Harlo wanted to be Katy Perry, and Stella wanted to be a race car driver… then I talked Harlo back into being Cinderella and tried to sell the princess thing on Stella again, but she decided she instead wanted to be a witch.  So just before I ordered Harlo's Cinderella costume, I asked her again FOR SURE if she wanted to be Cinderella and she said no, she wanted to be a witch with Stella.  Oh boy! At this point it was too late to do anything else, so then the decision was made up for them.  Witches it was.  I even waited until the Monday before Halloween to pick up the few things I needed for their costumes.  It ended up totally working out and Harlo LOOOOVED the make-up… the spider webs on the eyes were 100% her idea… as were the red lips as you would have probably guessed.  They were absolutely the cutest little witches I have ever seen.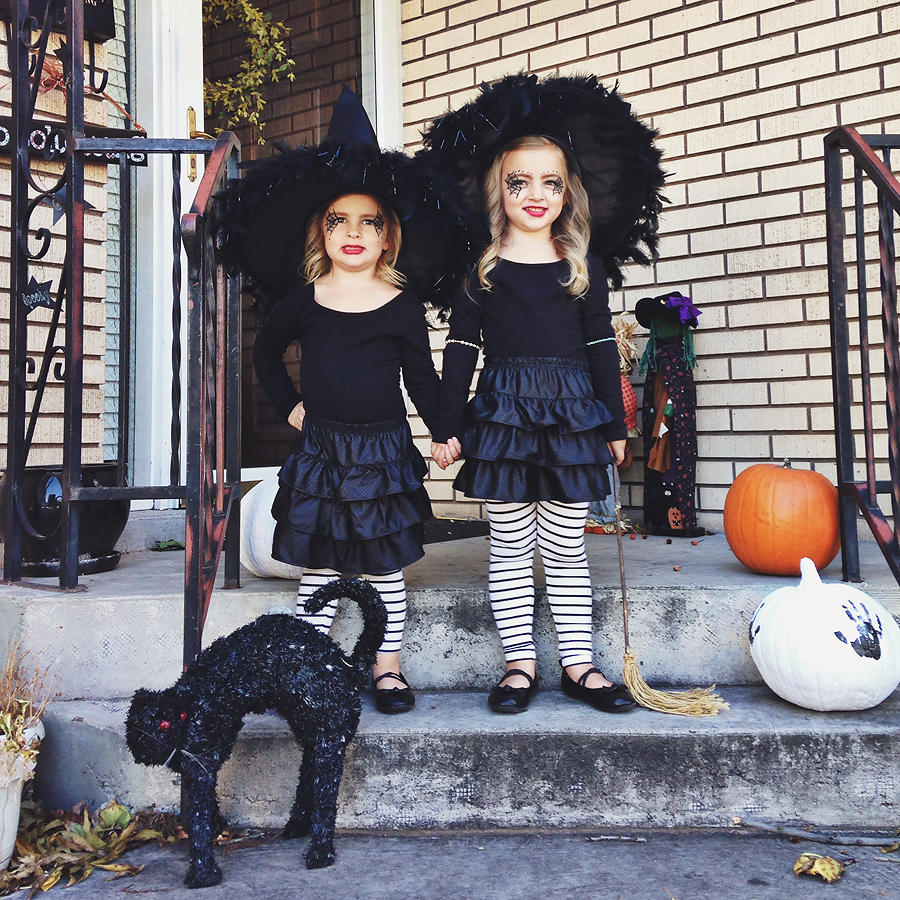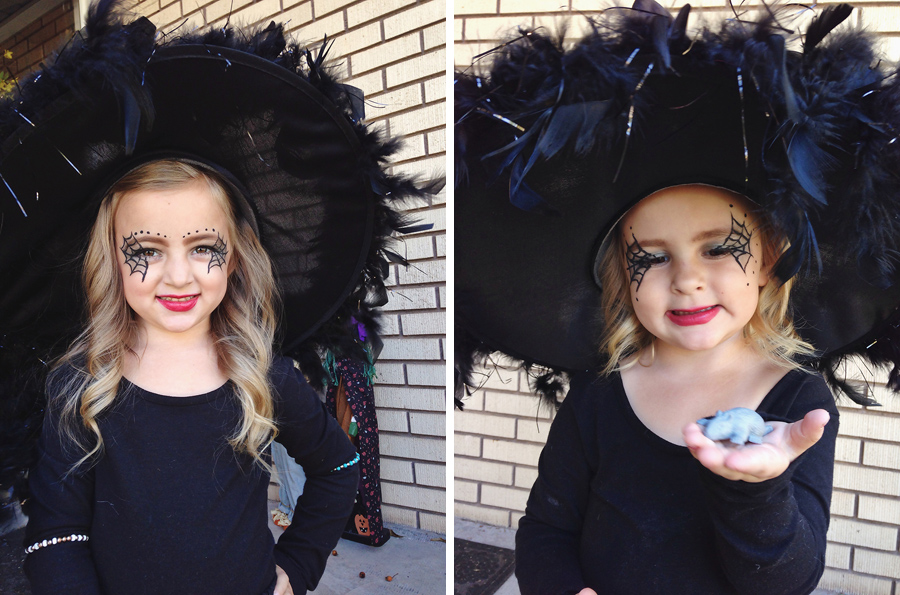 So even though I was thoroughly exhausted from touching up make-up and sugar related meltdowns by the week's end, I stand by my previous year's statement that there absolutely is probably nothing more fun than parading  two little girls around the town on Halloween.  Except for maybe parading three little girls around the town on Halloween.  I'll get back to you on that one next year. 😉