Motivation comes in waves here at the Miller Manor.  We have moved from phase 1, unpacking all the things, to phase 2, finding a place for the rest of the things.  And my seven hundred frames from over the years are no exception.
I feel like I have dreamed of having my own family staircase gallery wall for.. oh, as long as I can remember living.  There is just something so CLASSIC and FAMILIAR and COZY about a staircase gallery wall in a home with years of photographs displayed.  If there was one single thing I bought this house for, the dream of having my staircase gallery wall come to life, was one of them.
So this Saturday (after X amount of months the frames have been stacked up on the landing, might I add), I got to work and made a happy little wall for my family (eh-hem, me) to admire each time they walk up the stairs (1200 times a day.. again, me).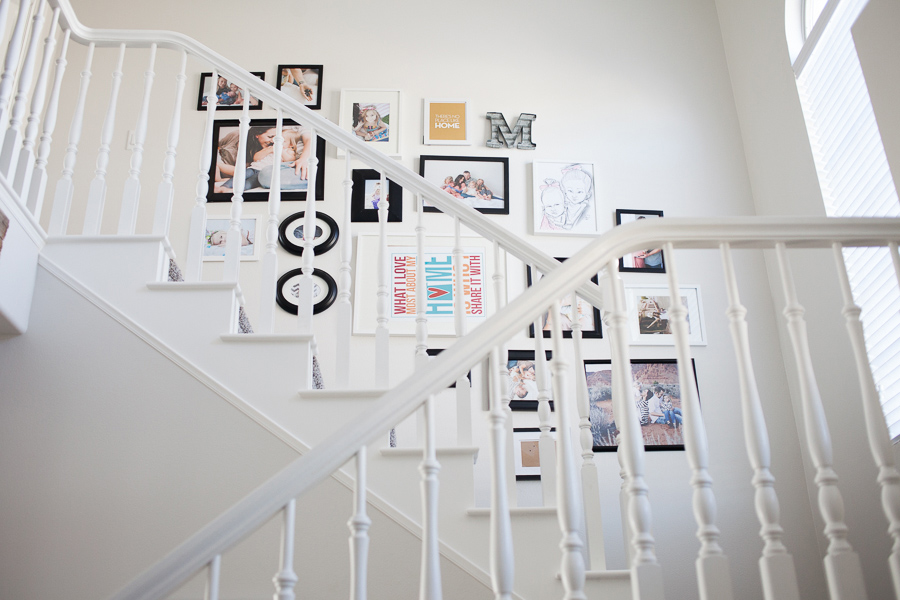 Over the last couple weeks I've been in a little bit of a funk with all the change settling in and that weird type of homesickness you get after a move.  Anyone know what I'm talking about?  Just that home sick feeling of knowing where everything is, not feeling new, just feeling at HOME.  Making this place feel a little more like "our home" sincerely helped my heart feel happier.  A few hours of my Saturday, zero dollars (except for the too-expensive 3M strips, thanks s'much Mr. Miller), and my heart feels a whole lot lighter.  Proving my theory that small things like this can, in fact, make you HAPPIER.  Life hack right there.  Invest in the beauty around you.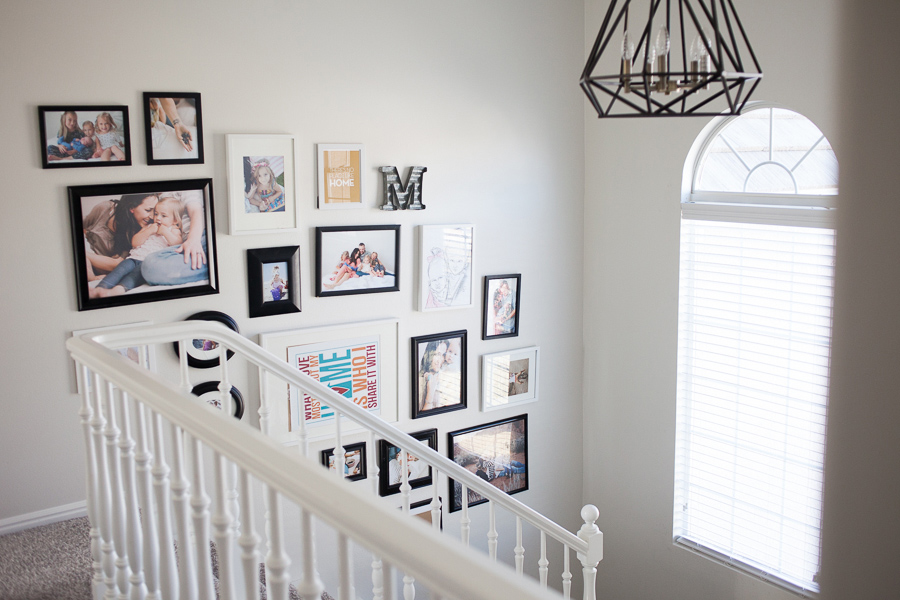 I love my home to tell our story.  That's what "home" feels like for me.  These frames have been collected over the years.  Some found at yard sales with pictures of my first babies placed on the walls in some of our first homes.  They have moved with us, and been added to, and changed shape a bit in each house. But in each of our homes, we have found space for them, and as the years go by, each frame is more treasured.
Of course, we'll be updating some and switching out some obvious prints but it is making me happy today, even unfinished, and I wanted to share it!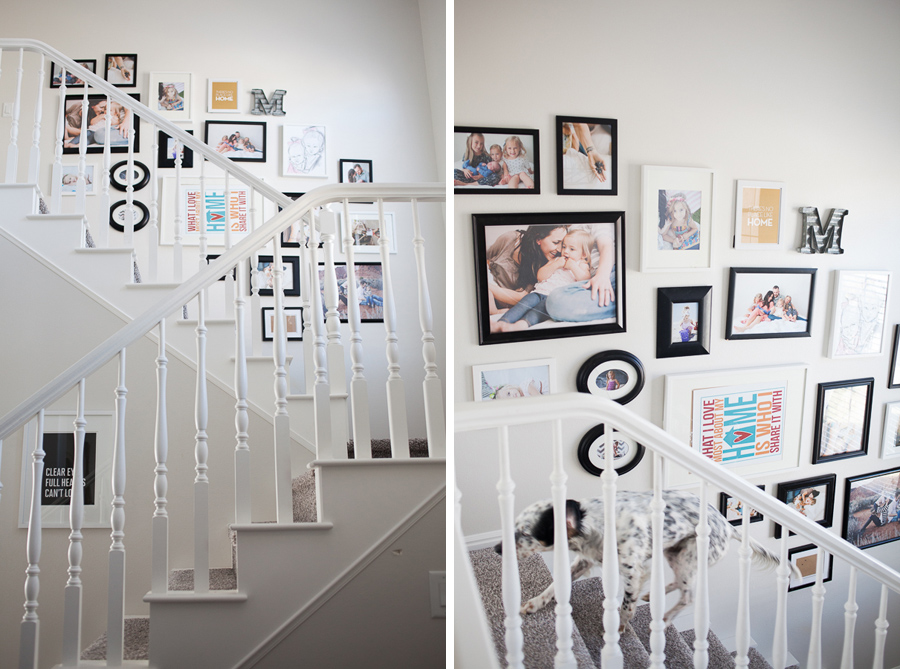 Like all my projects, I just used my pinterest boards to gain some inspiration, laid all my frames out on the floor to mess around with shape, took a photo to refer back to, and placed them one by one.
Some I used basic nails for (my favorite, easiest way) and on others I used 3M strips.. which I have a love/hate relationship with! I had to pull a couple off and redo them, but mostly I got it right just by eye-balling it.  I'LL HAVE THE JURY KNOW I hung this wall by myself without any help, *cough! Mr. Miller* Just in case we need the documentation for future reference. 😉
Feeling pretty darn happy with my handy-work!