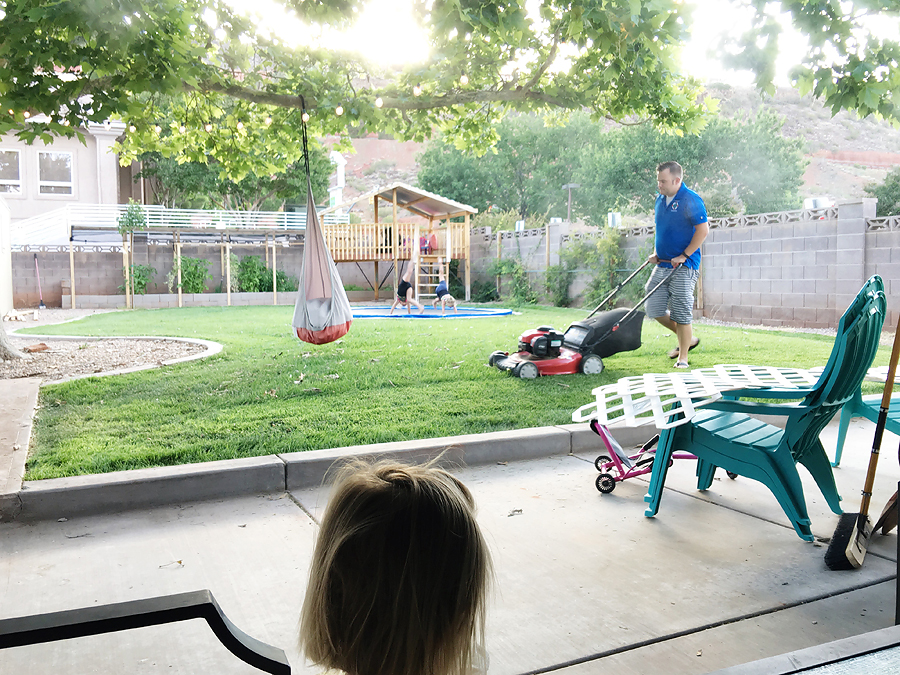 I haven't found a groove to write as much as I'd like since having major. There is always someone to help, a mouth to feed, a list to make, a chore to do.  In the quiet moments I do get to myself, I feel like I'm saying the same thing over and over again. I can't believe this is my life. I'm so happy. My heart is so full with the work that keeps me so busy.
I am currently writing from my back porch. Mr Miller has been working day and night in his free time on our backyard. When we bought this house we had big dreams for it. And two years later, those dreams are really starting to take shape.
A few months ago we put our house on the market, willing to chase an opportunity. But as our baby was nearing arrival, we decided to take it off the market. Once we had a minute to think, we agreed we felt this season was being rushed, and that we weren't quite ready to quit our little dream here. We wanted to see our vision come to life and enjoy our little home a lot longer.  Having our house on the market those few weeks gave us a fresh new perspective. Since then, each project we cross off our list feels a little more intentional and sweet.
Right now I'm sitting under our covered patio, nursing Major while the cool mist blows down on us. Just last year this area was a pile of dirt. Grae is playing in the playhouse that was just a twinkle in our eye last year. Harlo is practicing handstands on the tramp Mr Miller dug the hole for last summer. Mr Miller and Stella are harvesting the radishes they planted a few weeks ago. It smells like fresh cut grass and summertime.
This life is one we've built together, and I can see touches of that everywhere I look. One day I'm sure we'll live in a bigger home, with a wrap around porch like we've always dreamed, but for now we are completely content right where we are.  In life we have had to learn to grow and chase dreams, and recently we've learned when it's time to say "nope. We're good." And thats okay too.