I am going to start this post by thanking each one of you for the love you showed on my last post.  It lifted me up in so many ways and I love that I feel so truly connected to so many beautiful souls.
Life lately has been fast.  It's so fast paced to be a mom of a bustling family that has school schedules, dance activities, play dates… I am truly in a new phase of life as a mom.  Gone are the days of having tiny toddlers tearing apart my house (although I'll be in there rather soon, today crawly sue (Grae) had her first taste of dog food!).  This new lifestyle of school-agers came hard and fast and not without it's own set of difficulties.  We got a rocky start to school, to say the least.  In doing so, I have really learned a lot about the kind of mom I want to be.  The kind of mom I am.  Sometimes as a mother, answers are so clear and obvious, and sometimes they're not.  It's the ones that are harder to distinguish that I find I grow the most.  Leaning on faith and fully trusting isn't easy for me to do.  This past year has kind of been that way for me, though.  It's been the highest of highs and the lowest of lows.  It has been beautiful, and cold, and sometimes bittersweet.  I am coming into this new year with a very fresh outlook and perspective and I'm grateful for that.
We have really been settling into our house.  It goes in flows like this.  We'll do a bunch of projects and then take a breather.  Since the new year I have been cleaning out closets, going through storage and even unpacking some boxes that got shoved away somewhere during the move and renovations.  It feel so good to nest our little home.  There is something so fulfilling to me in that, ya know?  The same kind of feeling I get after I've made a good meal for my family.  I love making this life sweet and cozy.  I think about how this is my girl's childhood that we've living right now.  I want to be a good example to my girls and I hope that one day they feel fulfilled by serving their own families.  It is such a sweet and blessed calling, I tell you what.
I have been getting my life organized.  I am really hoping to develop a case of OCD sometime in 2015, but I'll take anything close.  I can work on my habits if nothing else.  I have been using a daily planner that has been helping me manage my chaos.  I have been cleaning on a schedule which has really helped stay on top of things.  I have been planning meals and cooking more.  This is the kind of mom I want to be – a happy one.  I have found that I have more time to feel happy when I'm not feeling stressed over overwhelmed by other things.  I love when we get into a good flow around here.  It's easy to get buried, and we often do, but at least I can try to stay on top of it a little more often.  Life is such a lovely kind of messy, you know?
Lately, I would say my style has snuggled right into "comfy chic".  Jeans, boots, slouchy t's and a cardi is my day-to-day.  If I can't throw it on in 5 minutes, shuffle 3 kids around, stay warm or sit down to nurse in it, it isn't going on my body.  And here's is a true story – my eyes have gotten exponentially worse with each of my babies.  Did you know that was a thing?  I officially can't be without my glasses.  I am thrilled glasses have made a come back and I really hope that trend doesn't fade anytime soon.  Firmoo to the rescue!  Also, this makeup look has been my life saver into the 4-eyes world.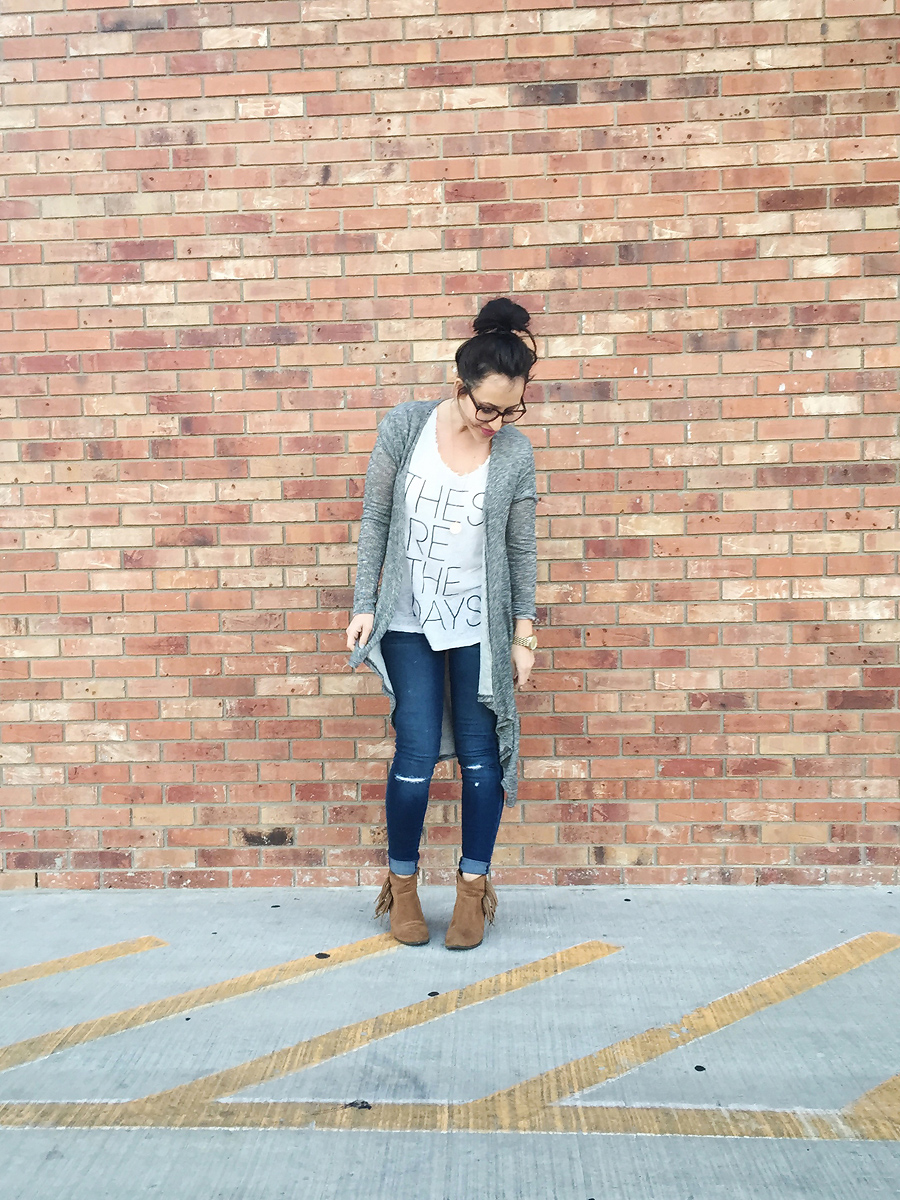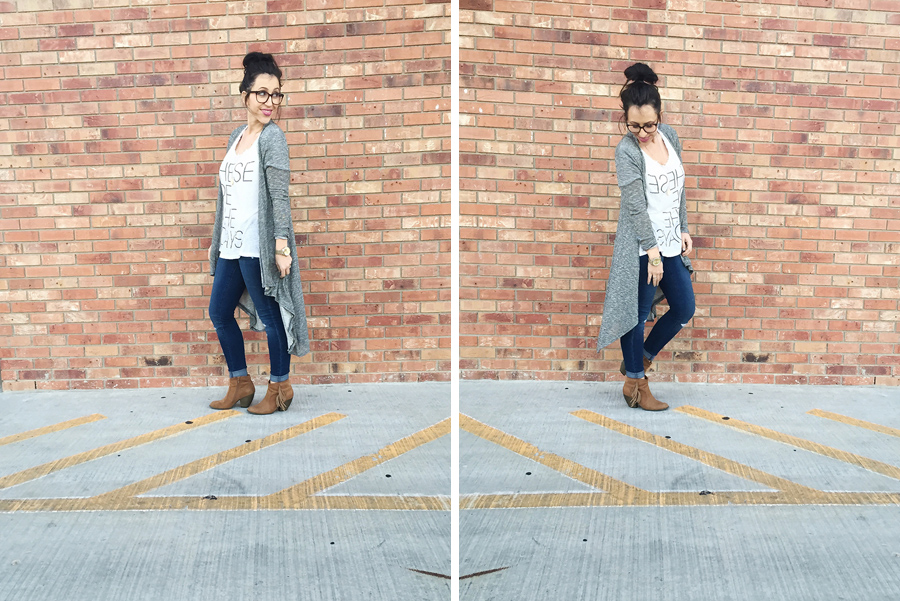 A quick note for myself to remember:
Harlo takes almost all of my outfit pictures (which is why most are taken with my iphone and not my "big camera").  She has such an eye for photography and composition, something that can't just be taught.  She directs the entire shoot and always tells me how to pose.  We get some silly ones and some normal ones, but my favorites are ones like this that sneak in and I can see how Harlo sees me.
This is probably a picture only she could get – myself completely open and unguarded. ♥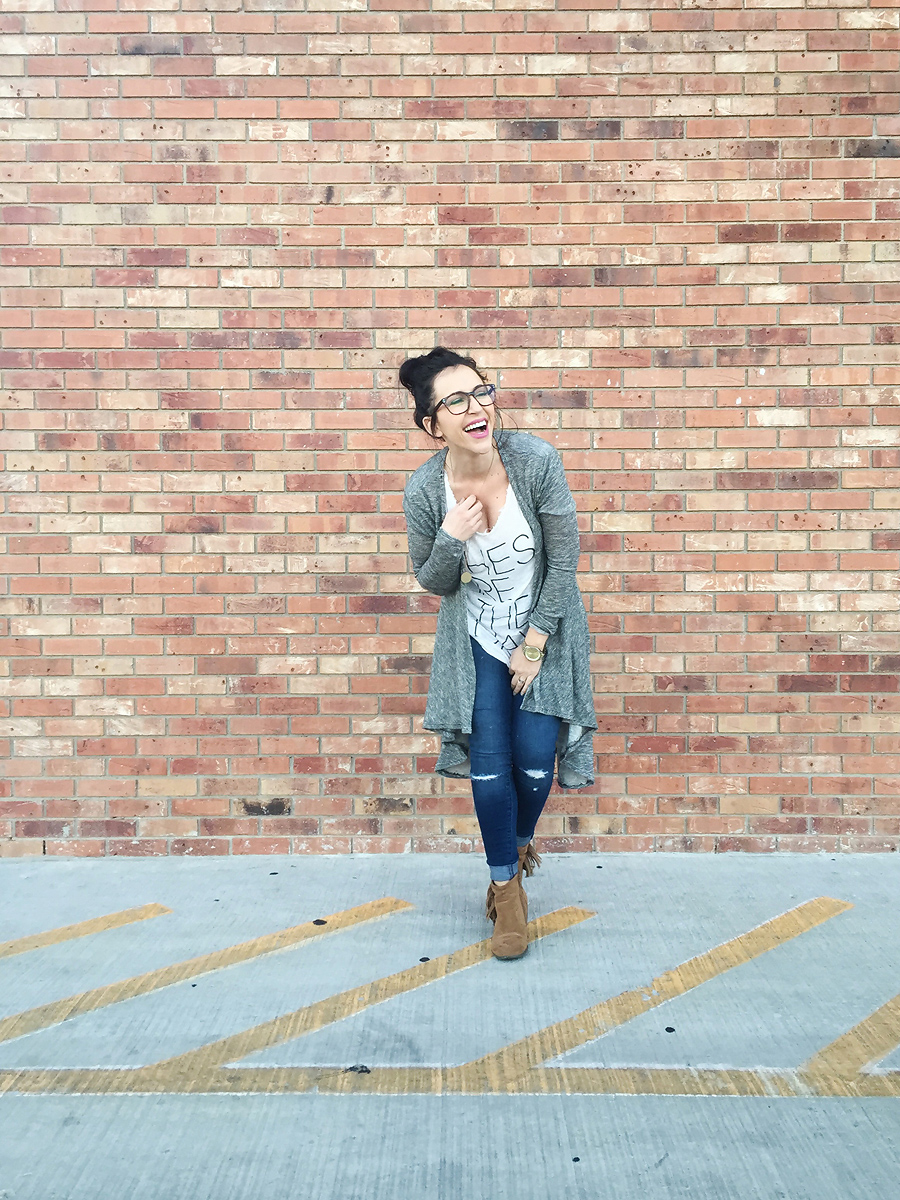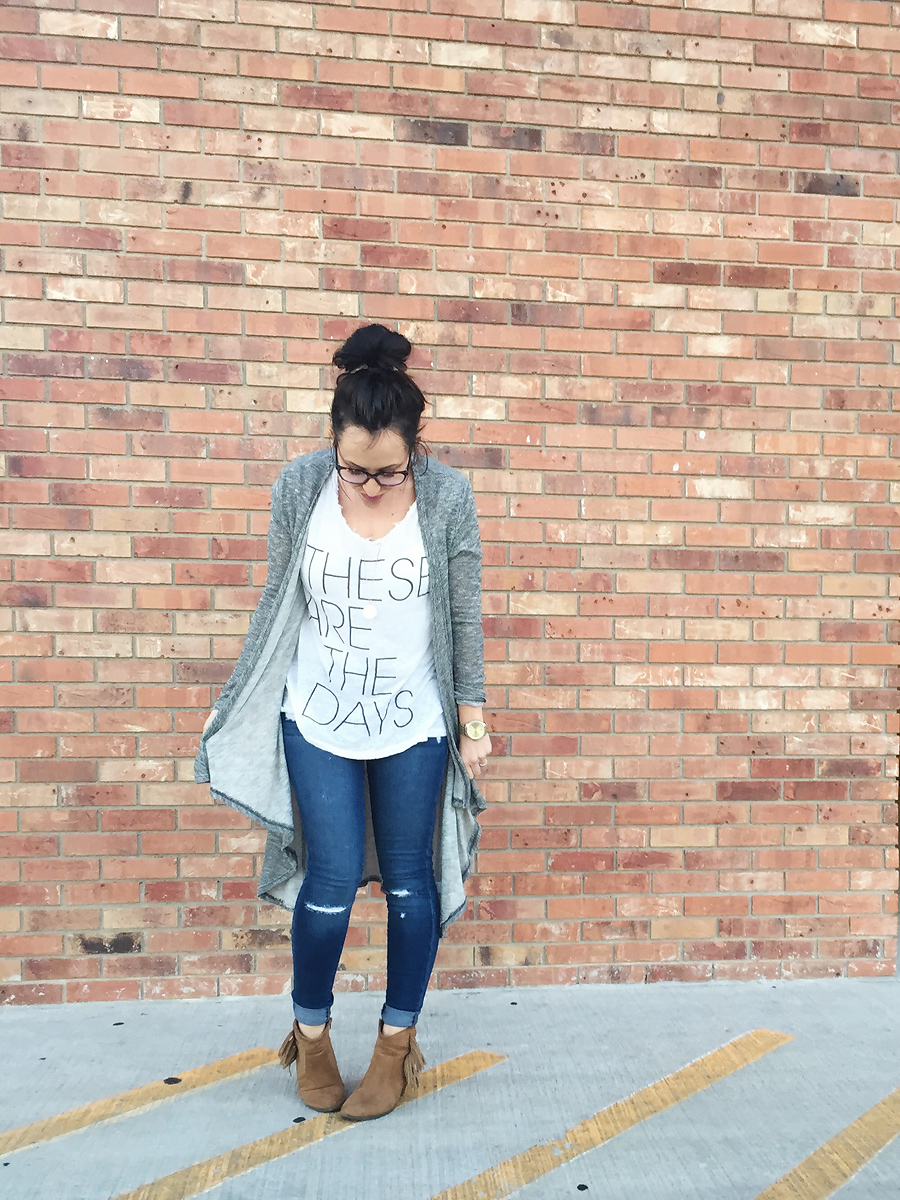 cardi | t-shirt | jeans | boots | glasses
For the most part, life is good.  Great, even.  And even better to know that we're all in this together somehow.
xoxo