My sweet Harlo turned six years old last month.  Harlo is my oldest, the one who made me a mama.  Each year that rolls by (and most days in between), I am reminded at what a powerful gift she has been in my life.  She came into my life so unexpectedly and in the perfect time.  She drastically changed the course of my life, and in the most sincere and beautiful way.  I know that there is no mistake in when she came, and that she was the spirit sent to me strong enough for the job.  She has taught me more about everything in the six years (and 9 months) she's been on this earth as my very own child and I am grateful, oh so grateful to my Creator for knowing what I needed just at the right time.  I pray sincerely that I can be as big of a gift to her life as she has been to mine.
For Harlo's birthday this year, she has been planning the details for months. She has had her own little note in my day planner and some nights, we jot down some ideas on it.  She is a great little party planner and this year I let her do whatever she wanted.  She chose the theme, the decor, the attendees, and the food.  The day just screamed Harlo and it was so magical for me to watch her little ideas come to fruition.  The day was perfect, just as she had planned.
We woke up to birthday presents and a 6 balloon (which has become a family tradition.  Birthday traditions are my faaaavorite kind.) We ate blueberry pancakes adorned with the birthday tiaras we had purchased for the big day.  She got on her new (Elsa inspired) birthday dress and we did the finishing touches on the birthday decorations we had been working on the weeks before (snowflakes everywhere).
After that, the birthday girl went off on a special lunch date with Grammy to her favorite place (Durangos) while me and Stella hung the party decor.  She arrived to her own little ice castle in time for the party to start.  We had "ice cubes" (rice krispy treats with blue food coloring) and "snow balls" (large marshmallows) and "snowmen snacks" (carrots, pretzels, olives dipped in ranch) and "olaf cheeses" (string cheese colored like olaf).  We also had "Frozen cake" (ice cream cake with the birthday girl's picture).  A pinata was also at the top of her list of things to do for the party, so we got an awesome ice cream cone pinata that worked with our theme.  I loved that it was Frozen inspired, without being Elsa & Anna palooza.  My girl's got taste, I tell you what.
We had just a small handful of her closest friends over.  They were ice queens and kings and ate all the candy and marshmallows they wanted (sorry moms!).  We finished up our day with a family dinner (+ Harlo's best boyfriend, Hudson) at her second favorite place, Chili's.
As we tucked them into bed that night, Harlo told me that the day had been perfect, "My favorite birthday ever." she said.  My heart could have just burst.  I love this little girl of mine so much.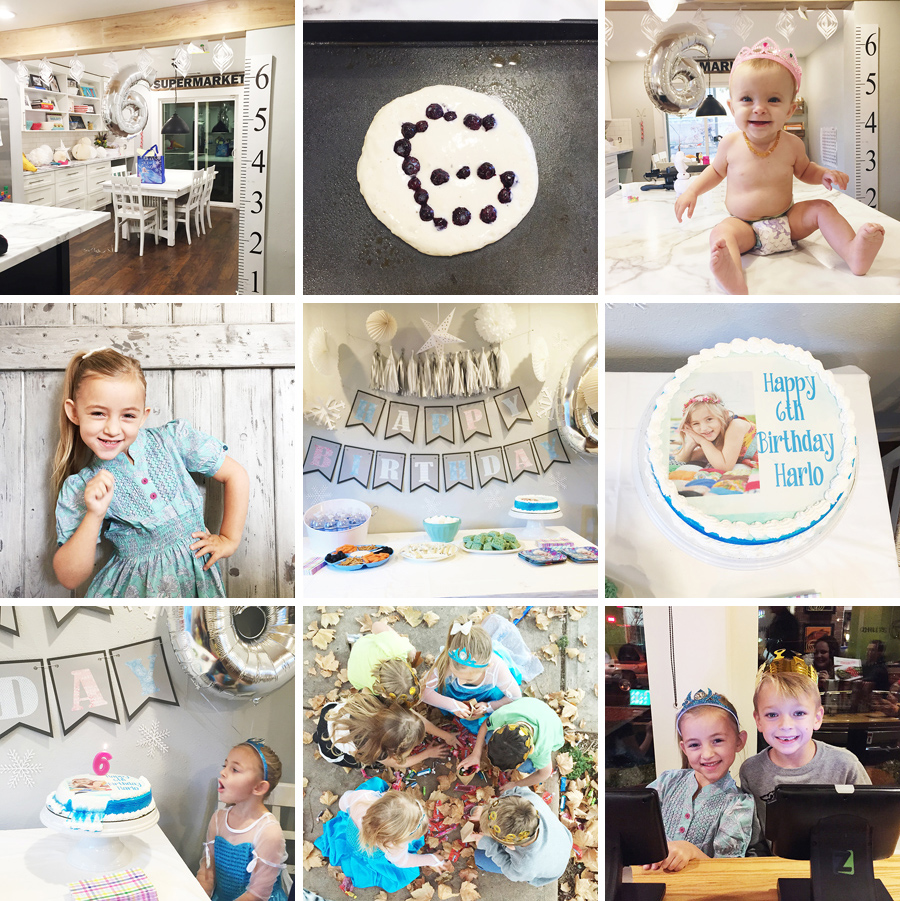 Happiest birthday to my very own Angel.  Your presence has blessed me beyond my imagination.  You are the kindest, most tender hearted human I have ever had the pleasure of knowing.  The way you move through life with such grace and beauty inspires me more than I can say.  I am so grateful for your help and support and for your strength to help lead your siblings.  You are a wonderful example, both to them and to Daddy and me.  You are constantly teaching me that life doesn't always have to be one certain way.  That life can be what you make of it, and you can choose to make a beautiful life.  You were my choice to create a beautiful life, Harlo.  I will spend the rest of my life loving you in the best possible way I know how.
I am so proud of you and so happy to call you mine.  I love you, my sweet angel girl.
xoxo
Mama