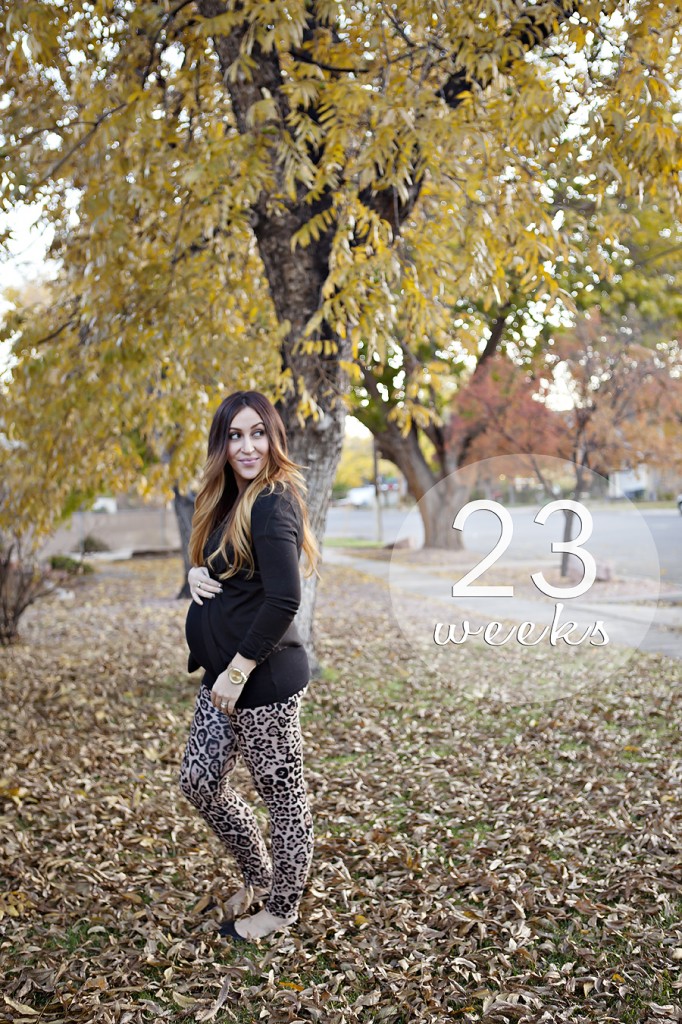 black sweater: Ross (steve madden) | shirt : old navy | leggings : boutique (similar print at Ross) | black flats : target
:: TWENTY THREE WEEKS ::
I'm still feeling really good without headaches or nausea.
My braxton hicks conractions have gone into full swing . Walking, lifting, bending over will spur them on.  I got them around this time with my other two as well.
Mostly just annoying, sometimes a bit uncomfortable.
She has gotten a lot stronger this week with her little kicks and nudges.  She now wakes me up at night with her movements.
She seems to be laying with her head above my left hip and her feet over by my right side.  Last week she seemed to flip more head down where I was feeling kicks on top of my belly, but now I think she's going back and forth.
I notice she'll kick if the girls are loud (usually crying) by my belly.  She better get used to that noise. 😉
I've gotten a little more uncomfortable sleeping at night.. the night before last I barely slept but last night I slept like a rock so it goes back and forth.
I definitely have gotten more awkward with my movements.  Especially when my hips are bothering me I start to waddle more than walk and I'm slow to get out of bed or off the couch.
I've been feeling suuuuper tired this week.  I've definitely been slacking on chores.
I notice the girls touching my belly more just walking by or when they talk to me.
Harlo insists she can hear her if she puts her ear up to my belly.
Stella thinks she can see her if she put her eye up to my belly button.
Both have felt her move, but Stella is more interested in that right now which surprises me.
Harlo seems to be more interested in the baby actually getting here.  She admires all her furniture and clothes and is constantly asking for a time frame for when the baby will be here.. "After Thanksgiving will she be here?" "What about after Christmas?" I tell her, "After my birthday and when it's getting a little bit warmer outside, that's when she'll be here."
Last night in her prayers she said, "Please bless it gets warm soon so our baby sister can get here."
Sometimes I feel so anxious for her to be here already, sometimes I feel myself getting nervous about having another baby.
I just can't imagine how the dynamic will be.  My older girls are so close in age and I always pictured them exactly how they are now.  This new little one will be in a completely different stage than they are in.  I can't wait to see how it all unfolds.  I feel absolutely certain that she's coming at the exact time she should be though and I know our family will be so blessed by her.
We've seemed to put a halt on the naming her.  Probably because we had no idea how to top Baby Jesus Christ Miller. 😉
I have so many projects and things I want to do before she gets here, so we're trying to make a goal of getting one big project done each month so we'll have it all done by the time she's here.
I'm starting to get anxious to work on her nursery, but we'll probably hold off until the end because that room is currently our office.
I feel like my pregnancy has gone by fast so far, but it still seems like I have a looong time to go.  I think with the holidays to focus on, that will help a lot though to seem to speed things up.
Speaking of Christmas, I should probably get on that pretty soon, eh?
You all know I'm a last minute kind of gal. 😉
Other than that, I am just loving this stage of pregnancy.  I'm hoping the 3rd trimester goes easy on me this time.