I've said it before, but I am seriously loving the style as of late.  There are pretty much no rules and so many things are in.  It's like the 80's, but with way less blue eye shadow and perms.  Today I'm jotting down some of my favorite styles.. some in my closet and some on my wish list.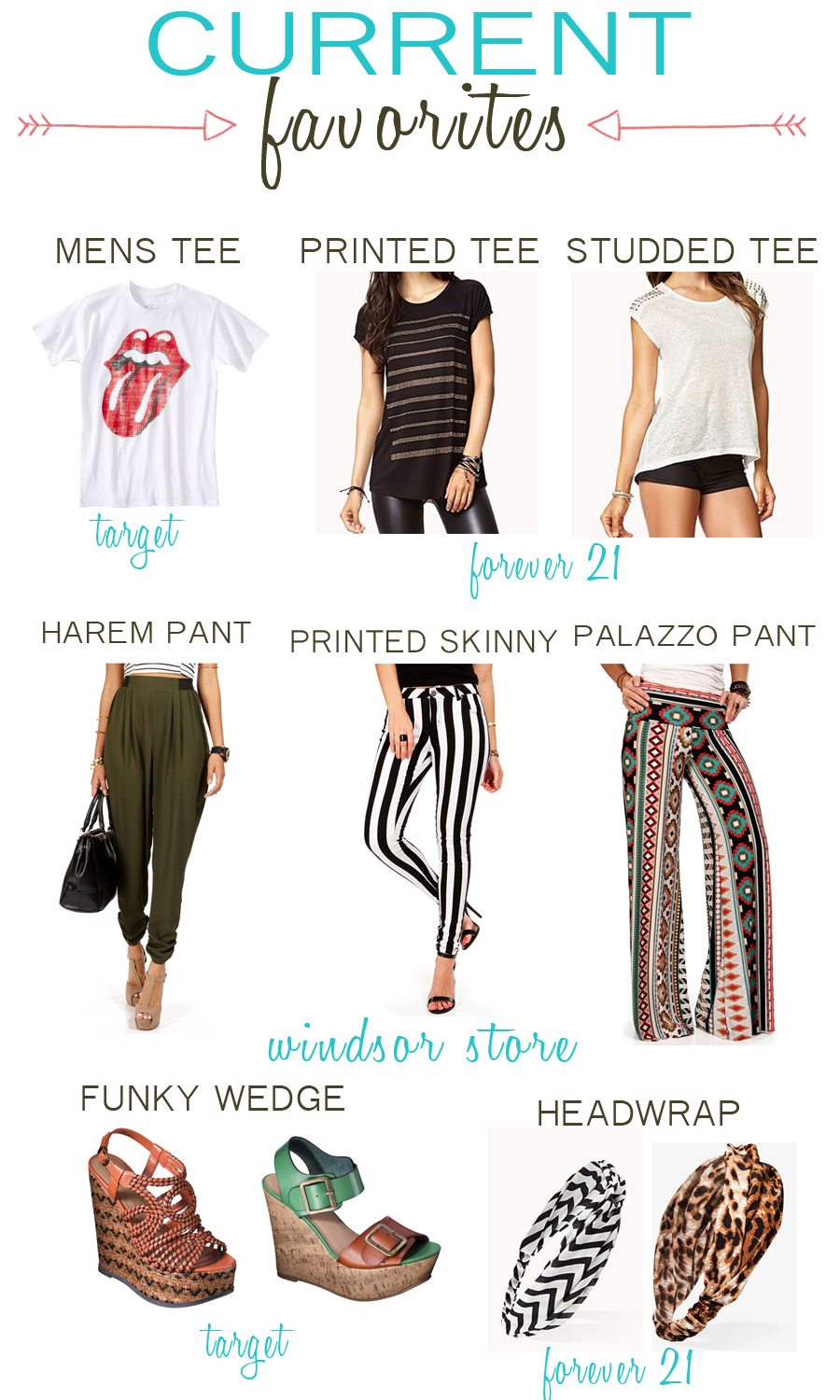 T-shirts – As a mom, I'm pretty much as mad about slouchy t's being in style as I am about top knots being in style.  This is HEAVEN!  I mean, I can look chic rolling out of bed.  Bad hair day?  No problem.  Saggy mom belly?  No worries!  Cover that ish up with a sassy printed tee and you're as good as golden.  These Target mens tees have my heart racing.  I pick one up each time I take a target trip (which is more than I'd like to admit).  My other fail-proof place to get a few cute tops for super cheap is always forever21.  Studded top here, printed top here.
Sassy Pants – Of all the trends right now, funky pants are at the top of my list.  I just barely got some black and white striped skinnies (similar here)and I am obsessed.  I've also got my eyes on these palazzo pants.  Harem pants are to die for.. totally not great for my short frame, but if you have legs for days – please wear these on my behalf.  Windsorstore.com has more funky pants than my heart can handle.
Target Wedges – I'm not the first to acknowledge that Target is really killin' it these days with their sandals.  These are officially on my wish list.  I wear flats a lot, but I really love adding some height.  Wedges are sturdy enough to be realistic for the mom life, and sassy enough to be realistic for my inner fashionsta.
Headwrap – There are 2 things I can always get behind, 1 is not washing my hair, 2 is adding a funky print to my life so my love for headwraps has been instant.  Forever21 always has a nice collection, and brickyard buffalo has some cute ones on sale today.
What items are on your current fave list?  I'd love to hear!
xo, C