Today is the day I have both been looking forward to and dreading for the last 3 years and 9 months.
My oldest of kin (but my baby forever), began her school career.
I sit here baffled by how quickly the time from carrying her in my womb, to walking her into her first day of school has gone by.  How oddly small the time I've had to protect her from the big outside world has been.  I just can't quite seem to wrap my head around it all.
Today, her life apart from me begins.  Although that big, bitter pill seems impossible to swallow, I am so proud of the little lady she's become.  She was not afraid at all to be separated from me or her sister for the first time.  She graciously held her composure from any nerves she was feeling.  She warmly thanked me for setting out her breakfast, doing her hair, taking her picture and dropping her off to school.  My big girl, sincerely using her manners.  Gently reminding me of a job well done.
As we pulled up to her school, I remembered we had forgotten her blanky for her first day.  She calmly told me "It's okay, mom.  I don't need my blanky.  I'm going to be fine."  We walked inside and she clung to my leg a little tighter.  I looked down at her and she pulled me down to her level and wrapped her arms around me and left two kisses on my cheek.  "Thanks for dropping me off, mom.  I just love you." and with that, she headed for her chair with her new teacher leading the way.
I barely made it out the door before the sobs escaped me.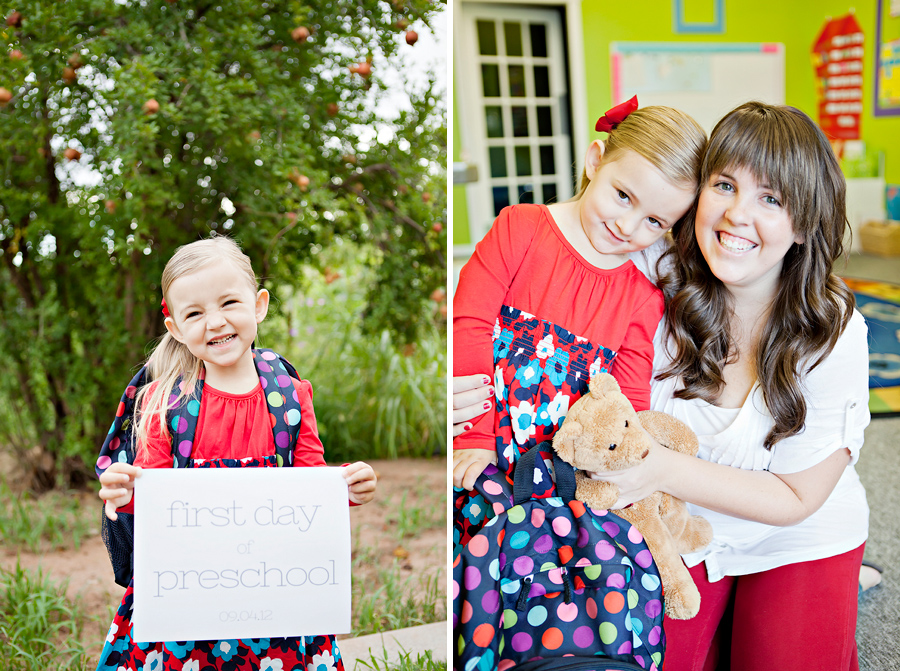 Today my baby grew up.  And while I pray for time to slow down, I could not be more proud.