As a mom, I feel like it's easy for me to skip over the style part of my life.  Why do we do this? Yesterday at Old Navy, I had an arm full of fall clothes for the girls and one measly $2.99 tank for myself.  Granted, they need them more than I do, but where do I fit into the equation?
When I look my best, I tend to feel my best.  And I don't say that out of vanity… that I can't feel good about myself when I'm not all done up, I can and I do.  But when I like the way I look, when I spend even just 5 minutes on my appearance for the day, some days it makes all the difference.
Well today, I say no more!  Just as I dress up my girls, I'm going to start dressing up myself.  And I don't mean I'm going on a shopping spree (I just purged 88% of my closet, remember?) but I am going to work on getting creative and dressing to impress… myself.  Because I matter to me.
I'm saying no to jeans (or sweatpants) and t-shirts all day, everyday.  I am going to step out of my comfort zone of style, take risks and HAVE FUN with the everything-goes style we have right now.  Starting today.  So Friday is now going to be my day of fashion.   I'm sure I'll embarrass myself sometimes, but who cares?  Just because I'm a mama and a wife, does not mean I'm not still a lady.
Today, Brady called and said, "can you meet me for lunch in 5 minutes?" SURE, I committed before realizing I had on yesterday's make-up and no pants on yet for the day.  That wasn't going to keep me from being stylish, though.  I threw on some super comfy leggins, my new $2.99 ON tank (that I'm pretty sure yellow is the least flattering color… just sayin') and my staple chambray that I wear almost everyday (hey! It looks cute with everything!)  It wasn't fabulous, but it was nice and comfy and got the job done.  Plus, a baby girl is the best accessory, I always say!
(photo credit to one talented 3 year old)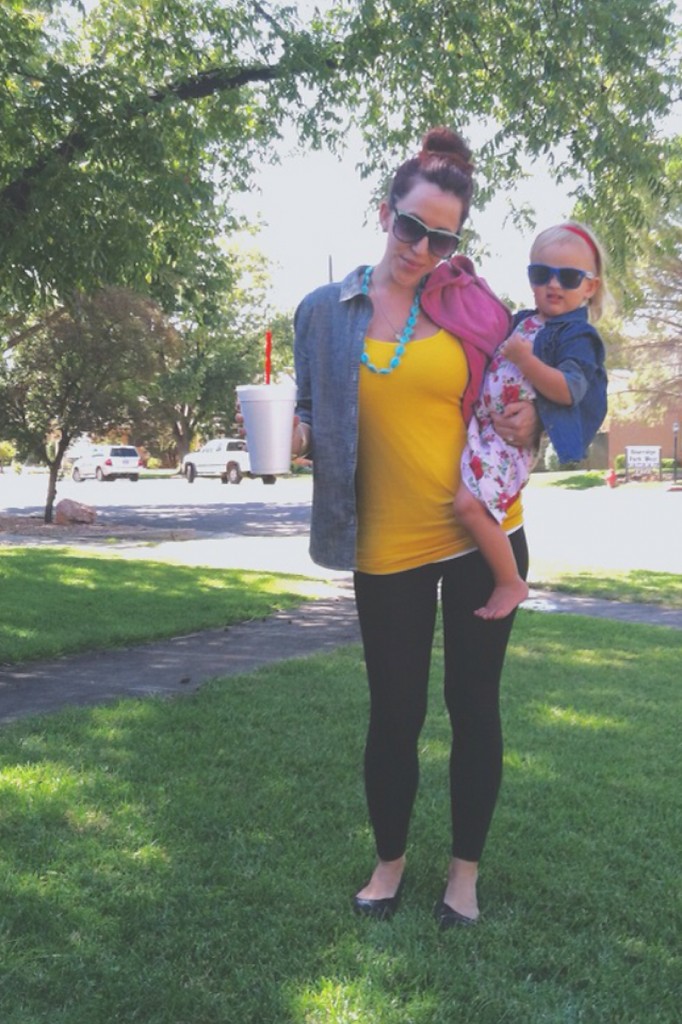 The girls only like to wear dresses, no matter the weather, occasion, or logic.  Instead of buying them a whole slew of new clothes for fall and winter, I decided to get just a few staple pieces to extend their summer dresses.  goal: save money, simplify. They totally dig it! (and totally pull it off, if I do say so myself!)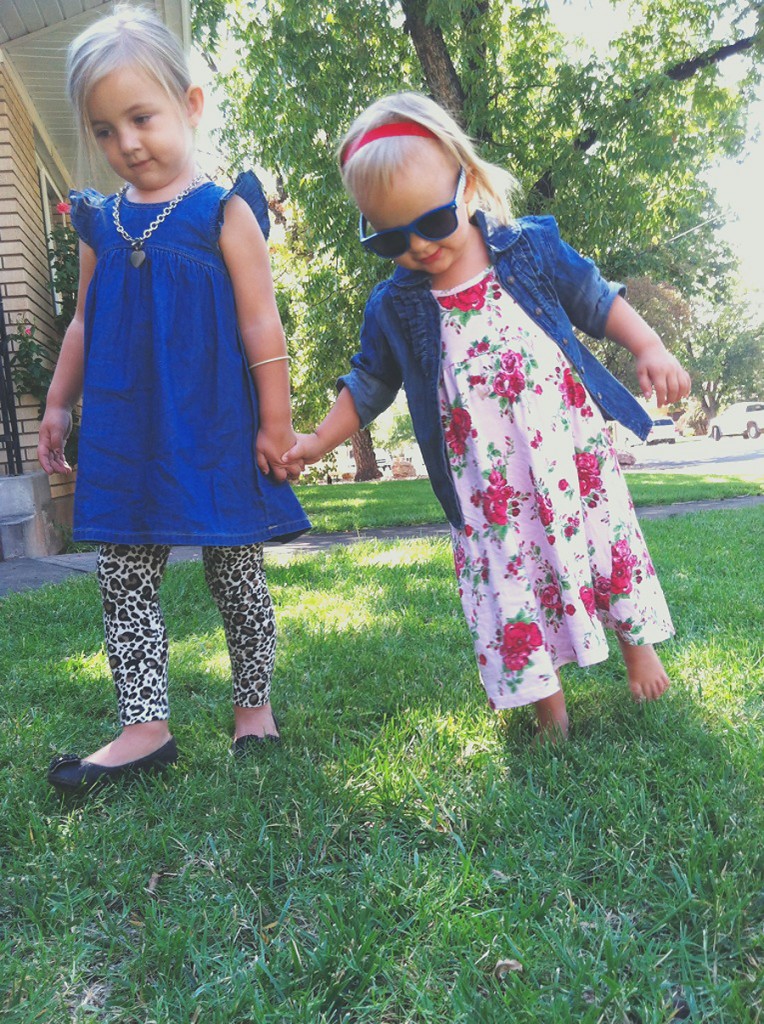 So go ahead and add a funky print, like Harlo.  Sport some cool shades, like Stelly.  Or go for comfort like the mama.  But join in!  #fashionfridays are in full swing over here!