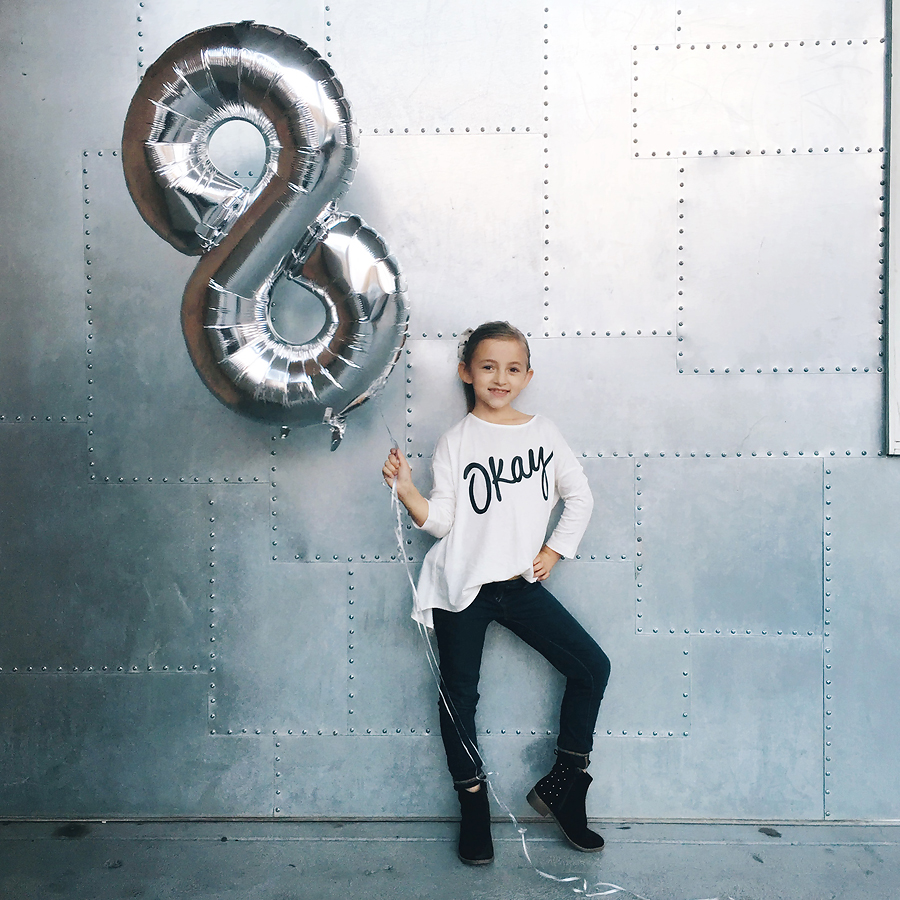 It's true.
My baby girl turned eight years old.  EIGHT.
What a milestone.
Harlo is probably the most interesting person I've ever met.
She is so complex.  She has the most beautiful soul.
Harlo's favorite color is purple.
Her favorite food is refried beans or oatmeal (has been since she was 9 months old!)
Her favorite past time is definitely spent on the computer playing Roblox or Minecraft.
She's got a real knack for all things computers/electronics.
Makes me laugh because she's so her dad's brain.  They just come wired that way.
She's like her dad in so so many ways.  My relationship with her mirrors a lot of my marriage.
I understand Brady more since mothering Harlo, and I understand Harlo more being married to Brady.
They are such deep thinkers, sensitive hearts, incredibly intelligent, and both rely on sleep and downtime.
You don't want to run into a sleep-deprived Brady OR Harlo.
Mothering Harlo has been such an incredible experience for me.
She has tamed me, and broken me in the best way.
I am more gentle, more understanding, more confident, more stable.
I have had to be these things for her, and I wasn't these before.
Harlo has always been more of an introvert.
She loves to be home, in a nightgown, doing whatever.
It's hard for me to get her to step outside her comfort zone – but Stella pulls that side out of her effortlessly.
Harlo has such a deep feeling heart, and I love this so much about her.
She just feels so deeply – for herself and for others.
Injustice really bothers her, and I know this is part of her purpose here on earth.
She is such a good girl, I only ever hear good things from her teacher.
She is very on task, minding the rules is of utmost importance to her, she stresses if she doesn't get her homework done.
She has really really loved second grade, and because of that, I have really loved her in second grade.
She has the perfect teacher for her, truly.
Harlo lights up when she talks about her teacher, she genuinely loves her and it's hard for Harlo to let people in that way.
I'm so glad she's been able to open up in school this year – that's been a struggle for us in years past.
This year she got to have a friend party and I let her choose each detail.  I loved what she came up with.
She wanted a minecraft cake, a party to play lazer tag and arcade games, a cute outfit and an american girl doll.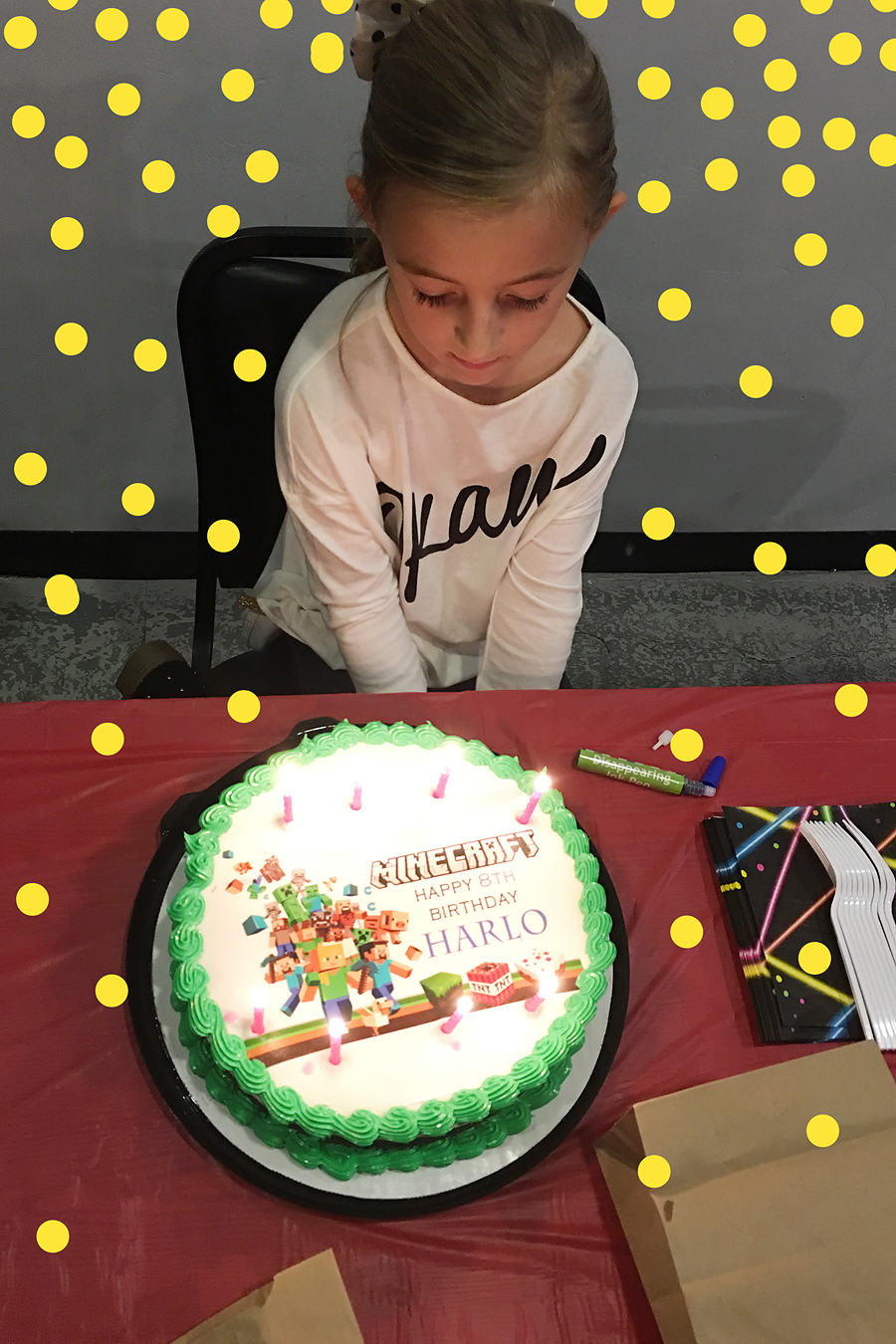 Just such a great mix in that girl, it's so awesome.
I have loved how her personality and interests have developed.  I admire her surety so much.  It's not something that comes as easy for me.
Harlo is so naturally good with setting boundaries.  It amazes me that something I am just now starting to grasp in my late twenties, she is so so good at at 8 years old.
I hope she doesn't lose this about her. (Even though her digging in her heels is HARD for me at times.)
It's not hard for her to tell me when she doesn't want to do something, or what she doesn't like, even when she knows it's what I want her to do.
That is something that is SO hard for me (telling people what they don't want to hear), and I look to her as an example.
One time when I was especially frustrated with her about something, Brady gently reminded me that we don't want to push her too hard to be something/someone she's not.. that I needed to bend, not force her to.  I loved that he said that, and it has really helped me.
I've really learned not to push her to be a certain way, and that surrender on my part has really blessed our relationship.
I always say that Harlo was sent to be strong enough to break me into what God needs me to be.  It's not the other way around.
Harlo has such a sweet sense of humor, and just such a sweetness about her in general.
She really appreciates beauty in this world, and relishes in the fanciness of life.
I love adding special touches wherever I can, and Harlo eats it up.
Her birthday morning set-up has become such an important tradition to her.  So funny, because when I started it, I didn't really think much about it, but now she'll remind me "You have something special planned for me to wake up to, right mom?"
She can't know how much it means to me when she remembers these things, it reminds me that I am her mother, that I am creating a childhood for her that has touches of magic, and that's exactly exactly my hope.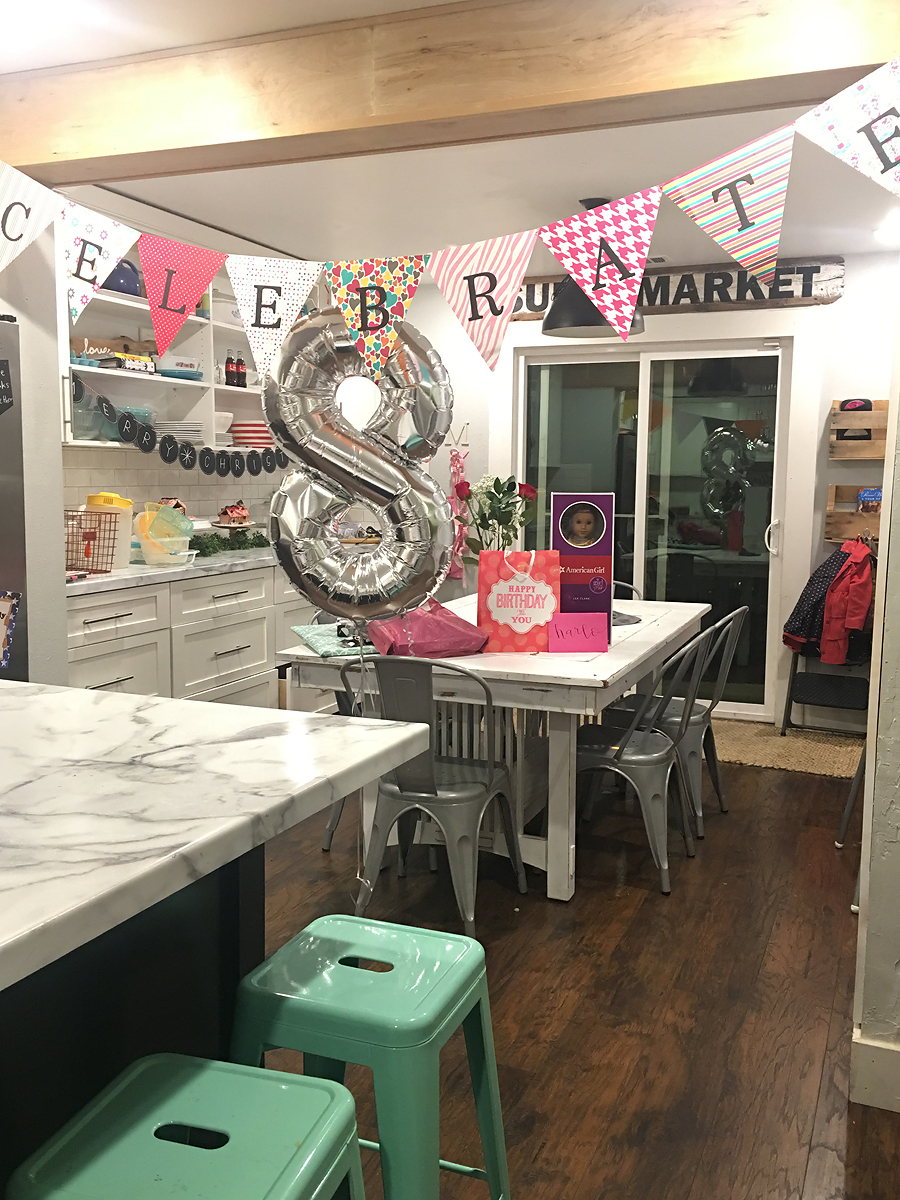 (I made that banner for Harlo's first birthday!)
It has been my pleasure watching her grow up into who she is, and even though this new age comes with a sting, I am so excited to see what this life has in store for her.  I know it's going to be good.
I am so grateful for her.  For her strong spirit, for her gentle heart, for her zest for the things she likes and dislikes.
I hope hope hope that my appreciation for her will stand out from my difficulties in navigating life with her. (I am learning, my sweet girl! Thank you for being patient with me!)
I hope that she knows how much I appreciate her, how I feel like she saved me, how much I needed HER, in all the ways she is.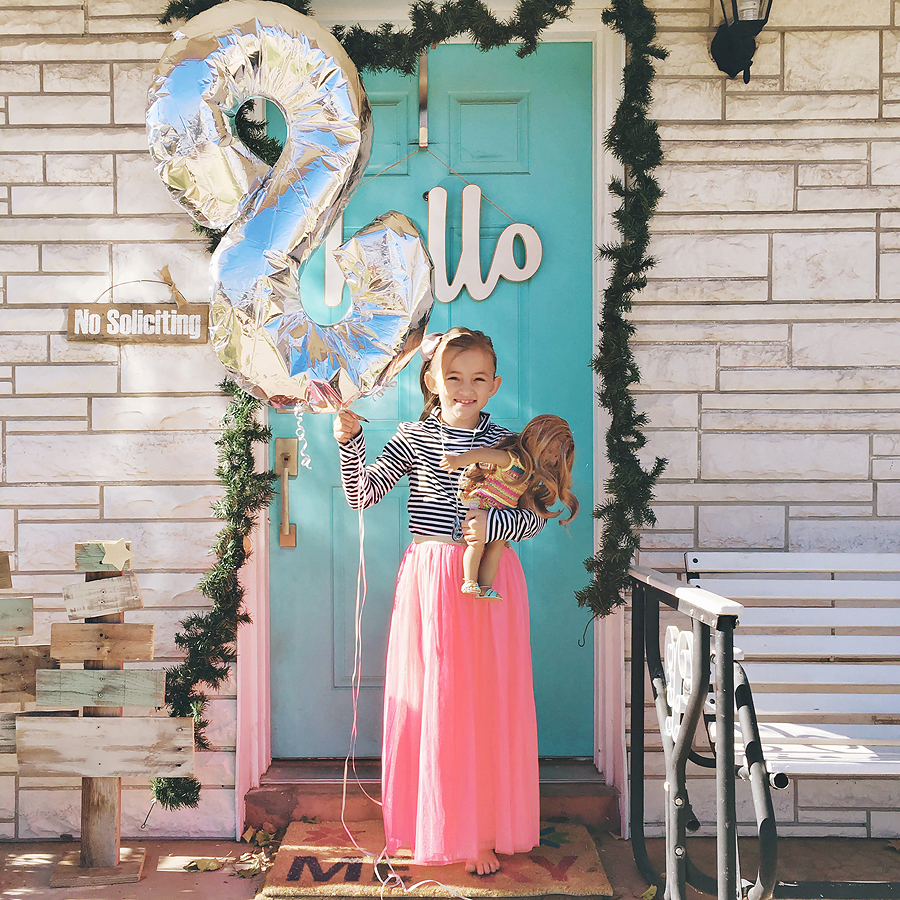 Happy birthday, my darling angel.
You brought such purpose to my life.
I am better because of you.
I love you more than you could possibly understand, but one day I really hope you will.