On August 3rd, my sweet, sunny, lively little Stella turned six years old!
Months and months ago (even before Christmas) Stella knew she wanted to spend her birthday at the American Girl store.  She has become more obsessed with American Girls as the days have ticked by.  We talked about how going to the American Girl store was a big deal, and very expensive.  She then opted to forgo a birthday party, any other birthday presents, "don't get me presents! Just send money that I can spend at the American Girl store!", she told us.
Luckily, Stella's birthday lands in the summer and working our summer travels around her birthday wasn't too hard.  We knew we wanted to get to Santa Monica at some point with the family this summer, so we hopped on board for the American Girl store birthday!
Stella researched every single detail of the American Girl store.  She knows about all the girls, all the collections, each and every outfit and option.  She knows which stores are where, and what they offer.  In all her spare time, she spends it on the American Girl website or on various American Girl youtube channels.  Stella is SERIOUS about American Girls, and I have to admit, as the days drew nearer I found myself getting butterflies of excitement as well.  Both for her, and for the little girl in myself who would have LOVED an American Girl store visit at her age.
One thing I have to note is how easy it was to manage Stella's expectations.  I would tell her we probably wouldn't have enough money for a certain thing, or discuss what our budget would be, and she was just as happy altering her plans to fit within that frame.  She even planned out exactly what Harlo would do (bring my old American Girl doll to the store, so she wouldn't be empty handed).  She was just so gracious, so sweet, and so grateful for anything we would allow.  I love that about Stella and never ever want to forget how sweet she was in planning this birthday.
We also had a lot of comments about Harlo before our trip.  "Will that be hard for her not to get a doll too?" they'd ask, and other questions of the like.  But I have to say that my girls do really well at celebrating each other.  Harlo was so excited for Stella's birthday, for her.  I don't think she complained one time about not being able to get a new doll, or this or that.  We did give her a little summer allowance for helping so much during the summer that she spent on a sweet little outfit, and that was plenty.  She was such a gracious big sister on this trip, and I know it made the day even that much more special for Stella getting to share it with Harlo.  Man, I love these girls.
Needless to say, when the day finally came (we made sure to be there ON her birthday), we were all dying of anticipation and excitement! (Even Mr. Miller caught the American Girl fever!)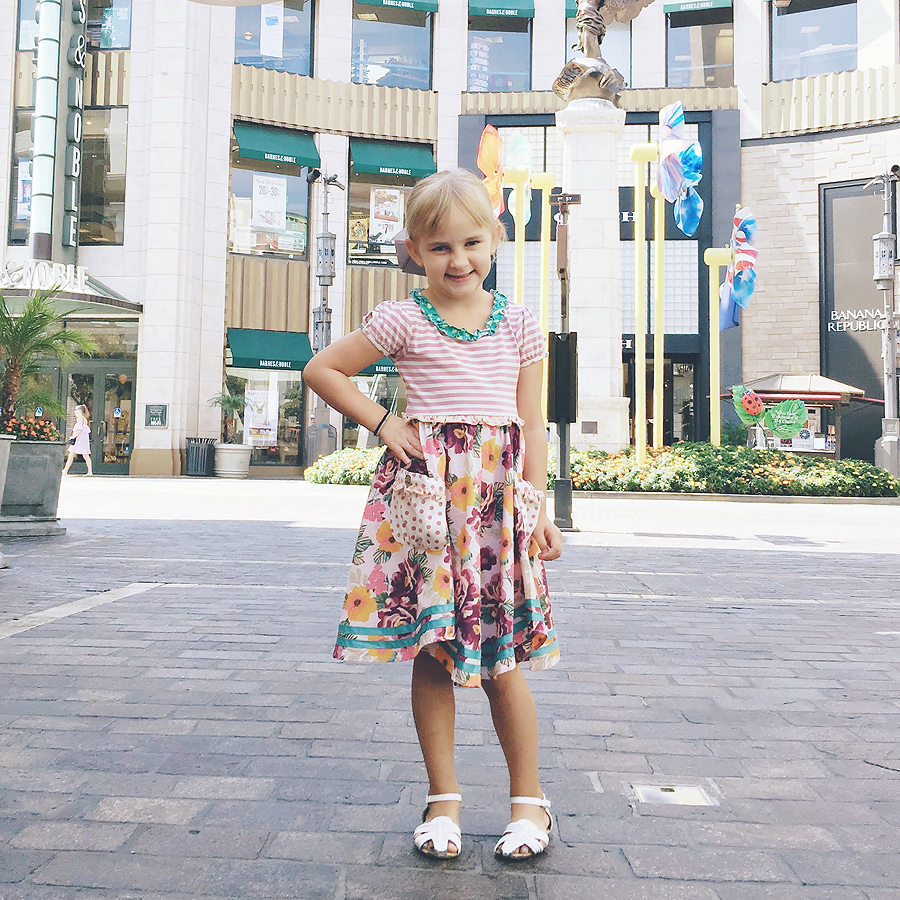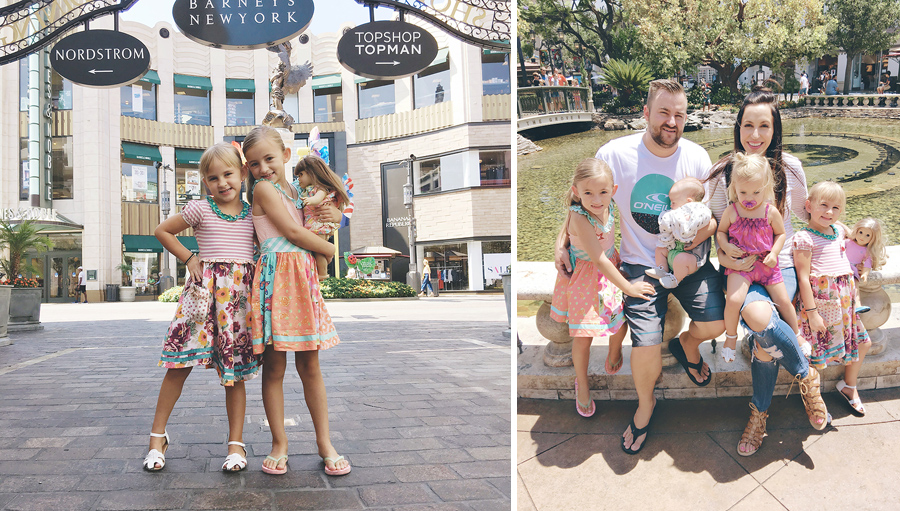 Shortly into our visit, Auntie showed up to surprise Stella at the American Girl store.  I can't tell you how precious Stella was for that surprise.  She shrieked "Auntie!" and almost got a little emotional.  Auntie and I both will never forget it.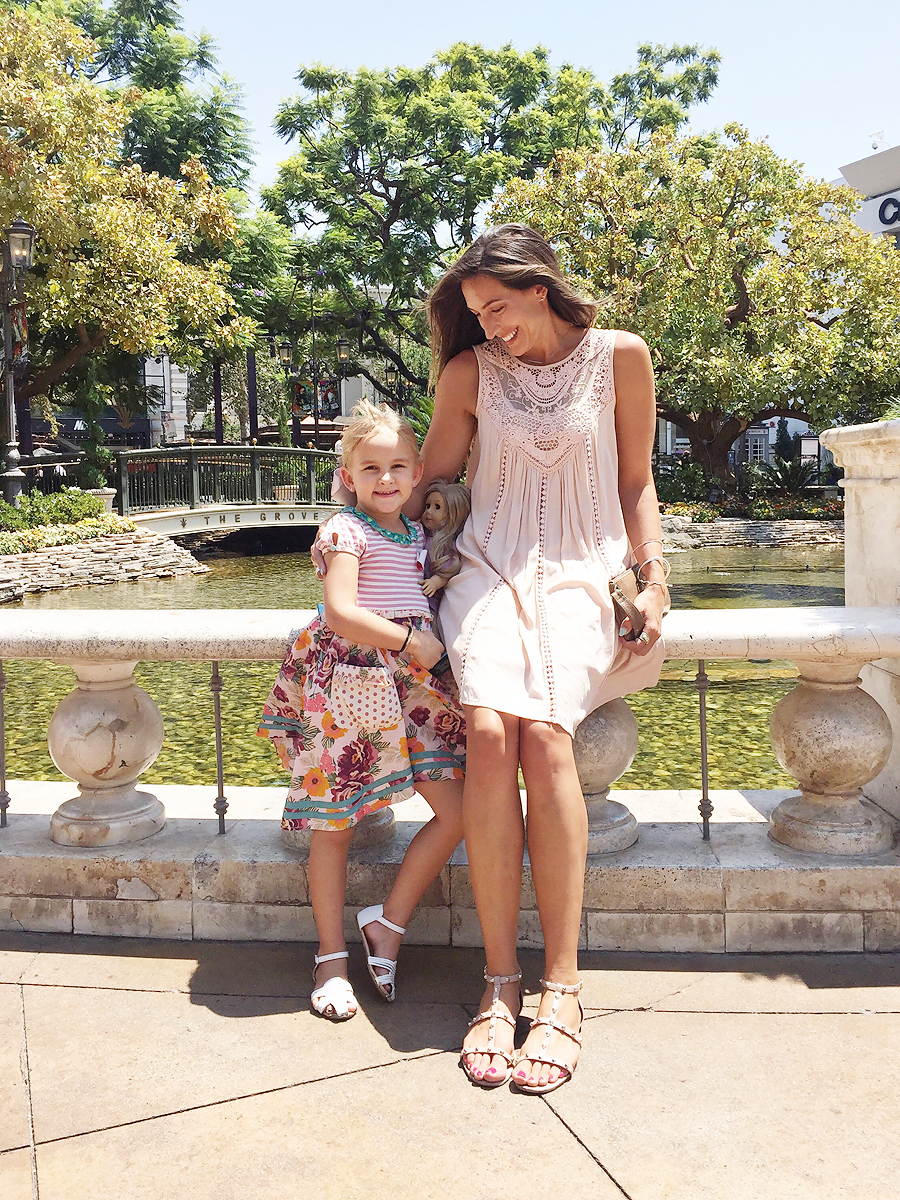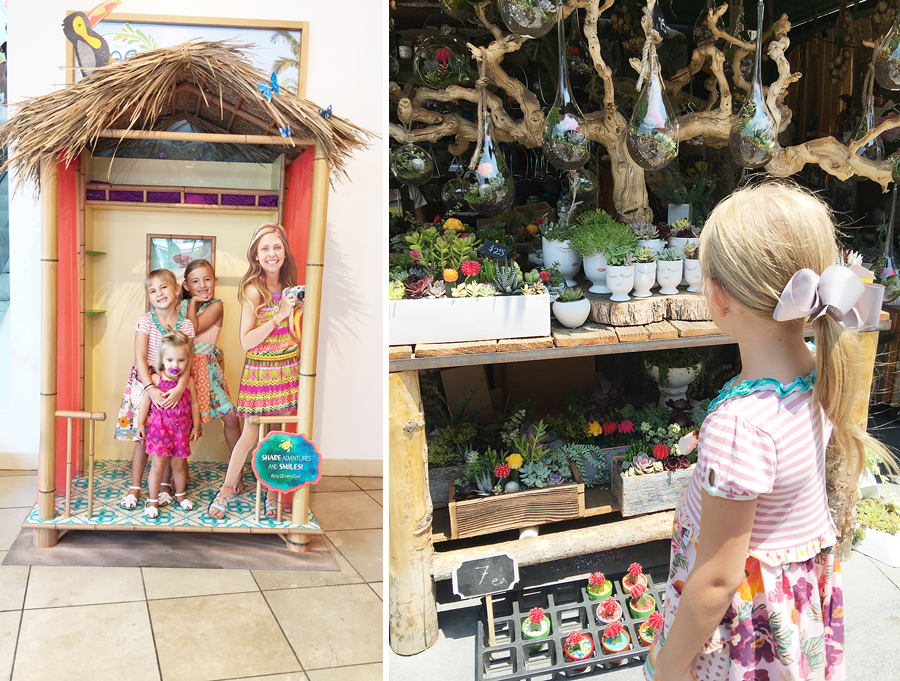 We had so much fun at the American Doll store.. Stella made out pretty well with grandparents sending her with money so she was able to buy a doll, and a couple accessories as well as get "Bella's" ears pierced.
I planned ahead a bit and scheduled a personal shopper for Stella (the store offers them for free!) and that was a really special touch.  They took us back to a big pink room and let us set our stuff there and gave us a tour of the whole facility and told us a lot of interesting information.  Stella ate it right up.  It was just the amount of VIP status that girl can appreciate! 😉
After the American Girl store, we decided to head over to Santa Monica Pier to spend the rest of the day, which was even more fun to have Auntie tagging along with us for the day.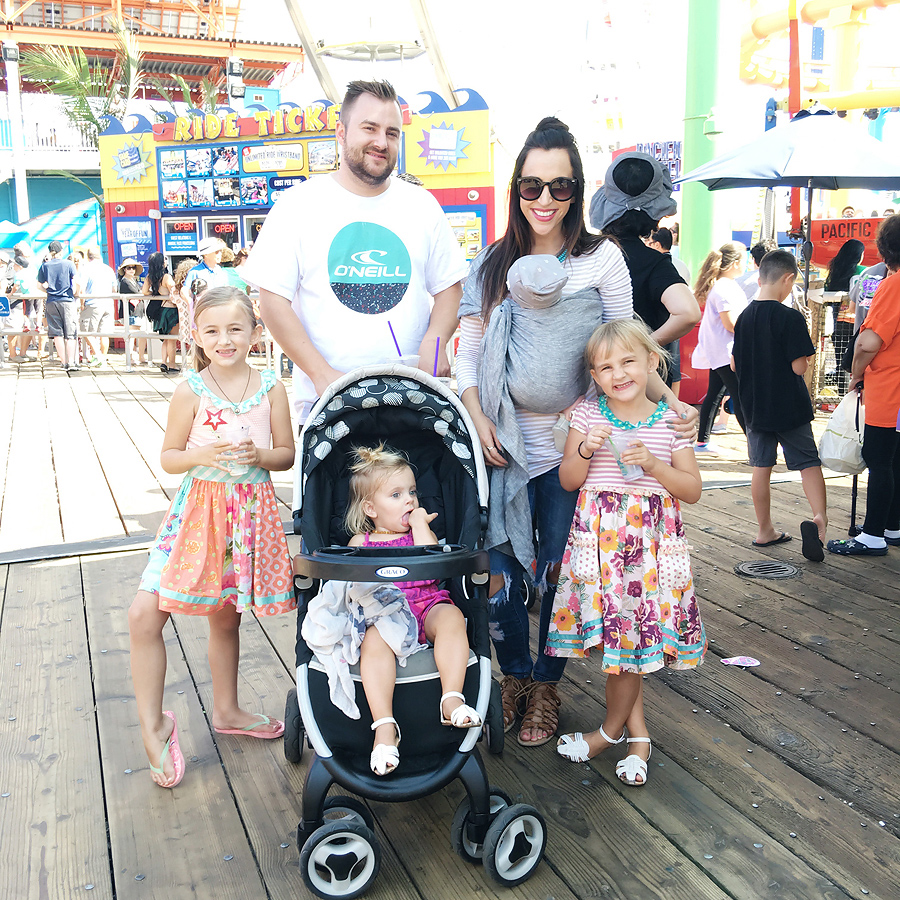 The girls opted not to ride any rides (Did you know I'm deathly afraid of farris wheels?), but Mr. Miller showed them around the arcade like the old pro he is.  We had ice cream and took it all in.
After the pier, we spent the rest of the day shopping and eating on the 3rd street Promenade.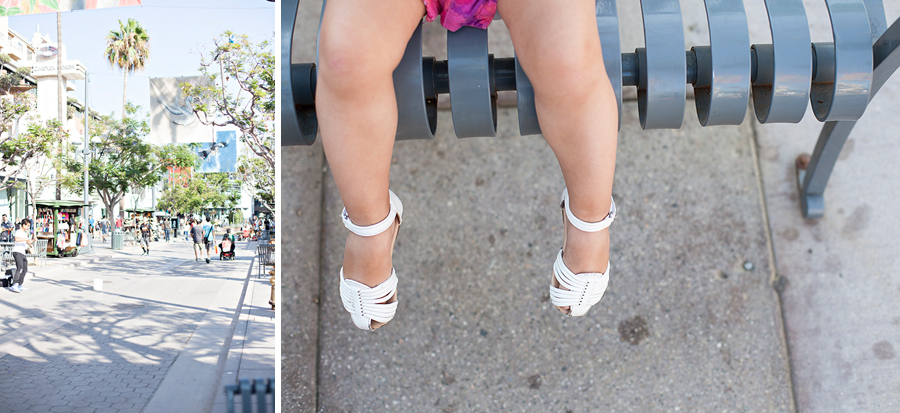 The kids were mesmerized by the street acts.  For a Wednesday, I was so surprised and excited to see them out there.  We watched and watched the different dancers and performers.  Our favorite though was a magic show!
Mr. Miller and I came to Santa Monica on our babymoon in March, and we knew our girls would love it.  It was SO fun for us to bring them along.  I was so in love with Brady on that trip, carrying around our 4th baby in my big round belly.. and to enjoy the city with him again – this time with all four of our babes with us just seemed like a dream come true.  I fought the happy tears back all day.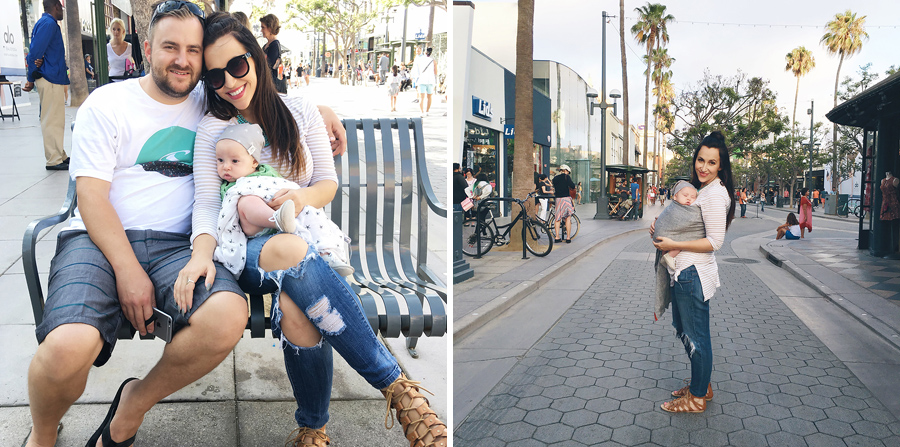 Stella's birthday was everything we hoped it would be and so much more.  She hasn't stopped talking about it since.  As we drove home that night she took a big sigh and said "Wow.  Today was the best day ever."