Today I am feeling very "end-of-pregnancy-ish".  Everything seems to ache, or pop, or shoot pain when I move.  I'm too tired to function, too restless to sleep (ever).  I have been saying "I'm pretty much ready, I just need to get the rest of my things at Walmart." for the last three weeks… STILL haven't made it to Walmart (Hey pal, don't come early! I'm not ready yet!).  My babysitter is out of town, tomorrow my sister leaves, my house is trying to kill me, and my husband is trying to be endlessly patient with my emotional roller coaster.  I call this part of pregnancy: The "Twilight Zone" Phase.
It's somewhere between "I can't share my body for another single second more, I am going crazy, DO YOU HEAR ME? Crazy!" and "I can't believe this might be my last baby.  I need this pregnancy to last forever, here feel this foot.  Isn't that the cutest tiny foot you've ever felt? I don't even care it's between two of my ribs."  Or…. sobbing at 6:30pm because I'm too tired to survive another minute and my life is too overwhelming, then at midnight, I need to chat and talk about all the things I'm so happy about, and grateful for, and what a miracle motherhood is.  Or… needing my husband to take the morning off work because I can't stand the thought of him leaving, then 3 hours later needing everyone to get out of my house and leave me alone for a while.  You know, that part of pregnancy.
I know better than to wish for, or even think of an early delivery, so I am accepting this is how the next couple of weeks will go until this little Miller is out of my belly and in my arms and I am saying things like "Isn't this the best thing ever? So worth it.  We should definitely do that again. It wasn't even that bad at all.  Pregnancy is so awesome – what a miracle."  And if this post is sounding crazy to you, I hate to tell you that I'm not even exaggerating and all of these sentences are based on actual events.  Pray for me, please.  And for the love of all that is holy, pray for Mr. Miller who is solely responsible for me!
All craziness aside though (and I realize it's a lot to push aside..), this pregnancy gig and bringing human beings into this world will forever boggle my mind.  The sheer size of what that means puts into perspective all the craziness.  How do you wrap your head around something so big and so divine?  I am going to give myself a huge break, because gosh dang, I deserve one.  I have this divine calling, the privilege of a lifetime, to bring this special child into this world soon.  My soul is already being moved and stretched and prepped for this new life to change me forever.  I'm feeling it closer and closer, and my goodness, I am so very grateful.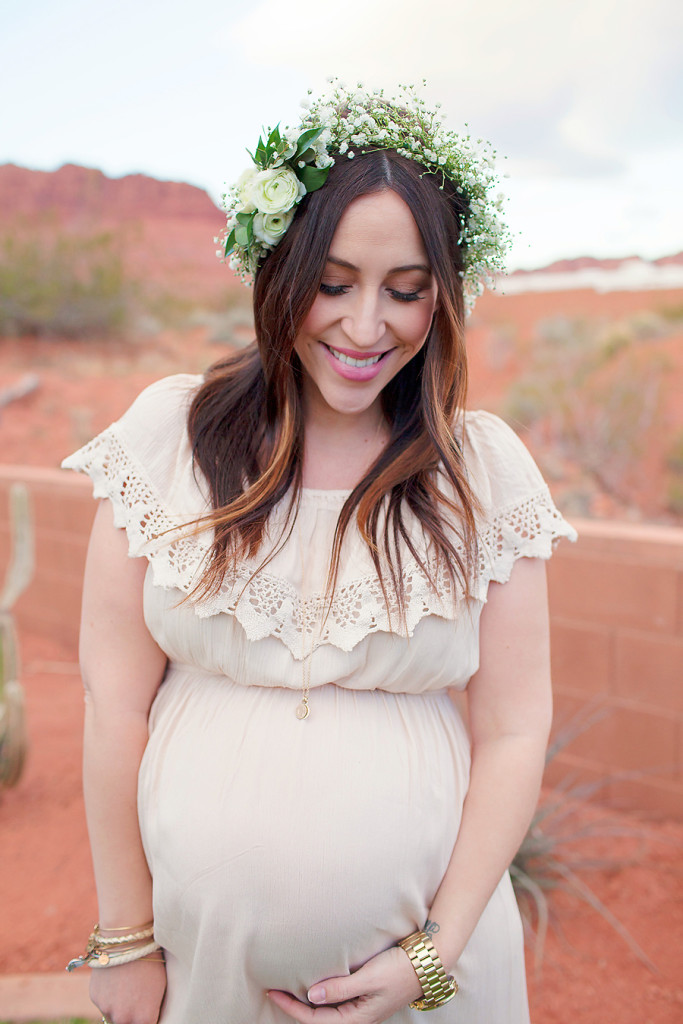 sweet image of me taken last week at my blessing way (more on that later)… today I look like much less of a goddess, so let's remember that. 😉
#embracethecrazy
Photo by Ashley Flowers Photography