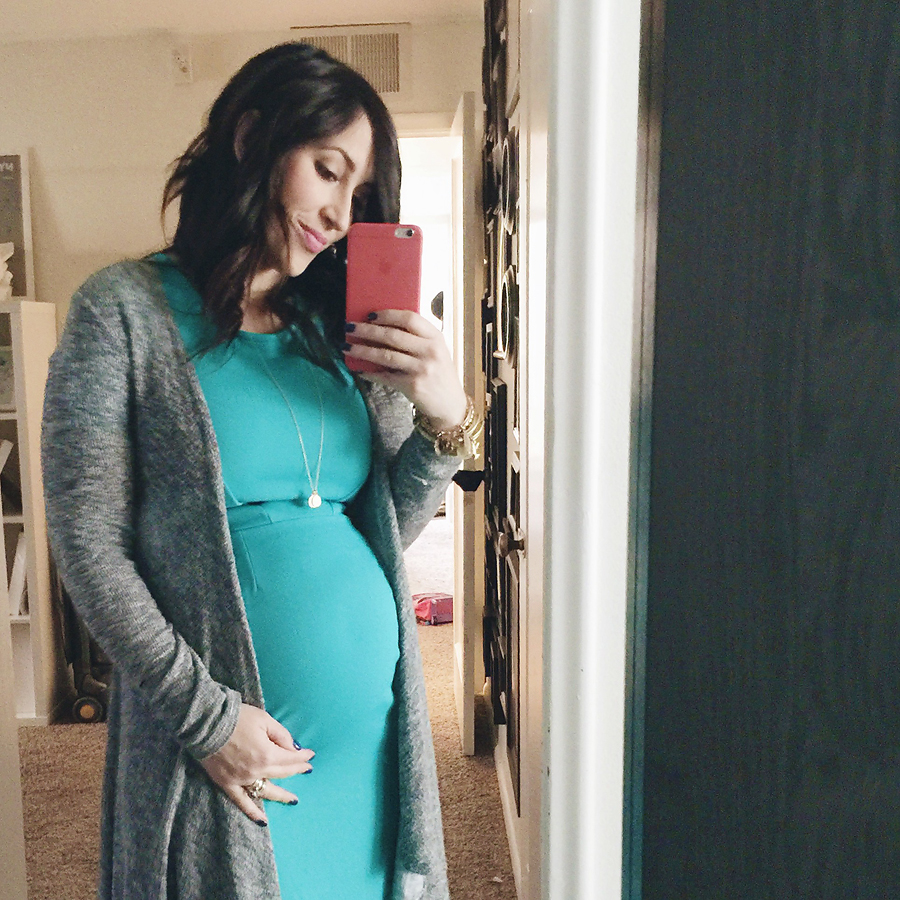 This past week I crossed over the half way mark in my pregnancy.
Always a favorite milestone of mine.
The second half of pregnancy is by far my favorite half.
I am feeling SO much better these days.
I am feeling like a good mom and normal human again.
I have a clean house and folded laundry again.
All things I really missed that first 4.5 months.
I have gained a healthy 20 lbs. in 20 weeks.
Right on track! 😉
My belly has really poked out the last couple weeks.
It's starting to feel big to me already!
Today Stella said "Whoa! Your belly is getting huge! And it's even going to get bigger!"
Speaking of the girls, they're looking very forward to my "lavor" this time around.
Both of the big girls would like to witness their new little sibling coming into the world.
I'm so glad they're big enough to have an opinion about this, and that they're excited and looking forward to it.
(I'll chat more about how we're preparing them in weeks to come)
Every time I change my clothes Grae points "baby! baby, mama?"
Today when she woke up I said "Hi my baby!" and she pointed to my belly, "mama's baby." she said.
We have been lucky enough to test out some newborns over the last few weeks and she loves them.
I have hope she'll go easy on me when her new little sibling is here.
We still throw names back and forth here and there.
I love baby names and I love not knowing what we're having so I can continue to brainstorm both.
The biggest surprise of my pregnancy this far is how much I'm enjoying not knowing what we're having.
Truthfully, I thought it was just going to suck the whole time til the end, but that's not true at all!
The suspense is so exciting and fun.  We're all enjoying it.
Stella is completely sure we're having another sister, much to her delight.
Harlo is really keeping her fingers crossed (and praying every night) that our baby will be a brother.
I have to say I am really torn.  I love having three girls and I know I would just adore having four.
But of course the thought of a baby boy to love me forever seems pretty great, too.
The day this baby comes will surely be an exciting day for these Millers.
I am almost 100% in leggings these days.  H&M maternity leggings for the win!
I like wearing more fitted laying shirts so I don't feel like a tent, and layering them with big comfy sweaters.
Two days in the last week I have not worn a stitch of makeup which means two things: I'm feeling really lazy about my looks, and that my skin is unusually clear right now. (it goes back and forth during pregnancy).
Now that I'm in the second half, I'm starting to think a lot more about my birth, birthing tub I'll use, brushing up on birthing methods, and all that fun stuff.
I am really hoping to prepare my mind and heart for a calm, peaceful birth.  I am meditating on that right now.
This baby is getting stronger and stronger, and in the last week everyone in the family has been able to feel it move.
(Stella would like me to specify that she felt this baby move first.)  
I'm not loving food the last couple of weeks.  I get full after a few bites and not a lot tastes good/sounds good to me.
Maybe I'll start slowing down on weight gain. ha!
I am super thirsty at night and drink like 90 ounces between 6-11pm.
Lettuce still makes me sick to my stomach.
I can tell I'm a little queasy still if I don't take my unisom and B6.
At my midwife appointment today the baby's heart rate was at 148bpm.  Right in the middle of the boy/girl zone.
Most of all I just feel absolutely blessed to be welcoming another sweet baby into my life.
I can't believe I'm already on my 4th baby.  Where did the time go?
I'm just as excited this time as I was for the first – maybe even more.