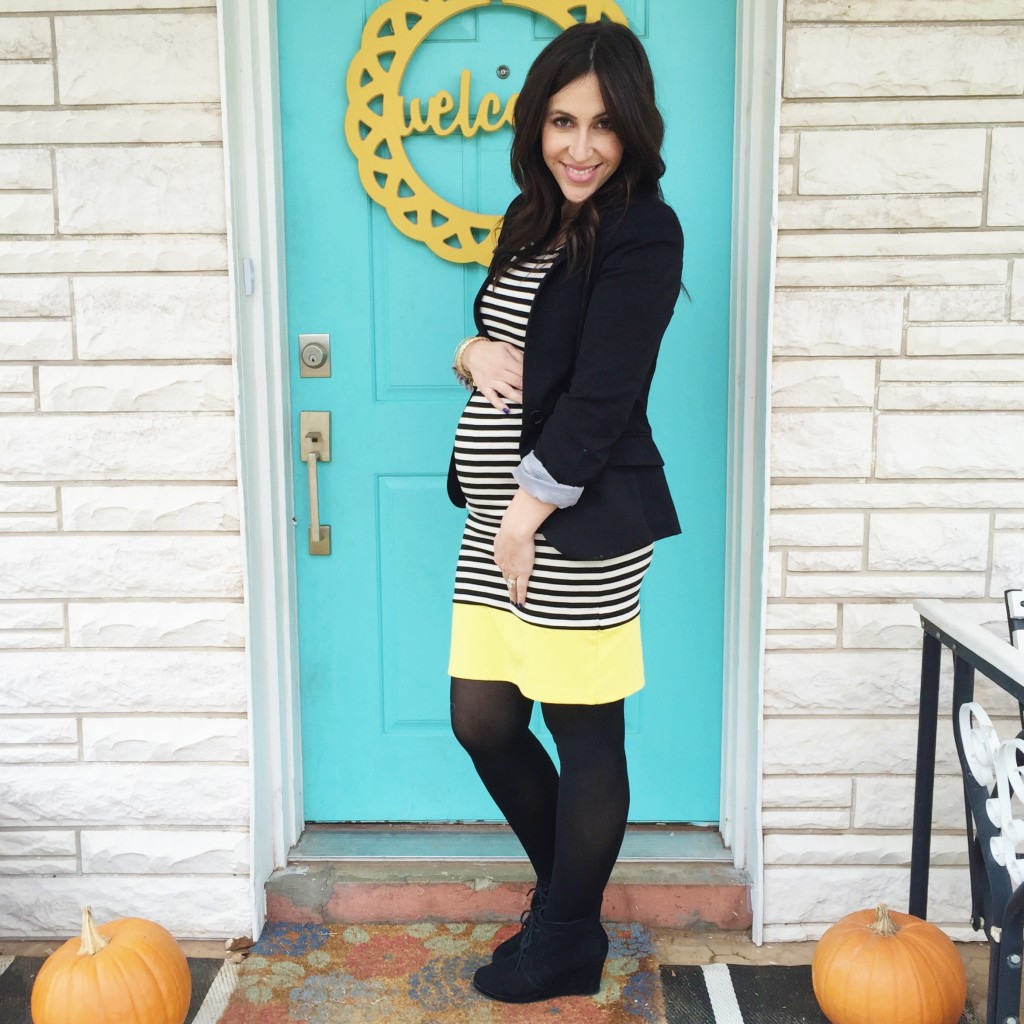 Dress: Downeast
I can't believe that I'm almost to the half way point.
Now that I'm feeling better, this pregnancy has started to go by so quickly.
I have been feeling much better pregnancy-wise, but I had a head cold that turned into a sinus infection that I am still trying to recover from.
Sinus infections are not for the faint of heart, that's for sure! Yesterday was the first day I felt almost back to normal after 12 long days.
I am looking forward to being better from that, AND not so nauseous anymore.
I have been cooking like normal again which feels so good.
My house is slowly getting caught up from the weeks of laying on the couch constantly.
Soda still doesn't taste very good to me, and I miss it.  It used to be my little cup of happy and it just doesn't have that same affect now.
I still can't eat lettuce.  I tried the other night to have a small salad with my dinner and I was sick with an upset stomach all night. (but I'm not throwing it up anymore, so that's good.)
My obsession with deli sandwiches is still very  much real.  Brady is sure getting sick of eating at port of subs, firehouse, or toms deli every day for lunch.
I've started to think more about my birth plan.
Planning a natural home birth takes a lot of thought and preparation.
I've whipped out some of my favorite birth books: Ina May's guide to childbirth (my personal favorite), Birthing from Within, Your Best Birth, and the Bradley Method.  I am also going to be ordering a book on hypnobirthing to see what I can pull from that.
I attended the sweetest birth a few weeks ago and it made me so excited for my own birth.  Birthing is so special and I can't wait for the opportunity to do it again.
I have started obsessing over getting my bedroom together – our new bed gets delivered today! So exciting.
I'm feeling a lot more baby nudges lately.
You can now feel from the outside, but no one in my family has been patient enough to feel it yet. 😉
I've pretty much outgrown all of my non-maternity wear, except for a few dresses that have some stretch to them (seen here).
I just ordered some staples from h&m maternity that I'm hoping will ease my "what to wear dilemma" each day.
I'll post more about that soon.
I have officially whipped out "The Snoogle" and mercy! I am sleeping like a dream.
I promise you, a snoogle is worth it's weight in GOLD.  If you are pregnant, you HAVE to have one.
(and even if you're not pregnant – I think I sold my sister on one because they're so dang comfortable.)
I'm really looking forward to being in my second half of pregnancy.  It's my favorite half. 🙂
We are still stoked on not finding out the gender, even though I've had a few moments of panic of how I can't get prepared.
I'll chat more about how to prepare for a surprise gender baby as time goes on, but for right now I'm just stocking up on white newborn things, black and whites, and not worrying about being prepared for months after the baby is born.  There really is SO little you need right at first. (but I've already started harassing friends for boy hand-me-downs if needed!)
I'm also saving boy/girl things in a special folder on my computer so when I have this baby it'll be easy to shop for. 😉
I've gone back and forth for what I think I'm having.  Some weeks I get more boy vibes, and other times I feel like it's another girl.
Right now we're pretty set on names for each, although we don't have them totally set in stone.
My favorite girl names were shot-down early: Poppy, Bowie, Gemma and Talulah.  (even though I still toss them out there for good measure, we'll see if the Mr. comes around)
Brady's pretty firm that we're naming a baby and not a golden retriever, he says. :/
We'll see!
Sometimes I feel so excited to have this forth little baby of ours, and other times I'm in panic mode that I won't have enough time to give.
That's par for the course though, I've learned.
It's pretty much magic the way each new baby comes in and has it's own perfect little place in the family.
This baby already has a pretty special piece of my heart.