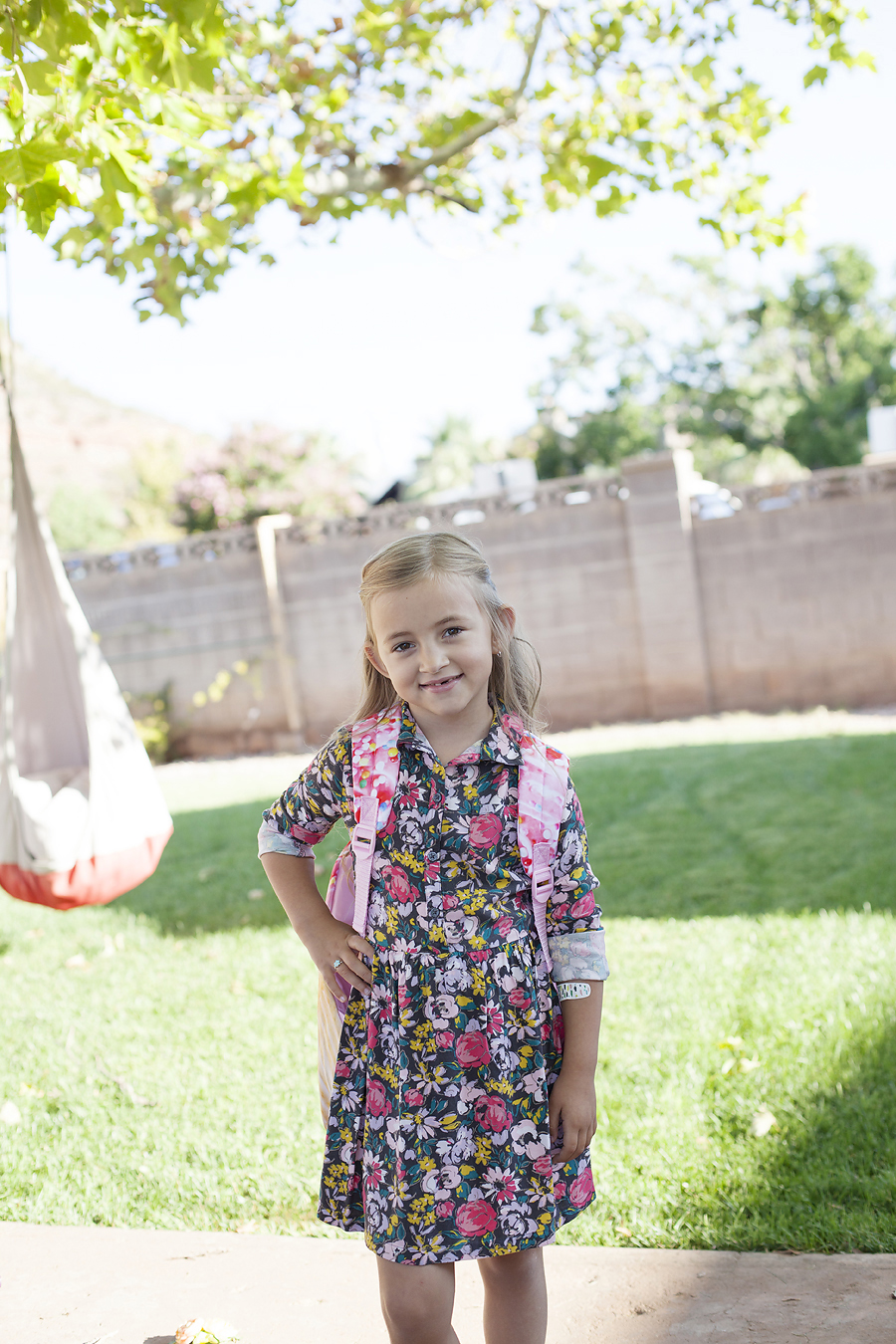 Harlo is officially 6 and a half and is very excited about that fact.
She just started first grade and has done SO well.
Our year of kindergarten was a pretty tough one, and I have already seen a huge difference in this year from last.
She does her homework as soon as she gets home, and flies through it.
She has suddenly picked up addition like an old pro.
She barely has to think about it before she's jotting the answers to the addition questions down.  It's nuts!
She's taken lunch to school each day.  I am very happy that she is way less picky than she used to be.
Her favorite lunch is an egg salad sandwich or when I pack meat, cheese and crackers.
I wrote a note the first day of school and put it in her lunch box and she asks me to write one each day now.
Last week as I was cleaning up her room, I saw a stash of the notes on her side table – she's been saving them.
Melt my heart!!
Her favorite food is still beans and rice.
Her favorite treat is for sure still ice cream.
If she can pick a drink, it's always sprite.
Harlo has grown up so much this last little bit.
She is so mature, and calm, and responsible.
I hate getting after her, because she is very sensitive.
I actually get comments on my calm nature with my girls sometimes (which is funny because I don't feel like I'm calm all the time at all) but I have learned that Harlo has really made us that way.  She's too tender hearted to be yelled at or scolded too harshly, and because of that, I have had to really work on my temper and think before I speak – especially when I'm upset.  I'm grateful for that.  I really needed that softening.
I think all the time how Heavenly Father knew just what he was doing when he sent me this sweet soul first.  She's the one who was strong enough to train me to be a great mom.
A couple weeks ago we were talking about what the girls wanted to be when they grew up.  Harlo told me she wanted to be a doctor for animals and for people.  When I asked if she wanted to be a mom,  she said "yeah… but maybe my boyfriend can stay home with the kids while I'm at work." haha!  Funny thing is she's more maternal than any kid I've ever seen… I highly doubt that's how it will all play out for her. 😉 This girl was made to be a mama.
She says her favorite thing at recess are the "tricky bars" where she can loop her legs through and hang by her knees.  She wears shorts under her dresses everyday so she can do this!
On her first day of first grade, she came home and decided it was time to master bike riding and she did it! She is now riding all over the place.
She also had a super loose tooth and pulled it out herself that night.
It was a big day!
She took to swimming like a fish to water this summer.  What a neat milestone! (Especially neat since I can't swim myself really well at all.)
She is 100% out of floaties.
Last weekend at the pool, she was swimming a little too far and I think came up for air and panicked a little bit.  She got quite emotional and didn't want to swim anymore and wanted to go home.  This kind of episode could have been quite an ordeal for our sensitive girl, but I told her we weren't leaving and she could sit there, or I would practice swimming with her in smaller sections.  It took her a few minutes, and then she was ready to try again.  Before long, she was swimming all over the pool again.
This seems small, but for our girl, this is a huge victory and it shows how far she's come with her anxieties.  Harlo is BRAVE.  Constantly having to push herself out of her comfort zone – and succeeding.
She's such a good example to me in my life.
Harlo is really just the best, sweetest little thing you ever did know.
She holds her sister's hand on the playground and walks her to class.  Her least favorite part about school is missing her baby sister, Grae.  She helps Stella pick out her clothes each night before bed.  She gets Grae up from naps or in the mornings as often as she can.  She is just the best big sister in the world – truly.
I am so lucky she is mine, leading my children.  She's so good at that job!
We feel so blessed to have Harlo in our home.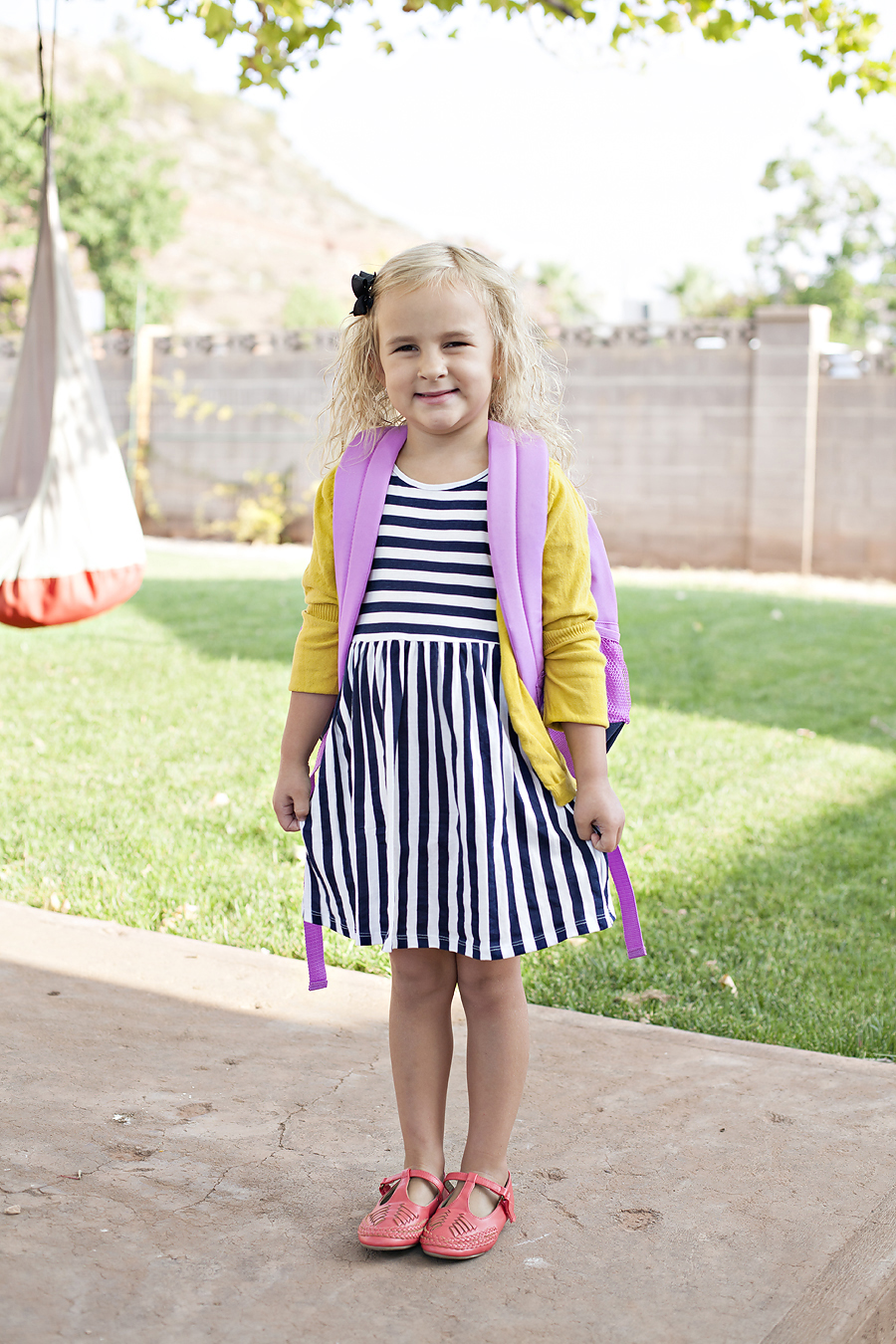 Our Stella is FIVE.  Goodness gracious!
Stella is one that seems like our little baby forever, and I can't believe that she is now five years old.
She has been so elated to start Kindergarten.  She takes it very seriously.
I've said it before, but this year seems to be going ONE HUNDRED TIMES smoother than last year did.  I have really clicked with Stella's teacher and I think she is going to be a great fit for our family.
Our sweet babysitter, Miss Ellie, had both the girl's teachers before, so that is really special for the girls.
Stella is the light of our home.
She is hilarious and is always full of tricks or jokes or games or anything of the like.
When she grows up she wants to be a "photographer and artist, and a mom, just like my mom". Swoon!
Stella by far thinks I'm the coolest.  She wants to be just like me.
She asks me on a weekly basis if I'll save a certain outfit for her when she grows up.  It kills me!
Stella is as sweet and bubbly as they come.
She is constantly melting our hearts – especially Daddy's.
Whenever Stella does something, I'll look at Brady and know his heart is just melting over her.
Being married to a dad to girls is the best thing ever.
Stella has already made friends at school and has loved going back every day.
She especially loves riding the bus with her sister.
I love that she still just goes to half-day kindergarten.  I would miss her terribly all day.
Stella is my sleeper and still likes to nap a couple times a week, if I'll let her.
This always makes bedtime a little later, but sometimes I can't resist.  Especially after school when I can tell she's pooped.
She loves having homework and all the big girl stuff like Harlo.
She can't wait until she can eat lunch at school.
She also mastered swimming over the summer.  Little fishy, this one!
She is THIS close to being able to pedal her big girl bike.  She gets a few pedals in, and she is swerving form nerves.  She'll get it soon though, I know it!
Stella's favorite treat is a snow cone or slush.
Her favorite food right now is probably mac and cheese.
Her drink of choice is lemonade.
She still talks about her birthday and how it was the best day ever.
Stella still has her boo, even though she's not allowed to take it out of the house.
She is still very obsessed.
She also still sucks her fingers.
Stella can't wait to lose a tooth and asks me everyday to check to see if her tooth is loose yet.
Hopefully soon!
She has become a little whiz on the computer.  I have to constantly be limiting time from screens form both the big girls.
Bedtime has suddenly finally gotten to be less of a circus.
I prepped her for Kindergarten and told her that we had to be more responsible now, and that means getting to bed and STAYING IN BED.
We "practiced" this for a couple of weeks before school started, and I'm happy to say that now she rarely comes out.
Occasionally she'll come out for another kiss or to tell me she loves me (lol), but it's to a minimum now.
She has started giving us a little sass here and there now that she's turned five.
If she has a certain way she wants something to go, she has no trouble letting us know about it.
We've had to check that attitude a bit the last couple weeks.
Other than that though, Stella is almost always smiling and laughing and skipping around.
She is the sweetest, brightest little soul.
We are the luckiest to call her ours.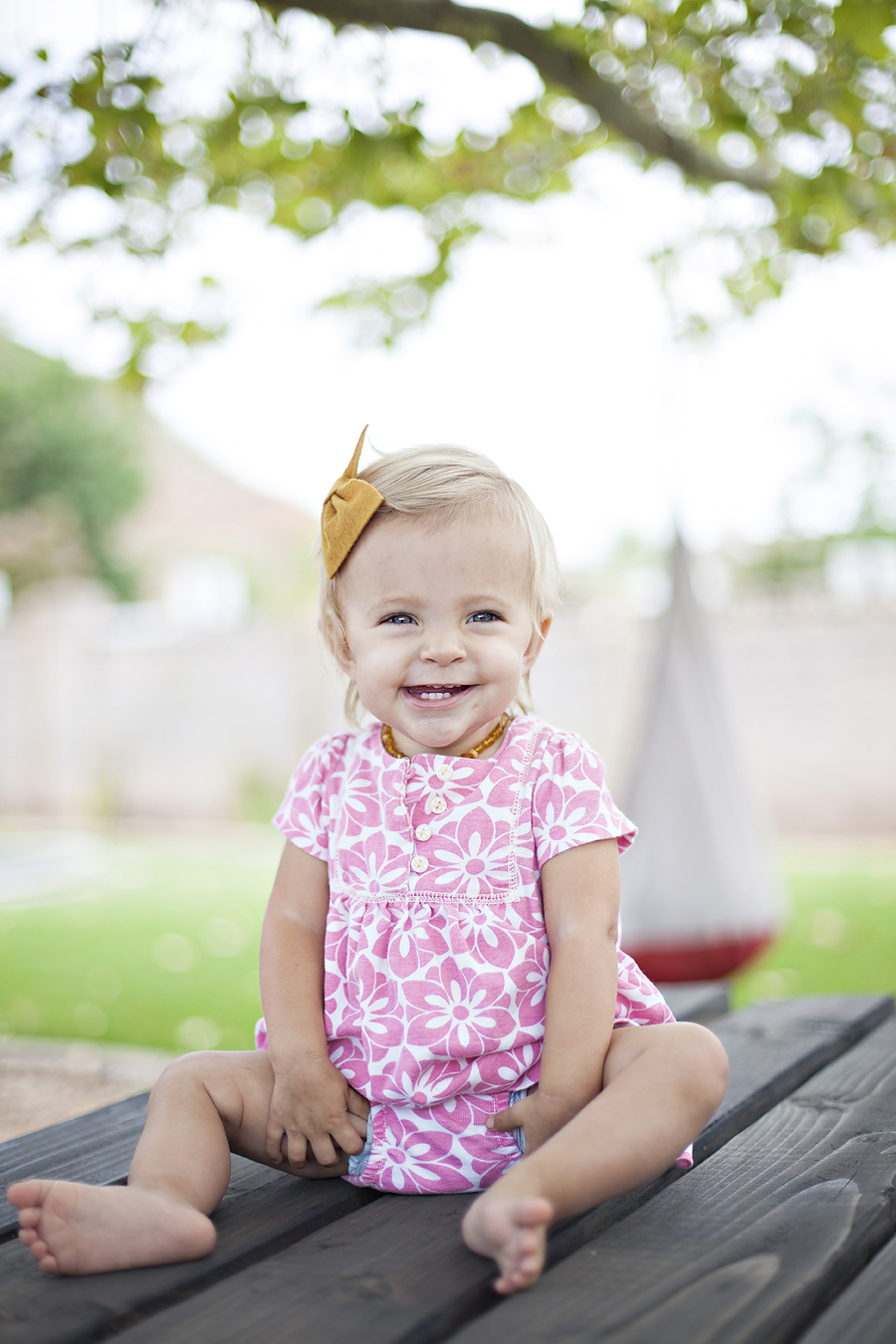 Oh our little Grae Girl.
Grae has turned into quite the big girl over the summer.
I swear it happened over night.
She is officially 17 months!
She is finally walking all over the place as her primary form of transportation.
A whole new world has opened up to her!
Now that she can get down at church, restaurants and the like, there is no stopping her!
Grae getting into things is at an all time high.
My makeup drawers are usually always the culprit.  Oy vey!
I have to watch her like a hawk now that she's on the move.
She is a little copy-cat all the time.
She is constantly trying to say what we say, or do what we do.
So funny to watch all the things she observes.
She doesn't miss a beat, I tell you what.
Grae has taken a serious liking to Elmo recently.
Reminds me so much of Harlo at this age, I love it.
In the last couple of months, her vocabulary has exploded.
There is nothing she won't mimic, and she can usually ask for exactly what she needs.
I hear "cracker? cracker? drink?" all the day long.
She is a little bottomless pit.  She eats non-stop all day long.
Although she is way more picky than my other girls were at this age.
She loves sandwiches and will ask "sammich?" when she wakes up from her nap.
She also loves mac & cheese and any noodle.
She has a tough time with fruit though, especially mandarin oranges or anything mushy like that.
I'm sure it's the texture, but I've never had a baby hate peaches, oranges or anything like them.
She has DEFINITELY been my most spirited child.
I don't think it's a coincidence that I started going grey only since she's been born…
Grae makes her presence known wherever she goes.
Whether it is charming everyone to death, or her shrill shrieking piercing their soul. 😉
We are constantly stopped to be told how beautiful she is.
She is a little beauty, I still can't believe she came from me.
Never in my life did I think I'd have a baby with big blue eyes like hers.
She's too cute for her own good.
Grae is also a little smartie!
She knows exactly how to get into the phone to look at pictures.
I find her copying the girls all the time.
Her latest favorite thing to do is get a paper and crayon and lay on her belly, kicking her feet up behind her coloring.
She thinks she is a total big girl.
If Stella brought the light into our home, Grae definitely brings the COLOR.
She is a colorful little thing.  And I love every single shade.
And even though it's sometimes hard to see past her naughtiness, she loves – loves – loves her mama and her snuggles erase all the tantrums away. (almost)
We are pretty down right obsessed with our Golden girl.