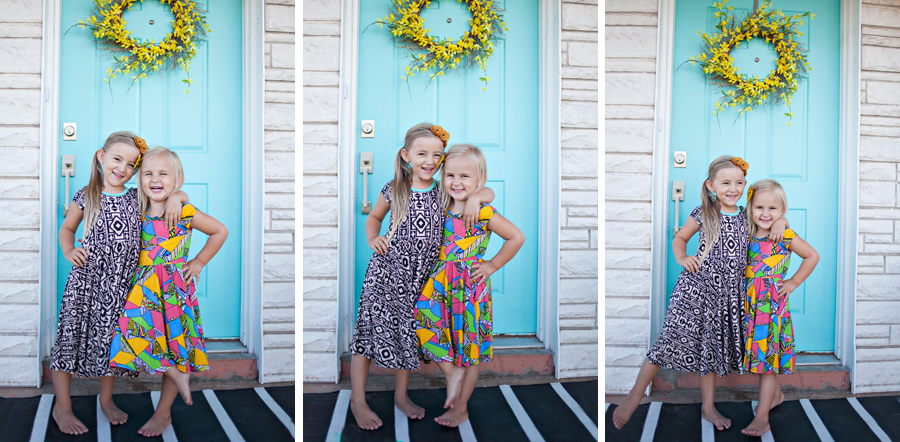 dresses c/o: dotdotsmile
:: HARLO ::
Harlo has somehow flourished into this sweet, helpful little girl.
She has really blossomed since Grae was born.  They have such a special relationship.
Harlo lives and breathes for her baby sister.  It's nearly painful for Harlo to wait for Grae to wake up in the mornings, and she misses her while she's at school.
Harlo is still the only person to get Grae to laugh, and can get a smile out of her easier than anyone else.
The very first time Grae giggled, Harlo was walking besides us and saying "who's a clever parrot?!" to Grae over and over and G was just giggling out of control. Haha! Still makes me laugh just thinking about it.  No idea where she got the phrase "who's a clever parrot"??
Harlo is such a big help to me in all areas.
She takes pride in everything she does, whether it's coloring, or chores or taking care of her sisters.
She is very thorough and never cuts corners. If  her job is to put shoes away, they will be neatly stacked in the closet with their proper match, whether they're her shoes or someone else's.
Harlo has the sweetest way about her.
Her giggle can light up an entire room.  I've never heard anything quite like it, and it's few and far between that something makes her really laugh, but it is the best sound in the entire world.
Last week Harlo started Kindergarten!
She loves her new teacher and class mates.  She is excited every day to get ready for school.
She is zoned to ride the bus, but I insist on taking her and picking her up each day.
I love hearing about her school days on that ride to and from.
Today she was telling me who she plays with at recess and who her friends are.
I asked her if she had a boyfriend and she answered "Not quite." Ha!!
At home the girls like to play this made-up game called "sassy girls".  They stand on the fireplace hearth and dance and sing and pretend to put on a performance.  Today I asked her if "Sassy girls" was good or bad and she said "It's good.  Sassy girls are cute and fun and whip their hair around and stuff." So that clears that up.
The other day she turned the tv on and I heard sponge bob as I was walking into the living room (a show I don't like them to watch – garbage tv, I call it) and she was covering her eyes.  She said "mom, will you change the channel for me? I can't watch this." Lol  – my sweet little rule follower!
She recently finished up swim lessons.  She haaaated them at first, would cry through the entire session.  I was sick with worry when I thought the lessons were actually making her more scared of the water.  One day on our way I asked her what she would want as a special treat if she could be brave through her whole entire lesson and do what the teacher asked.  She answered, "I want to pick out a dress at Old Navy." ha! I agreed that if she could be super brave and try not to cry through her whole lesson and do what the teacher asked, I would take her to Old Navy and let her pick out a dress. (I was thinking she would ask for a snow cone or a popsicle!)
Sure enough, she made it through the WHOLE lesson without a single tear and even went under water 3 times (which she was hating about the lessons).  She got out of the pool and said "I get a dress, right?" Oh you bet she did.  We headed right to Old Navy.
That was lesson 4/8 and it ended up being the best $10 I ever spent because she never cried at a lesson again and was fully blown swimming unassisted by the last one.
I'm not sure I've ever been more proud of her than I was that week.  Watching her fully overcoming fears and anxieties and learning to swim for the first time was so neat for me to watch.
School clothes shopping was so fun with Harlo this year.
She is getting less picky about what she wears, but still has an opinion about what she likes.
This year she loved anything cheetah print.  This is the first year she'll wear skinny jeans and not just leggings or dresses.
Every year, I take her just by herself to shop and I look forward to it every year.  It's one of the few things we do just the two of us.
She has just really grown up these last few months.
She has a funny sense of humor and gets things like she hasn't before.
She's just getting so mature.
I love how our relationship is growing and evolving.
Harlo is so important to our family and our life.
We seriously couldn't do it all without her!

:: STELLA ::
Stella has had quite the summer adjusting to being a big sister.
She really wears the role well, but still likes her spot as the little sister too. 🙂
She loves Grae so much (sometimes a little too much).
She's helpful to me to get a diaper, grab the wipes, little things like that.
Her holding Grae usually results in Grae being smothered with kisses and loves that usually leaves Grae feeling a little claustrophobic.  😉
I love how Stella loves, though.
So fiercely.  So completely.  So deeply.
The weeks before I had Grae, I really worried about how mine and Stella's relationship might change.  She had been my baby for nearly 4 years and I knew it would be different when I was busy with another baby in my arms all the time.  When Grae was born, things really did change a bit.  I couldn't hold Stella while I was healing from my delivery and our snuggling was a little different when I had a newborn to feed and change around the clock.
Those first few weeks I really prayed over her and asked God to help us adjust to this time of transition.
Around that time, Stella started taking naps again.  Which would mean she wouldn't be going to bed at the usual time with Harlo, and by then Grae had fallen into a bit of a routine and went down for the night around the same time.  So Stella would be up an hour or two past her sisters which at first seemed a little inconvenient because after a long day as a mother, the last thing you want is for one of your kids to stay up 2 hours past bedtime.
Except, I started to realize that this is the way God was answering my prayers about Stella.  This was a little window of time in our day that was still just hers and mine.  It looked different than it used to, before I had Grae and Harlo was at school, but it was still ours – and we were still us.
I began to look forward to the days that Stella would nap late and I knew we would get some one on one time together that evening.
We have a few rules for our late night chats – we have to be in my bed snuggling and we don't watch kid shows (hgtv only).
Sometimes I have to catch up on emails from my phone or make notes in my planner but she's just happy to lay with me and chat about which kitchens she likes on Flip or Flop, or what she thinks we should add to our grocery list, or which activities we should add to our summer bucket list, or what I should write about in my blog.
Now she doesn't come in every night, but on the nights she does I take it as a little opportunity for some quality mama and Stella time.
I know it wont last forever, but I am sure enjoying it while it does.
Stella did so good with swim lessons this year.  This was our first year and she enjoyed it from the first lesson.
She started swimming on her own mid-way through the lessons and really enjoyed that accomplishment!
She was so cute to watch, her tiny little body kicking away, swimming from one end to the other.
She is a fearless girl! Never hesitates at a dare or an opportunity to do something brave.
She's always first down the biggest slide, the one to ask to go faster, the one to jump into the pool without a second thought.
She is still the easiest person I know to talk into a good mood. We rarely have an attitude issue with this one.
She loves her nails painted and without hesitation asks for "pink with sparkles".  Even if that's what we just took off, she still wants "pink with sparkles."
We recently got a chore chart.  The girls do their daily chores and earn a token that they can cash in for special things.
Stella takes this very seriously.  She loves doing chores, getting them checked off and earning a token.
She never wants any help with HER chores.
I really hope this enthusiasm of helping me around the house will stick with her.  I must say it's been so nice to have their room picked up, bed made, shoes put away and bathroom straightened each day without having to do it myself.
If she ever gets caught doing something she's not supposed to, she'll say "sorry about that."
Sometimes she busts herself by telling me "sorry about that." and I have to ask her what she did wrong. ha!
If she doesn't like something, she'll say "I don't love it."  It's never hate or don't like, it's just "don't love".  Both girls use this phrase and I love it!
We recently have cable for the first time and it's safe to say we're all loving it.  This morning Stella asked me if we had "Colerox".  I said "Clorox? Yeah, why?" and she said "Because Colerox cleans everything.  It's better than oxy clean." Ha! Those dang commercials.
Stella is easy going, but she sure is spunky.  If she doesn't like my tone, you bet she will tell me, "Mom! Don't talk like that!" I love that she calls me out when I could stand to ask a little nicer.
If you ask her where she got so cute from, she'll say "My mom."
When I ask her "Where did I find you?" she'll say "from Jesus."
She is exactly right, this Stella girl of mine is heaven sent!