Today I am showing you my favorite trick as of late.  Here's a little back story: I bought a cute kimono at the beginning of the summer and ended up wanting to wear it every. single. day. because it was so dang comfortable, it covered up my extra baby weight and nursing in it was a BREEZE.  Every day I wore that sucker.  Then I decided I needed an entire closet full of kimonos for the rest of my nursing life.  Lucky for me, now my drawers full of scarves have turned into my new wardrobe.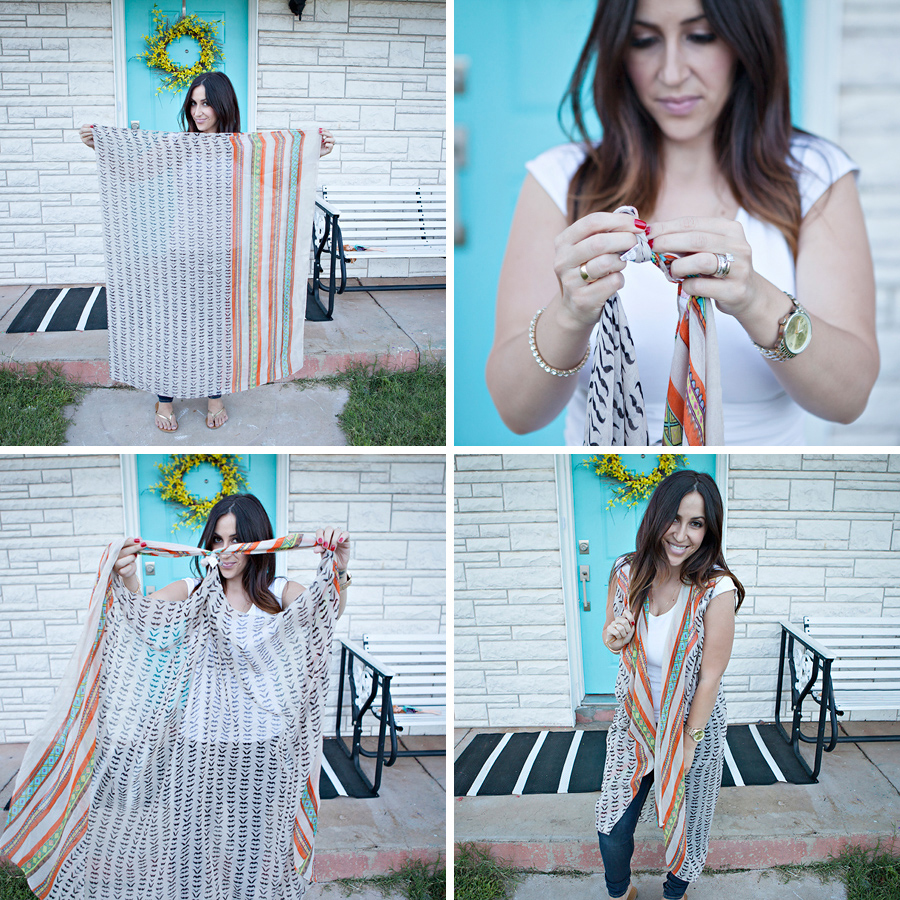 Step One: Fold scarf in half. (you'll have folded side in one hand, open side in the other.)
Step Two: Tie the fold and open corners together
Step Three: open the open side to reveal your new kimono.
Step Four: Slip it on over a jeans and T, a pencil skirt, or use as the PERFECT swim cover-up.
Did I also mention you can discretely and comfortably nurse your baby in this?  Because that's a selling point for me.
I love scarves and keep one in my diaper bag at all times.  It can be used as a blanket, a sun shade, a nursing cover, a changing pad and a sling.  I love to find soft and light fabrics that aren't too hot and wouldn't you know it? Brickyard Buffalo has a collection of these on sale right now for $7.99. RUN!
And while you're at it, enter my giveaway to win a $50 swag bag from BB.
Do you have a favorite way to use a scarf? Tell me!