Last month we took our first trip as a family of five and kicked off our miller's summer bucket list.  It was such a relaxed trip and will go down as one of my favorite memories with my family.
I get asked a lot about where we stay and what we do in California.  My sister lives in Oceanside in North San Diego County.  It's about 6 hours from where we live in Southern Utah and we make it out there as often as  possible.  We all love the beach, but it gives us a chance to catch up with family and get away.  We are so lucky to have family to stay with so we're able to go down more often.  We have mastered doing a lot of fun things that don't cost a lot of money.  So, if you are planning a Southern California getaway, this post is for you. 😉 On this week's vacation, we did almost all of our favorite things.
First thing first, I like to incorporation traditions wherever I can.  We all get a fancy starbucks drink when we leave early mornings.  This gets everyone out of the house a little easier and sets our trip off on the right foot.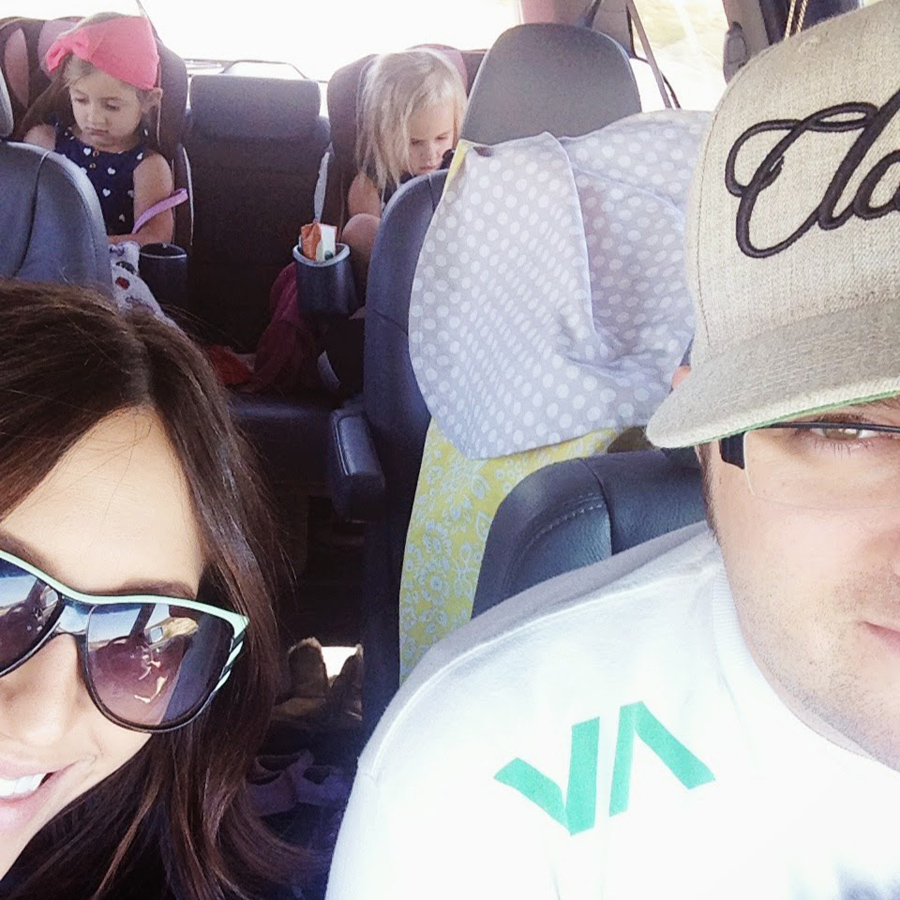 When we get to California, the first thing we do is drive by the ocean with our windows down.  No matter if it's midnight or noon, we drive by the ocean with no exception.  Auntie has her own little tradition with having a surprise for the girls as soon as we get there.  They have to close their eyes and hold out their hands (their favorite form of surprise).  Sometimes it's a little tricker for them to play with while they're there or sometimes a treat, but it's always a highlight for them.
These are all simple things that we do that I know will lace together so many rich family memories for my children.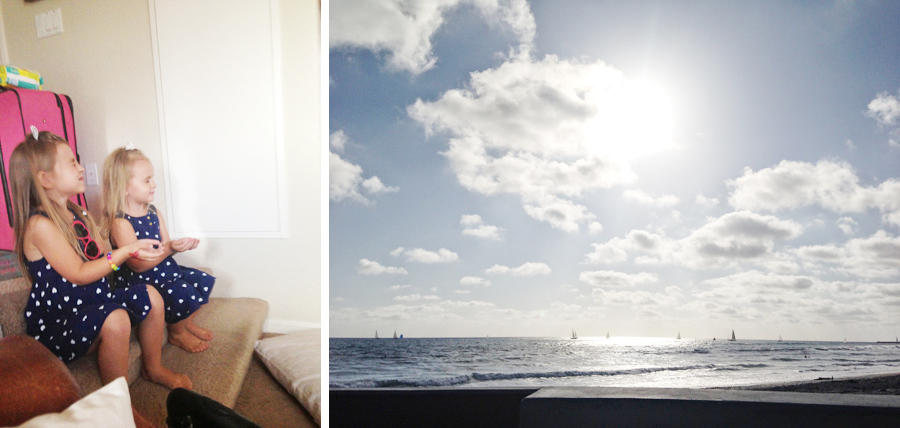 My number one suggestions of fun and FREE thing to do?  The beach, obviously.  This is likely what the kids will want to do everyday anyway and did I mention it's FREE?? It's fun for everyone! Don't fill up your days with the zoo and seal world and legoland and disney.. choose one expensive thing to do (if you really want to) and the rest of the days?  Plant yourself in the sand, feel the breeze on your face and let the sounds of giggles and splashing take you to your happy place.  I was surprised this year by how easy it was to take a newborn to the beach.  I just wore her the whole time and kept her covered by our favorite aden and anais blankies.  A nursing friendly suit makes for a happy mama and happy baby.
*new mom tip* for a hot beach day with a baby, simply wet a swaddle blanket for a perfect way to shade and cool your babe.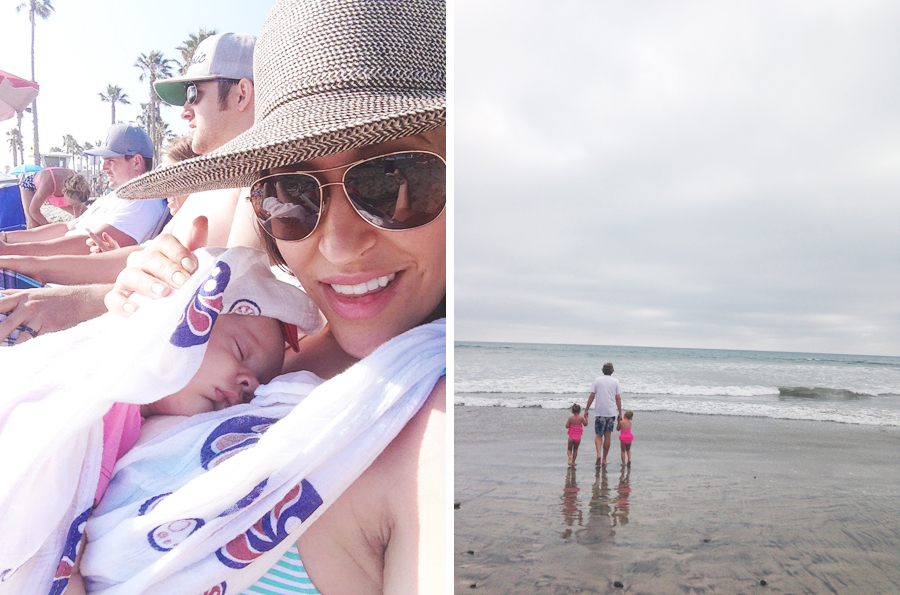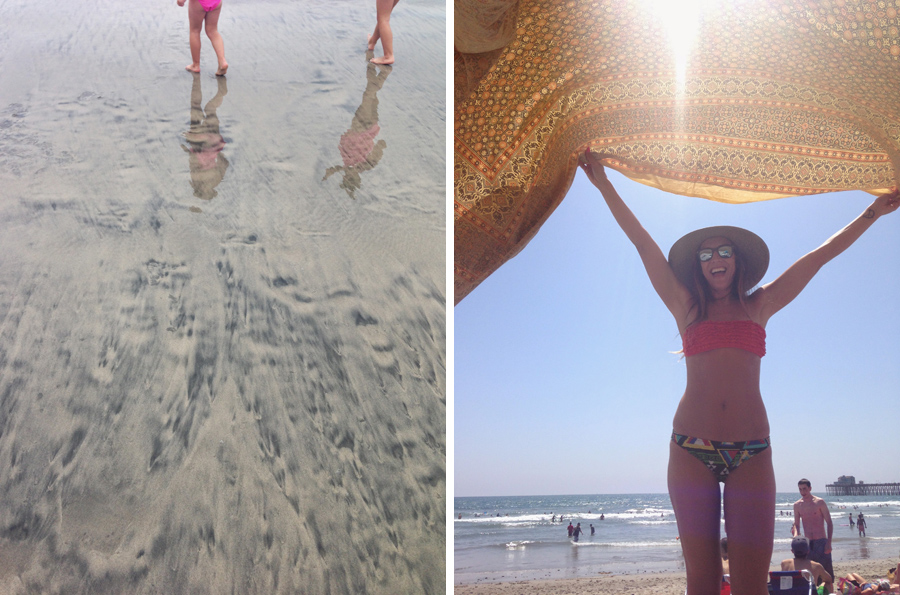 Everyone loves the beach!
One of our other favorite things to do in Oceanside is the Thursday night market.  Booths and booths of delicious food, treats and all other forms of goodies.  We load the kids in the wagon and go enjoy our evening.  This is also where I get our world famous caricatures.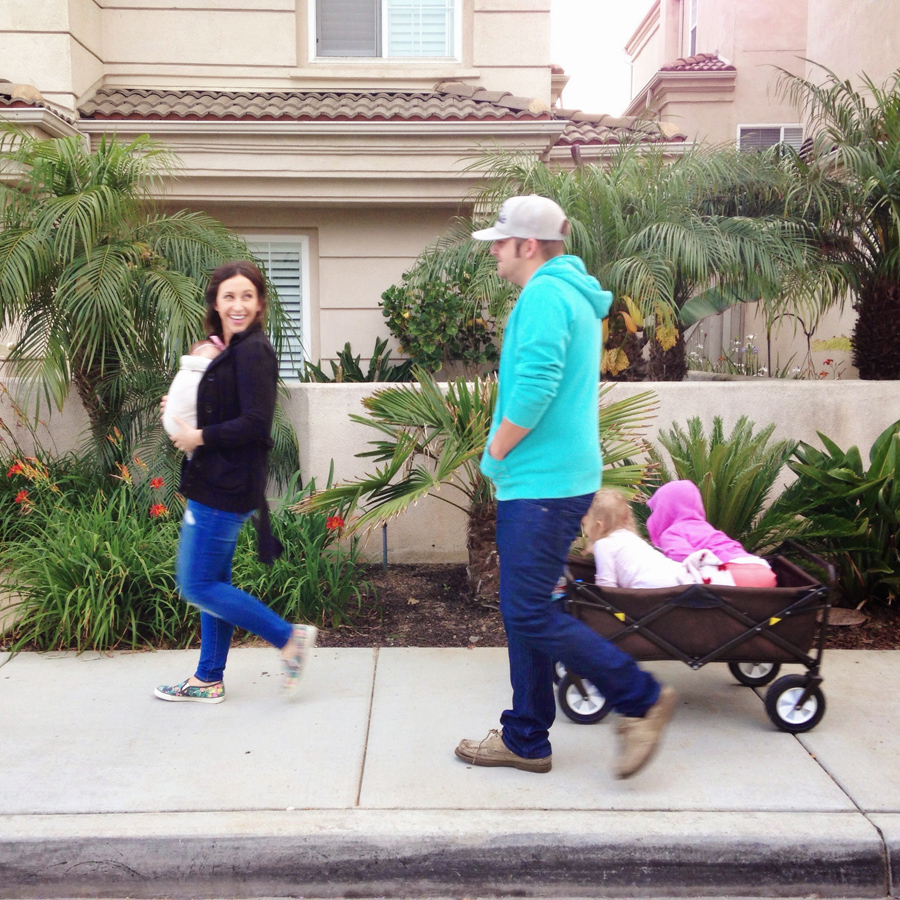 This year we crossed riding the train off our summer bucket list.  We always talk about doing it and this time we made it happen.  WORTH IT! It really was so fun.  The kids loved being able to ride the train (no car seats!) and they ride for free which makes this little endeavor super budget-friendly.  We took the train 40 minutes or so to Old Town in San Diego which has cute little shops (perfect souvenirs for your trip) and THE BEST mexican food I've ever had in my life at Barra Barra.  Oh, and the kids eat for free there as well. WIN-WIN.  We have decided that will be a staple on our trips from here on out.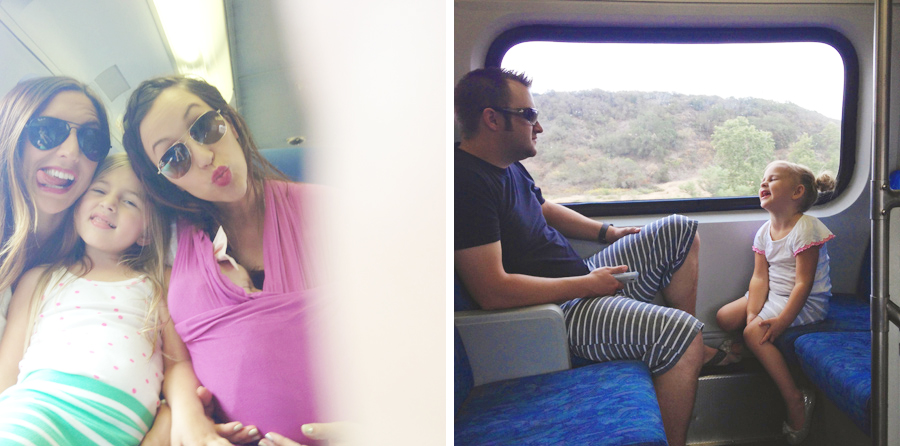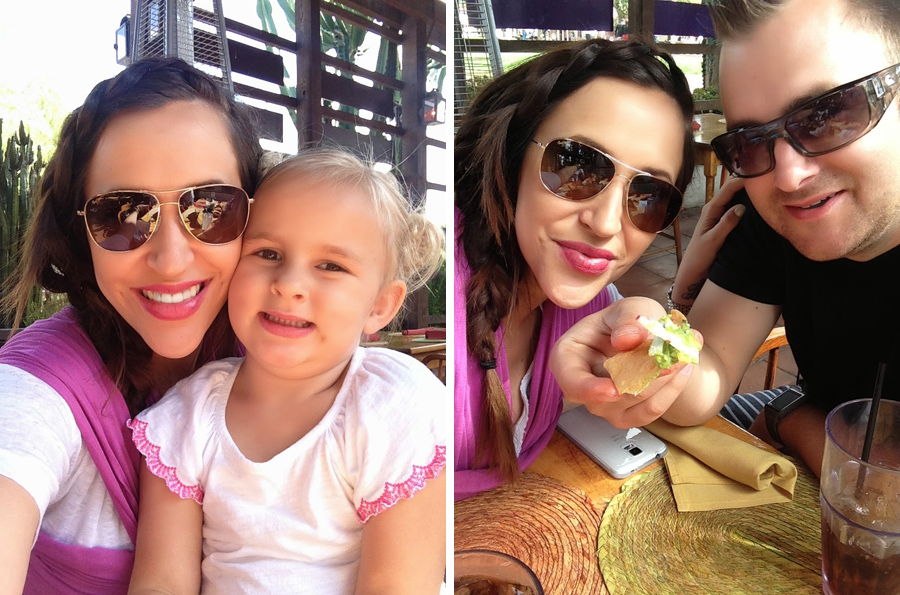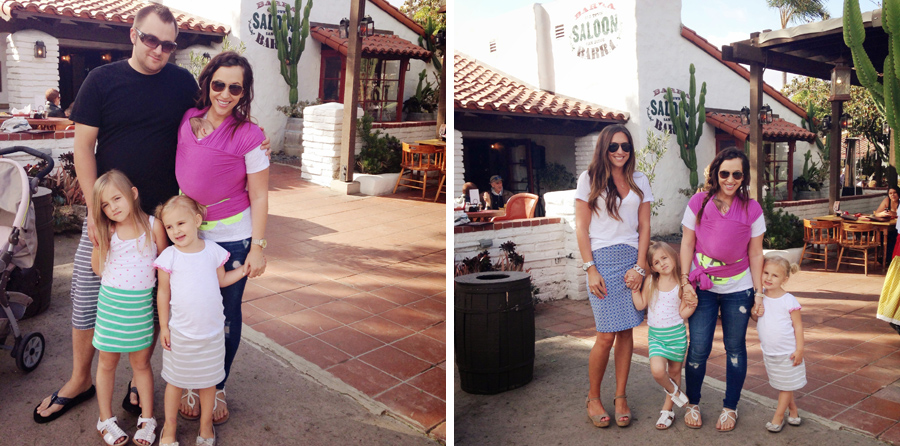 Of course, fill in the gaps of your trip with lots and lots of beach time.
*beach tips*
We seem to have mastered taking kids down to the ocean, so here is what we never go without…
Sunscreen! Everyone needs it.
Food – the more food, the happier your little beachlings will be.
(we love red and white market's deli for sandwiches and we can get snacks and drinks there which makes it easy)
water – water- water
Shade – a canopy or an umbrella is a great investment if you're planning on spending more than an hour at the beach.
dry set of clothes for the kids to walk home in (a sweatshirt over a swimsuit will work)
Baby powder! Splash some powder on those sandy feet and the sand will dust right off.  So much easier than showering off and trying to avoid sand on the way out.
A wagon to load things (and tired kids) to and from is an excellent bonus.  We use a wagon way more than a stroller on our beach trips.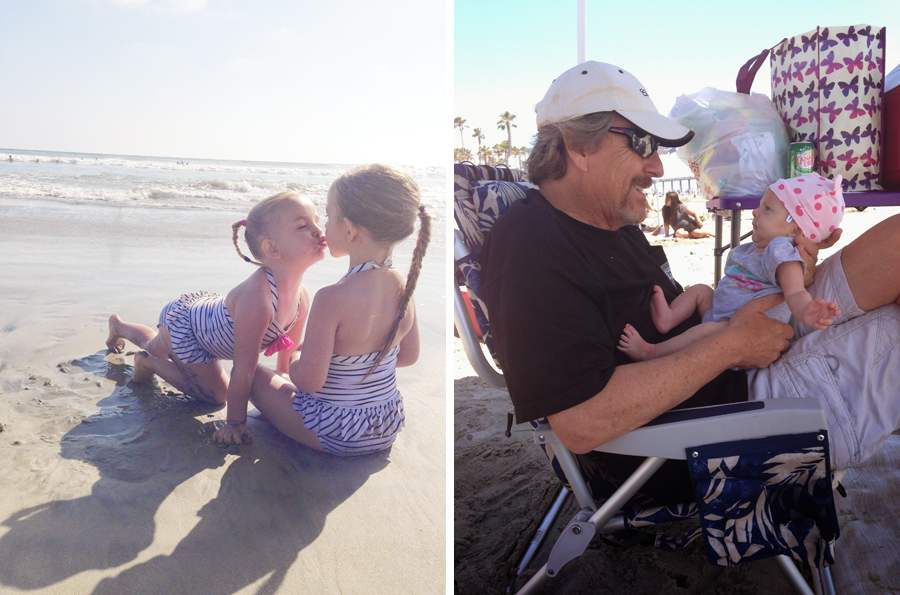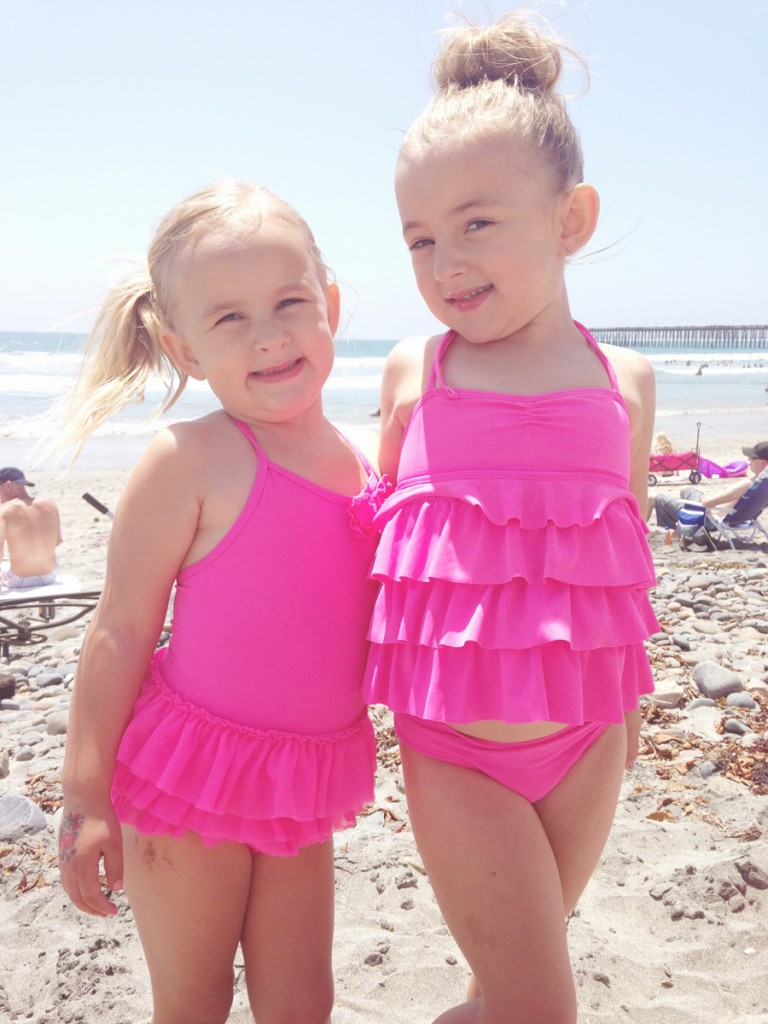 Another favorite place to eat is Yellow Deli.  It's all fresh, organic, homemade ingredients and such a beautiful location.  If you've never been to yellow deli, you need to try it!  It's quite an experience.
But mostly importantly, our trips are about family.  Don't get so caught up in the itinerary you're missing enjoying your vacation.  Sometimes taking a day to lounge around the beach house is important to reset.  Getting exhausted on vacation is so not the point, in my opinion.
This trip was a special one, welcoming little Grae into our adventurous family.
If it's possible, we fell even more in love with her this week at the beach.