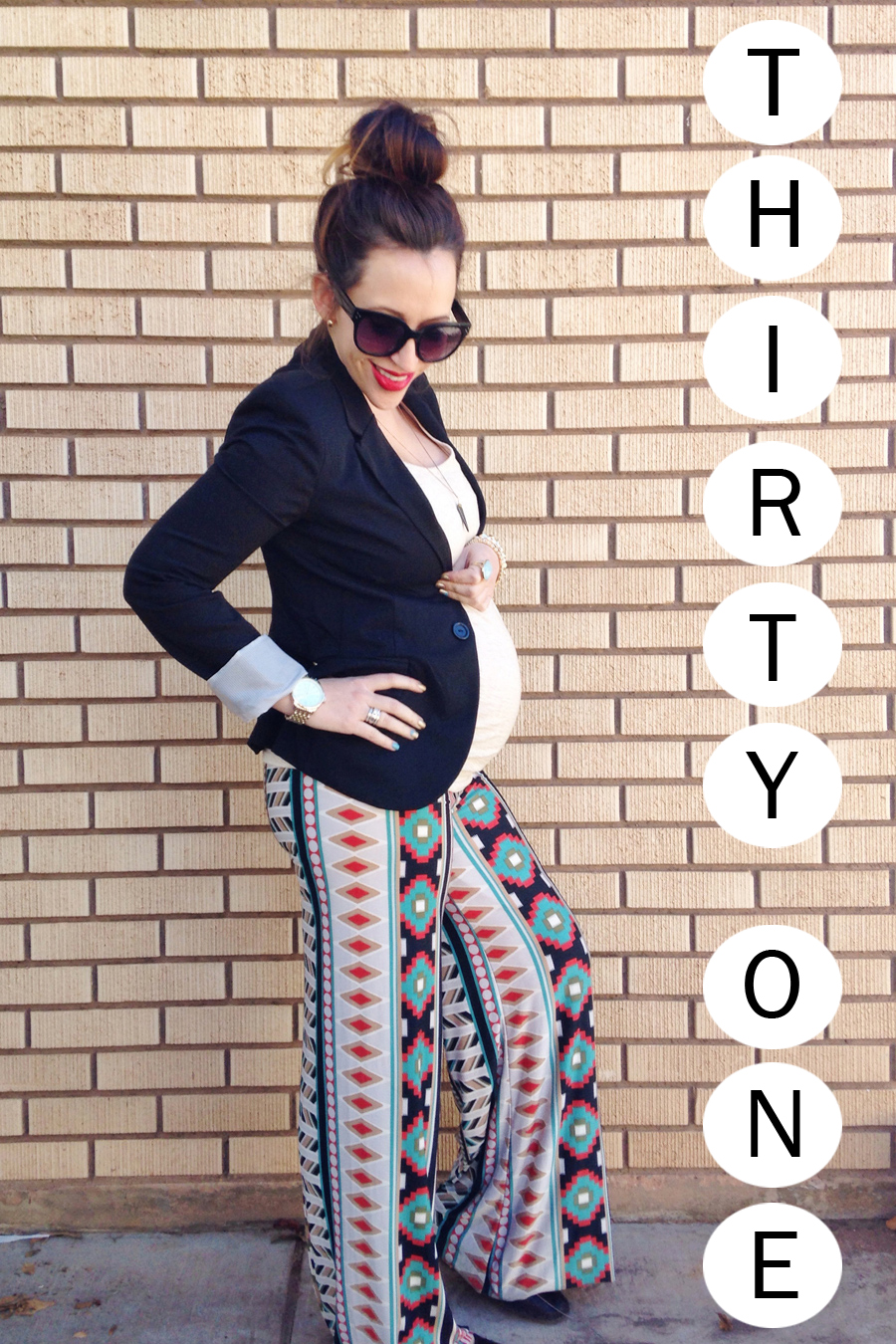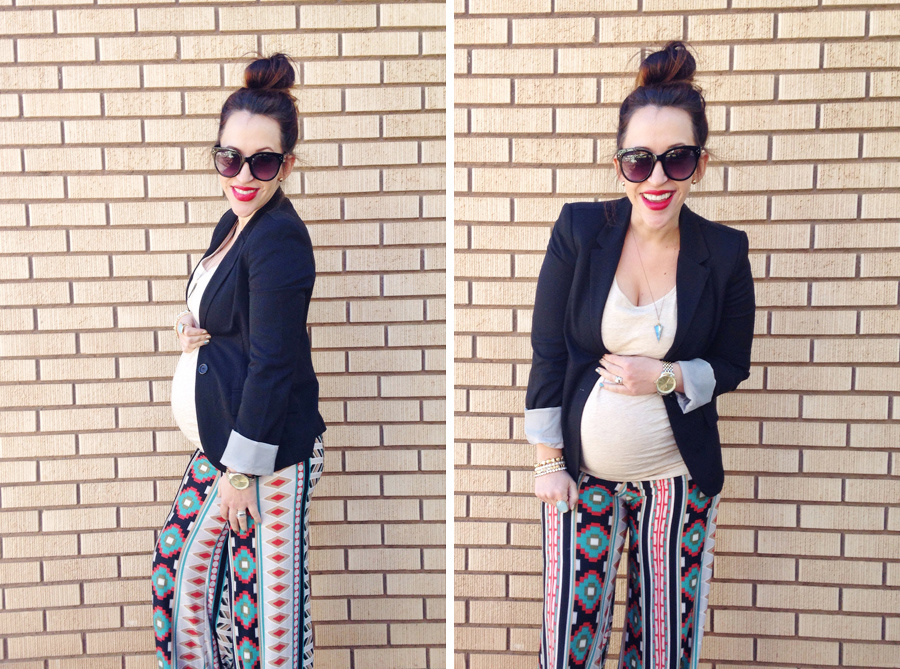 As far as style favorites go, right now it's pretty much whatever fits me.  I have about 3 tops that cover my belly and I just switch them out with different bottoms.  My favorite piece that pulls everything together flawlessly?  The boyfriend blazer.  I have LOVED this blazer and wear it almost every day.  It's not very warm so it will transition into spring very well and seriously takes a look from pajama to fab in no time.  These shirts from Old Navy I have ended up living in.  They're comfy, cover the belly and stay put which is super important.  I have a few that are layering staples right now.  I also bought these palazzo pants from windsorstore.com a few months ago and I don't know why I haven't worn them a ton yet.  They're SOOOO comfortable.  I have a feeling if you see me anytime in the next 9 weeks, it's a good chance I'll be wearing them. 😉
Also, I could wear this necklace every single day as well (and do).  It is the perfect piece with everything.  Check out Shio's blog and shops, you wont regret it!
:: 31 weeks ::
This week I am seriously in shock I am down to the single digits of when I'll be holding this sweet new baby in my arms.
My little mover is so strong.  I can now feel when she pokes her knees, elbows and little feet out.
I feel most of her limbs on my right side with her feet usually tucked nice and snuggly up in my rib cage.
I love when she stretches out and I can feel her little foot with my fingers.
She is going to be cursed with the Miller girl hiccups, I'm pretty sure.  She gets them multiple times a day.
(Me and the girls get hiccups whenever we laugh)
I swear she can sense if anyone besides me touches my belly because she's sure to freeze right up when anyone tries to feel her move.
Stella seems to be the only one who is patient enough to sit and wait for her.
As soon as Stella feels her, it brings the snuggle worm right out in her and she immediately has to grab her boo and hum.  You can imagine this little antic just about kills me right over.  I know she wont even be able to handle herself when she can actually snuggle her.
Stel tells me all the time how the baby is going to sleep right on her chest and she's going to share her boo with her.
Harlo is more interested in helping feed her, changing her diapers and teaching her to roll over and talk. 😉
I think between the 3 of us, this is going to be the most well taken care of (and well loved) baby in the world.
I just barely bought the first clothing items for her.  (in my defense, we do have quite a bit of girl clothes to be handed down)
Two dresses from Old Navy and the big girls can't even handle the cuteness.  They ask me constantly to get them down from the closet so they can hold them.
It's really safe to say we've all got a bit of baby fever over here.
Brady is again at awe of how my body can stretch and grow.  Each morning when I roll my huge belly over in bed he laughs.  That's usually when she readjusts and he can finally feel her wiggle around for a minute.
I am starting to feel nauseous again in the evenings and sometimes during the day here and there.
Aside from her lodging herself in my ribs every once in a while, I still sleep well as long as I have my snoogle on board.
Last weekend I got the flu and it was my first experience being sick while pregnant.  Holy mother!  I have never been sicker in my life.
I had horrid body aches and was completely wiped out.  So unlike me.  I don't think I've caught a virus since before my kids were born.
I feel like my immune system is shot.  I'm really looking forward for the spring (for more reasons than the obvious).
The girls are so excited they can hardly stand it.  They tell everyone "first it's going to be Valentines Day, then my mom's birthday, then the baby will be here!!!"
I hope the new baby girl is as excited to meet her sisters and maybe I won't go miserably overdue this time. 😉
Either way, the countdown is on!