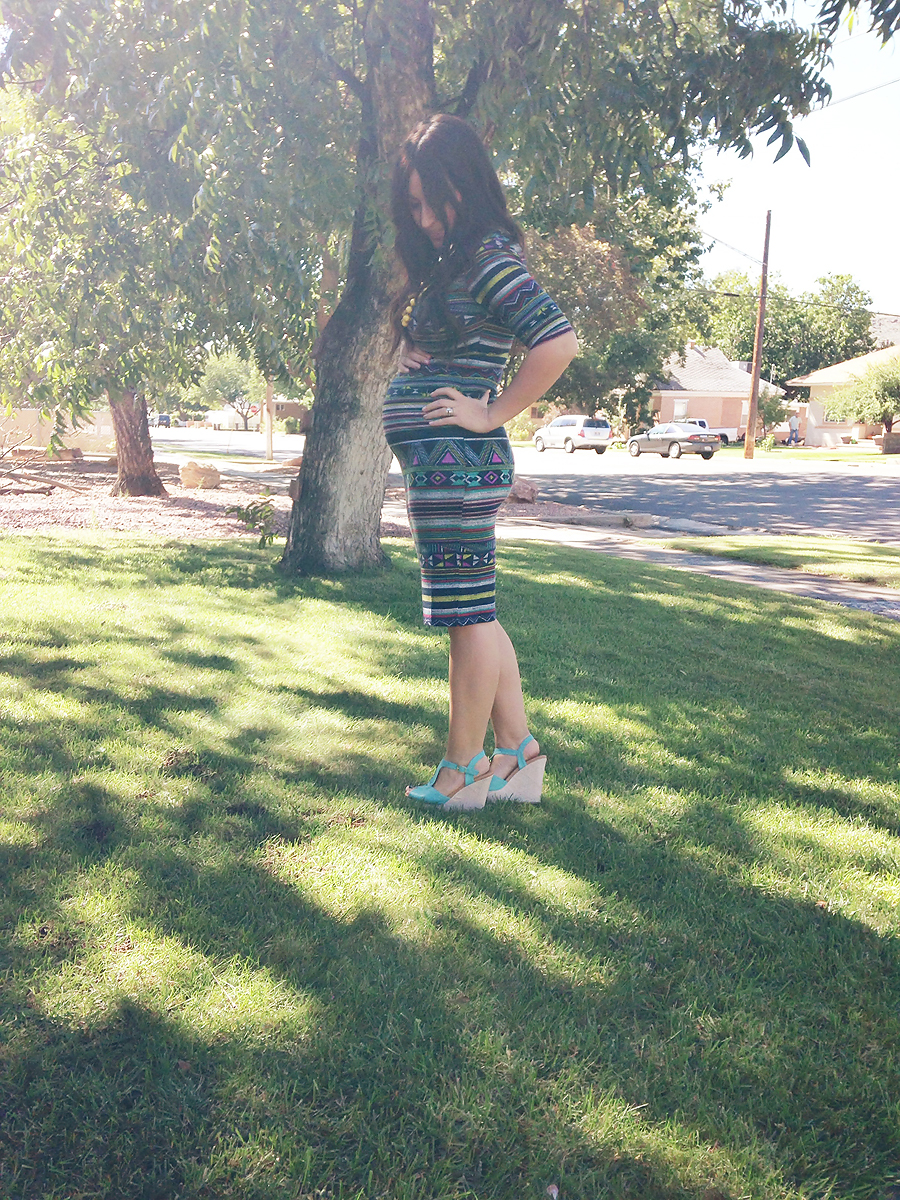 photo credit :  Harlo
Baby Millie : week 16
Dress : Target || shoes : Bohme
I'm into my second trimester!
I decided I might just do a monthly write-up on "Baby Millie" since my weekly write-ups were going to be more like, "yep, still sick."
In reality, though, this pregnancy seems to be going pretty fast, even though I haven't felt great for the majority of it.
I can't believe we'll be finding out what we're having so soon. (This week if babe cooperates)
I can now feel movement pretty much every night and sometimes during the day if I'm sitting still.
I started feeling it just around 12 weeks off and on, then knew for sure that's what it was as it became more regular at 14 weeks.
It's made being sick all worth it.. pretty much. 😉
I always show pretty early.. I feel like I've had a belly since about 10 weeks, but this last week (15 weeks) my belly has seemed to really poke out.  I've been getting my first "I didn't know you were pregnant" or "when are you due?" comments, so apparently I'm looking more pregnant and less like I just ate a few too many donuts in the last month.
I still haven't been back to yoga.. My body misses it and I hope I can start feeling better to get back on my mat soon!  This week is my goal.
I am feeling much better energy-wise.  Other than my days where I have migraines, I feel pretty much back to normal.
The girls are noticing my belly more, especially Stella.  Today she told me, "Mom, your belly is getting so full!" (she has no idea.. I'm not even half way done yet!)
Harlo will come up to me randomly during the day and love on my belly.
I can't wait until they can feel it move.  I know Harlo will especially love that.
The discussion for if we're finding out or not has still been on the table!
After we had Stella, Brady mentioned how fun he thought having a surprise baby would be.  I wasn't really into it, but after the years of thinking about it, I decided if the man wanted a surprise, I would give it to him.. so I got on board with a surprise baby, too.  My last pregnancy that I miscarried, we were 100% NOT finding out.. then somewhere along the lines, whether it's all the waiting we've done to get here or what, Brady has caved on me and says he wants to find out this time.  I sort of had my heart set on a surprise baby, but it's amazing how fast you can change your mind with a quick stroll through the baby section in a store. 😉 I'm not much for surprises and finding out sounds very appealing to me, but I just want Brady to have his heart's desire and once we find out, we can't un-find out.  He seems to be okay with it though and we both agree it will be fun for the girls to prepare knowing if they're getting a brother or a sister.  So, now that our appointment is this week, I think we're back on board to find out.. and wouldn't be able to resist at this point anyway.
Maybe baby #4 will be a surprise… ha! (yeah right.. with how I've been feeling I'm almost certain I can't do this ever again!)
My 24/7 morning sickness started to fade just into night-time sickness at about 12 weeks (feeling fine during the day, throwing up almost every night around bedtime).  Just then, I started getting migraines about 2-3 times a week and they haven't stopped yet.
Migraines are tough in pregnancy because there's nothing I can take for them, and since I'm already super queasy, this entails me about 8-12 hours of not being able to keep even a sip of water down.. then I wake up the next morning with a VERY empty stomach, which makes me feel sick so it takes me the entire day to recover and feel back to normal.  It's sort of a vicious cycle. (Does anyone have experience with this? Any tips?)
I feel like I've been the sickest with this one, but it may just be because I'm right in the thick of it.
I really am starting to get to the enjoyable stage though, even if it doesn't sound like it. ha!
I have craved onion rings with a vengeance during my whole pregnancy so far.
I also have to have an onion bagel, toasted with cream cheese with fresh sliced tomatoes on top of it, sprinkled with s&p almost every single morning.
It's the only thing that ever sounds good to me in the morning, even though it doesn't sound like breakfast at all.
Also, I drink orange juice by the gallon.
You would think I've already gained about 20 lbs, but with all the throwing up, I've only gained a few lbs so far – which is not normal for me in the first trimester.
I need to start reading my birth books again.
My last birth we did the Bradley method which I really liked.  I'm planning on refreshing my memory on that one, but I'd like to read some hypnobirthing books as well this time around.
I'm so looking forward to another home birth!
I hope to be as prepared as I was with Stella's birth because I think it really made all the difference in my pretty much perfect birth experience.
Hopefully it's just like riding a bike. 😉
Our appointments so far have been just perfect and Baby Millie is measuring right on schedule with a strong little heartbeat that's easy to find.
My girls love my midwife appointments. The last one I went to when Harlo was at preschool and she's been mad at me ever since. Oops! I promised the next one I'd schedule on a Tuesday or Thursday.
Other than being sick, I am feeling great about this pregnancy.
It's been so fun sharing it with the girls this time.  I know they will love ever ounce of their new little sibling!
Harlo even told me last week, "If our baby is a boy, I will still love it." ha! I'm glad.
We're all casting our votes this week.  I have thought Baby Millie was a boy for a while, but I recently had a dream it was a girl, so now I'm saying girl.  The girls have switched from girl to boy.  Brady still thinks girl.
What do you think our next little Millie will be??