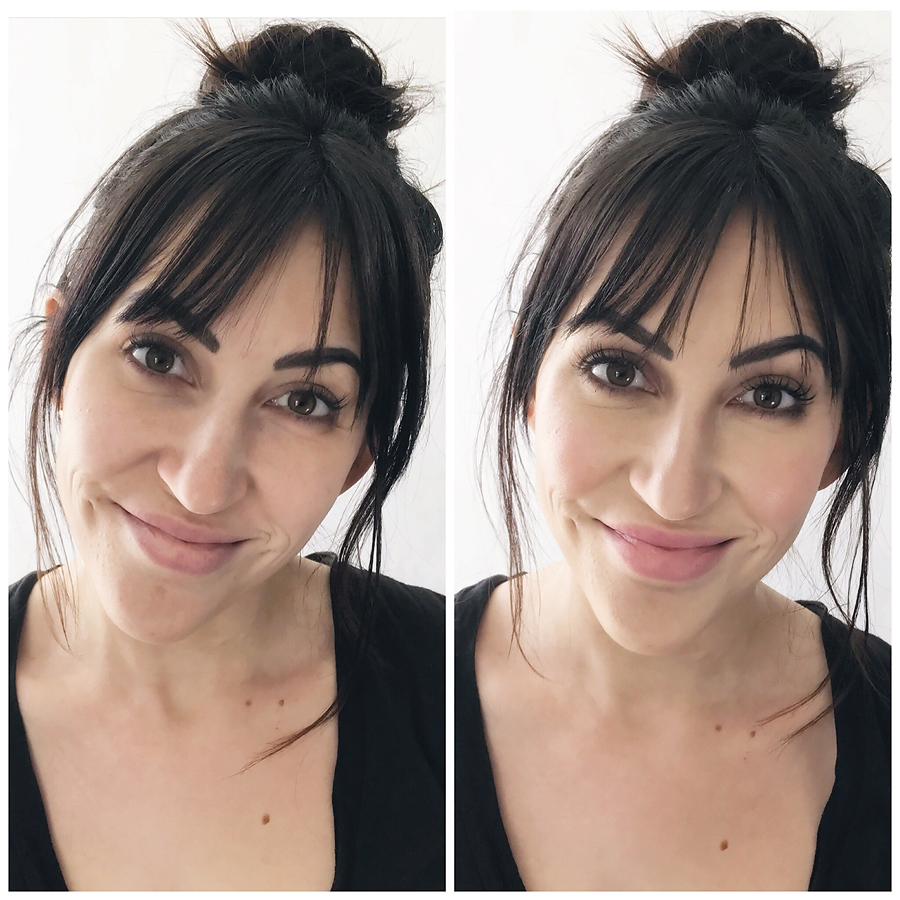 I'll be working on some makeovers and beauty tips for this makeup segment.  I'm hoping to collect a few beautiful faces to feature here, so if you want a little makeover, email me – heygirl(at)cassmiller(dot)com!  Today I'll kick it off with a little before and after of me using maskcara iiiD foundation.  The left is a freshly clean face, the right is after my daily 5 minute makeup.
If there's something I love most about maskcara iiiD foundation, it's how natural it looks.  I don't look like an entirely different person after I've put it on, I've just enhanced my natural features and brightened myself up a bit.  I look like a well rested, freshly vacationed version of myself. 😉
HAC colors used: highlight – aura, contour – stone, blush – desert sunset (current favorite!), + pearl illuminator.
Eyes: oak in the crease, lined in trust.
(shop everything I used HERE)
Quick and easy.
A little more info on Maskcara Cosmetics:
I've gotten loooots of emails for color matching – we are working on making that simpler for you with a link on the blog to send your pic and get a quick response! Until then, keep the emails coming! I'm happy to help you find your colors and get you on your way.
I've also had emails asking about joining my team.. I hate to brag (ha!), but I literally have the best team already.  When you sign up with me, you get access to our private facebook page full of helpful info, as well as exclusive trainings held by me and a few other experts I've got up my sleeve, and plenty of personal webinars for my long-distance ladies!  I want to make sure you have the support you need to not only be successful, but enjoy it!  We have the best group of girls who are helping build each other up.  I knew this was going to be fun, but I really had no idea how much I'd enjoy it.  If you already use Maskcara makeup and recommend it to your friends, you're already doing it, might as well join us! Sign ups are open again for a limited time! Join me HERE.